In the digital age, the decision to hire a virtual assistant can revolutionize your business efficiency. This article is your roadmap to successfully hiring a virtual assistant who seamlessly aligns with your operations. Unlock growth and productivity as you delve into the process of how to hire a virtual assistant.
Virtual assistants
A Virtual Assistant (VA) is a remote professional offering administrative, creative, or technical support. They handle tasks such as scheduling, data entry, customer support, content creation, social media management, and research. VAs assist individuals and businesses, reducing the need for on-site staff and providing flexibility.
Their expertise ranges from organization to technical skills, aiding with diverse projects and functions. Clear communication and task delegation ensure effective collaboration.
Recognizing the need to engage a Virtual assistant
Hiring a virtual assistant is important when handling many tasks slows you down, you need specific skills for your business but not all the time, or you want affordable help to grow.
It's a good idea to think about getting a virtual assistant when:
1. Task overload
Administrative, repetitive, or time-demanding tasks are impeding your capacity to concentrate on essential responsibilities.
2. Scaling your business
The expansion of your business necessitates additional help to cope with increased workloads, all while avoiding the commitment of hiring full-time employees.
3. Specific expertise
You require specialized skills like graphic design, social media management, bookkeeping, or technical support, but don't need these skills on a full-time basis.
4. Cost efficiency
Hiring a virtual assistant can be more cost-effective than hiring in-house staff due to reduced overhead expenses.
5. Flexibility
You need assistance with fluctuating workloads, seasonal tasks, or projects that don't warrant permanent staff.
6. Time zone differences
If your business operates across different time zones, a virtual assistant can provide coverage during off-hours.
7. Focus on core activities
The act of assigning routine tasks to a virtual assistant allows you to allocate time toward strategic and revenue-producing tasks.
8. Reduced training time
Skilled virtual assistants often require minimal training since they're already proficient in their areas of expertise.
Ultimately, the decision to hire a virtual assistant should be based on your specific needs, workload, and goals. Assess your tasks, consider the skills required, and determine whether outsourcing to a virtual assistant aligns with your objectives.
Recommended 4 Best Customer Service Outsourcing Companies For Insurance Agencies                                                [Back to top]
Virtual Assistant Pricing: What's the Investment?
The pricing for virtual assistants can vary significantly based on factors like their skill level, location, services provided, and the payment structure chosen. On average, virtual assistant rates range from around $5 to $50 per hour. Some virtual assistants may charge more if they possess specialized skills or provide services requiring advanced expertise.
Additionally, project-based or retainer arrangements could offer more cost-effective options compared to hourly rates. It's advisable to discuss rates and expectations directly with potential virtual assistants to determine the most suitable arrangement for your needs and budget.
Remember that the platform you pick for hiring a virtual assistant can impact the time you'll spend on managing tasks, and this should be thought about along with the price.
Discover the Perfect Source for Exceptional Virtual Assistants
Although the conventional route of hiring virtual assistants via job boards is an option, a plethora of alternatives exist. These encompass virtual assistant marketplaces, agencies, tech-driven services, and freelance professionals, catering to diverse budgets and requirements.
1. Helplama
Helplama, a virtual assistant service, offers features tailored to streamline your hiring process and provide efficient support.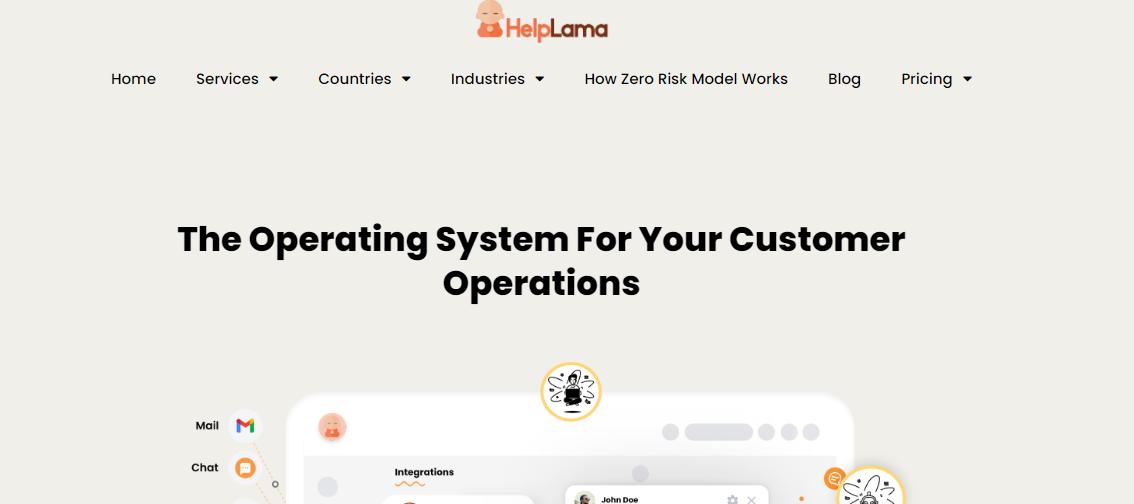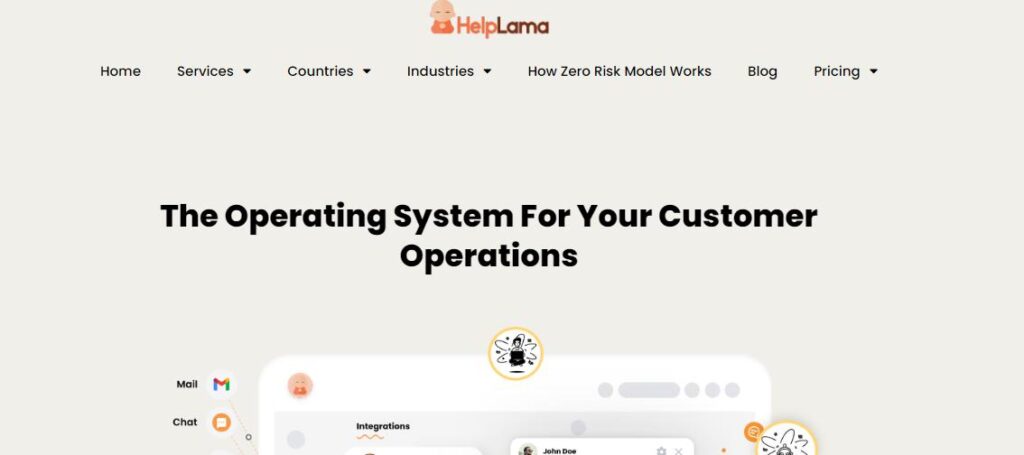 Key features
Diverse Skillset

: Provides access to virtual assistants skilled in various domains such as administrative tasks, customer support, data entry, content creation, and more.

Personalized Matching

: The platform matches you with virtual assistants who possess the specific skills and experience needed for your tasks and projects.

Transparent Communication

: Emphasize clear and open communication channels, ensuring that you and your virtual assistant are aligned on tasks, priorities.
Pricing
Starts at $399/month
2. Freelance marketplaces
Freelance marketplaces are online platforms that connect businesses and individuals seeking specific services with independent professionals who can provide those services on a project basis. 
Upwork, Freelancer, Fiverr, and PeoplePerHour stand out as popular choices for freelancers.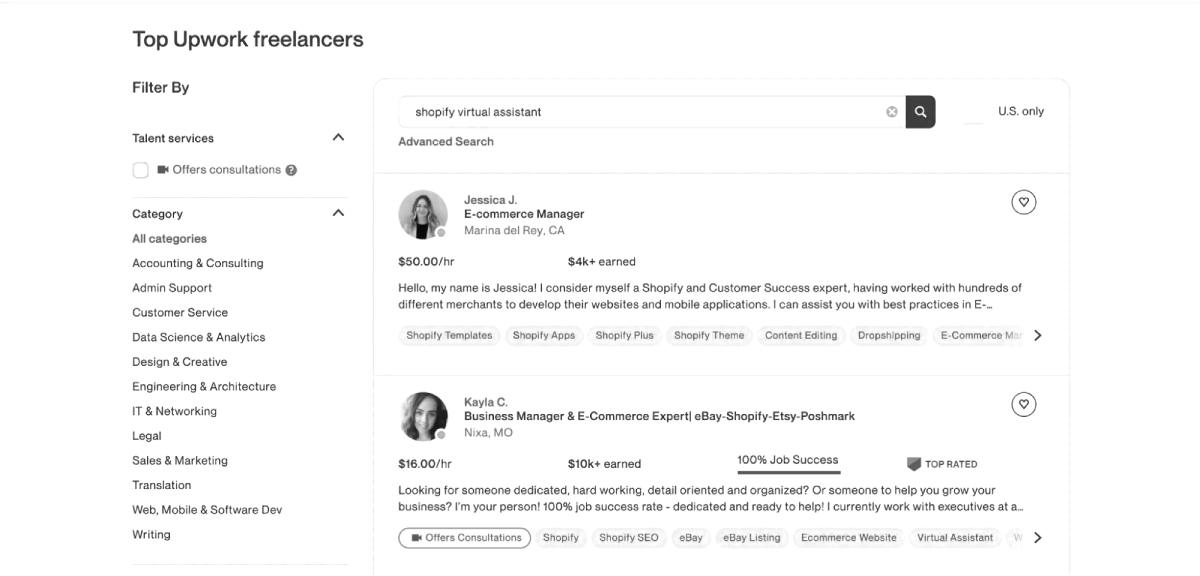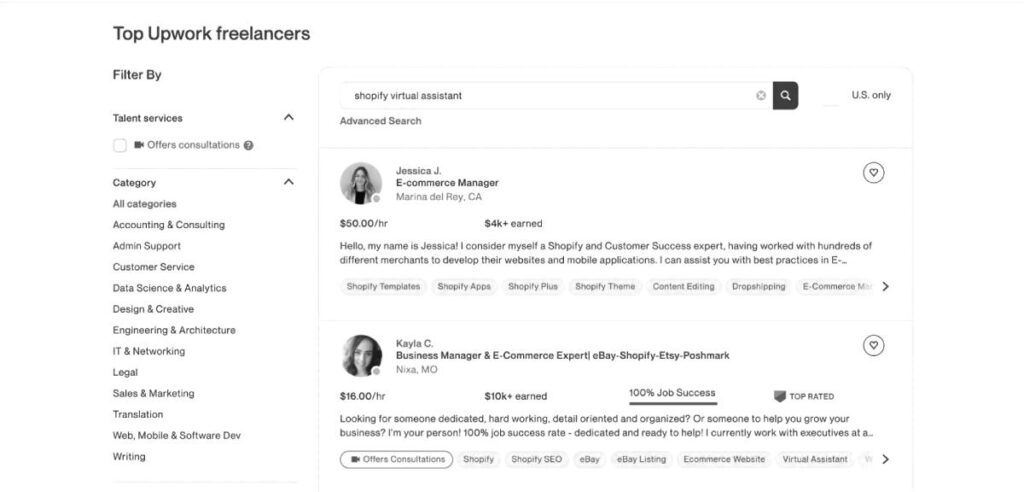 Key features
Diverse Talent Pool

: Freelance marketplaces host a diverse array of professionals with skills ranging from writing, graphic design, web development, digital marketing, virtual assistance, and more. This allows businesses to find experts in various fields to fulfill their specific project needs.

Flexibility

: Freelancers on these platforms often work on a project-by-project basis, allowing businesses to scale up or down as needed without the commitment of long-term contracts.

Global Reach

: You can work with experts from all over the world who come from different cultures. They bring fresh ideas and special skills to make your projects better.
Pricing
$3 to $90 per hour
3. Time etc
Meet Time etc who embody skill diversity and professionalism, offering efficient support that aligns seamlessly with your business needs.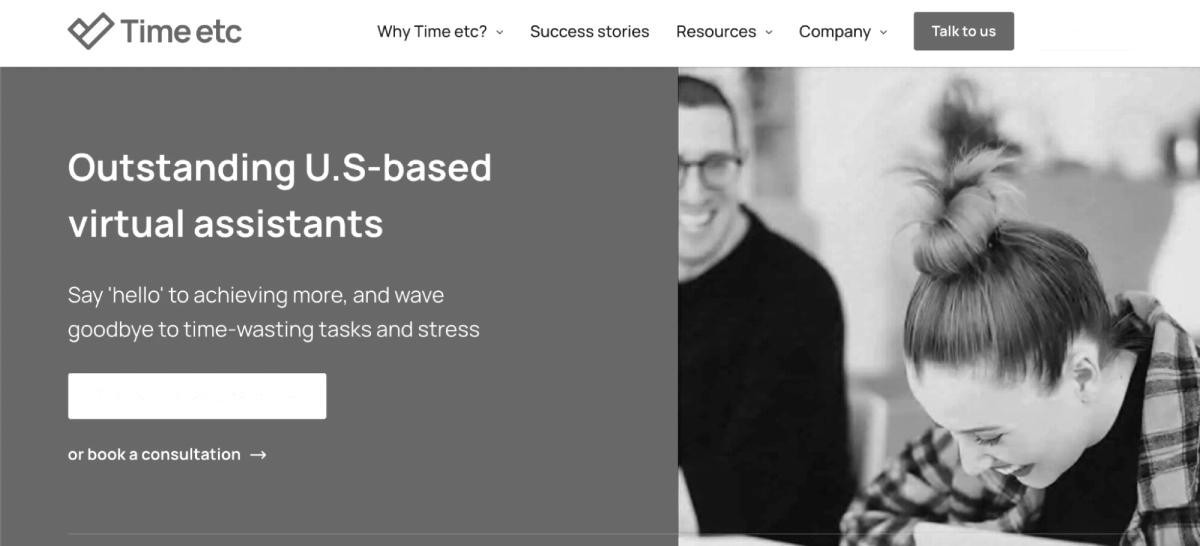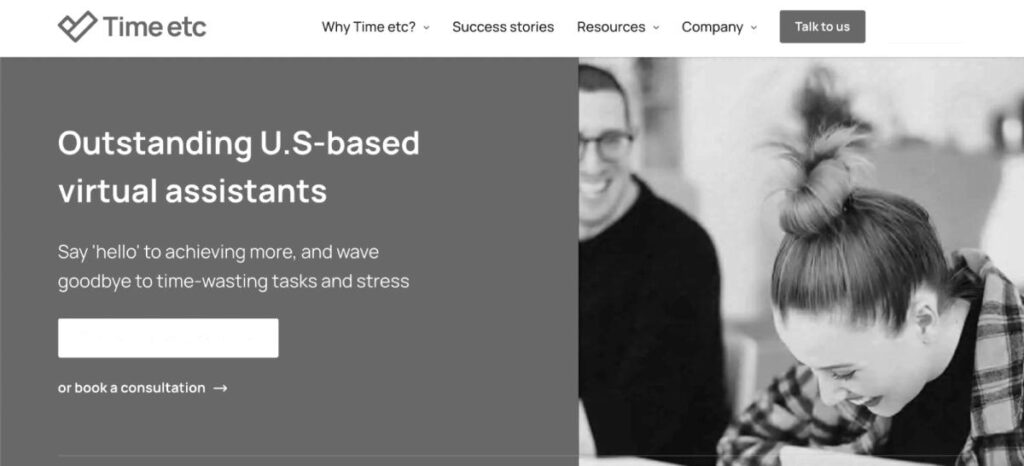 Key features
Skill Diversity:

Exceptional U.S.-based virtual assistants possess a wide range of skills, including administrative tasks, customer support, content creation, project management, and more.

Professionalism:

They exhibit a high level of professionalism in their communication, behavior, and work ethics, ensuring a reliable and efficient working relationship.

Experience and Expertise:

Outstanding virtual assistants have a proven track record of experience in their respective fields, showcasing expertise that adds value to your projects. 
Pricing
Starting at $360/month for 10 hours
4. Wing
Wing is your comprehensive partner in business success, offering expert support and tailored solutions for startups and SMEs.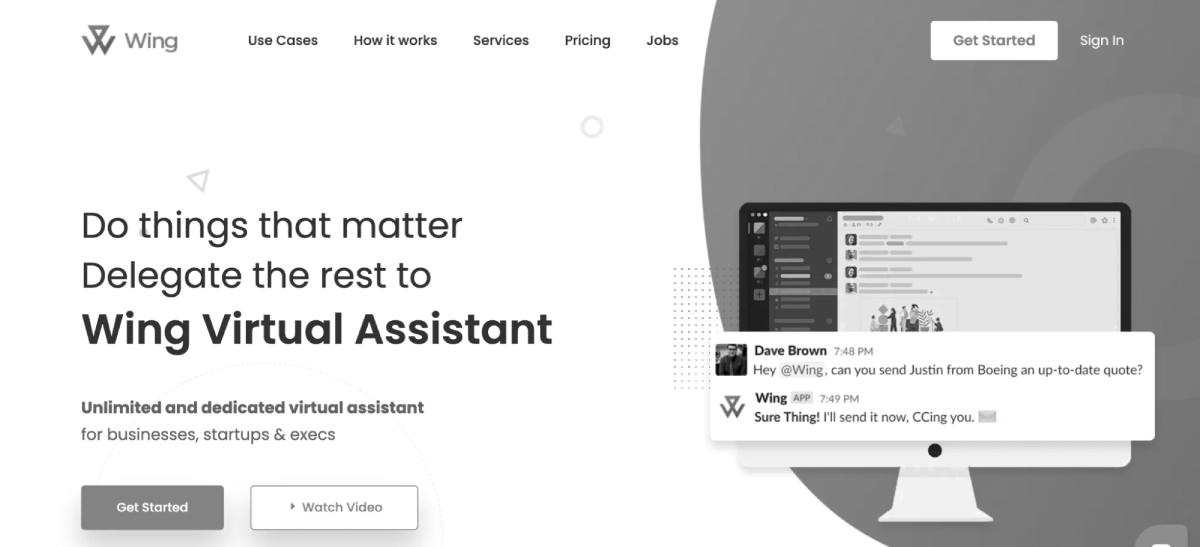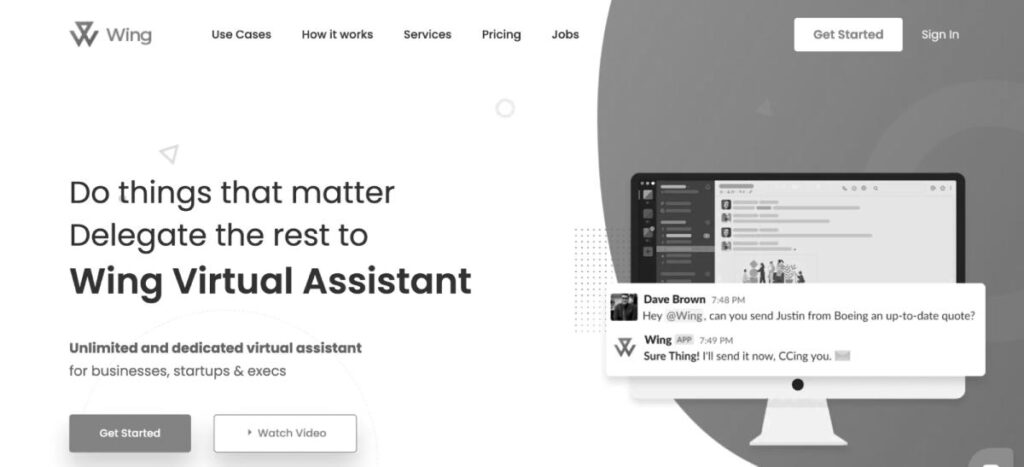 Key features
Administrative Support:

Taking care of jobs like managing emails, scheduling calendars, setting appointments, and organizing documents.

Customer Support:

Providing assistance to customers via email, chat, or phone, addressing inquiries, resolving issues, and maintaining a positive customer experience.

Research:

Conducting market research, competitor analysis, and gathering data for business decisions. 
Pricing
Begin at $599/month
Begin your Virtual Assistant Hiring Venture
Remember, not all VAs share the same traits. Similar to any staff member, evaluating them starts with specifying your needs in a job description. But prior to that, ensure you've assembled the necessary onboarding materials.
1. Document your process
Before outsourcing, create a documented process to facilitate effective task handover and smooth communication with your selected assistance.
2. Write a perfect job description
Craft a compelling job description to draw in the ideal virtual assistant for your needs. Highlight responsibilities and skills such as communication, task management, and adaptability.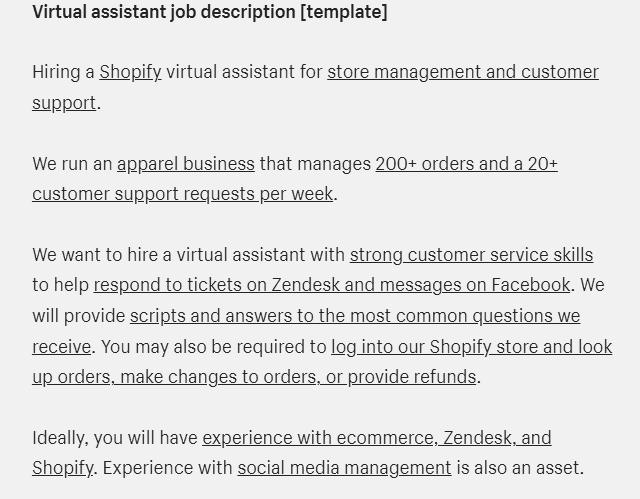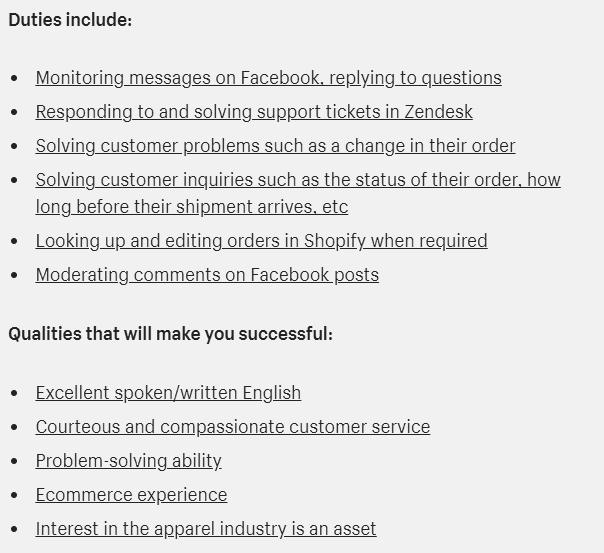 3. Hire your VA
Complete the process by hiring your virtual assistant and kickstarting their journey with an effective onboarding procedure.
4. Safeguard your data
Ensure the safety of your information and accounts with proactive protective actions.
5. Regularly evaluate their performance
Continuously assess their effectiveness and adapt their responsibilities as they grow. 
Conquer your schedule with a Virtual Assistant (VA)
Certainly, here's how to divide and conquer your workday with a virtual assistant.
1. Set up your Virtual Assistant
Choose a virtual assistant tool or software that suits your preferences. Set up the assistant according to your work needs, connecting it to your calendar, task list, and communication tools.
2. Morning planning
Begin your day by interacting with a virtual assistant to receive a summary of your schedule, including meetings, tasks, and priorities. This helps you set the tone for the day and mentally prepare for what's ahead.
3. Task prioritization
Use your virtual assistant to categorize and prioritize tasks for the day. Dictate or input tasks with due dates and importance levels. The assistant can help organize your to-do list and provide reminders for high-priority tasks.
4. Time blocking and reminders
Divide your day into time blocks for focused work, breaks, and specific tasks. Set timers and reminders with your virtual assistant to switch between tasks or take breaks at planned intervals. This method enhances efficiency and avoid burnout.
5. Continuous updates and wrap-up
Throughout the day, your virtual assistant can provide updates on upcoming meetings, approaching deadlines, and pending tasks. As the day concludes, interact with the assistant to review your accomplishments, reschedule any incomplete tasks, and set reminders for the next day's priorities.
If you follow these five steps, your virtual assistant can help make your workday better. You'll focus on the important things and keep a good routine.
Recommended 11 Best ECommerce Chatbots For 2023
Conclusion
Incorporating a virtual assistant into your business streamlines tasks, enhances productivity, and frees up valuable time. By outsourcing various responsibilities, you can focus on core activities and achieve business growth. Make a strategic investment in a virtual assistant to elevate your operations and efficiency.
Helplama is your on-demand customer support companion. Reach out anytime for empathetic listening and guidance. The path to a more positive mindset begins here.
Start your journey with Helplama – Sign up now!