Welcome to our comprehensive guide on Nextiva pricing.
According to statistics, 67% of mobile workers report increased productivity and improved problem-solving capabilities through VoIP systems. 
Amid this, Nextiva stands out as a premier provider of voice-over-internet protocol (VoIP) services. It offers integrated advanced phone functionalities, cutting-edge VoIP technology, and innovative contact center solutions to enhance communication, operational efficiency, and productivity.
Thus, in today's article, we will comprehensively explore Nextiva's pricing, explore its reviews and features, so you can make an informed decision.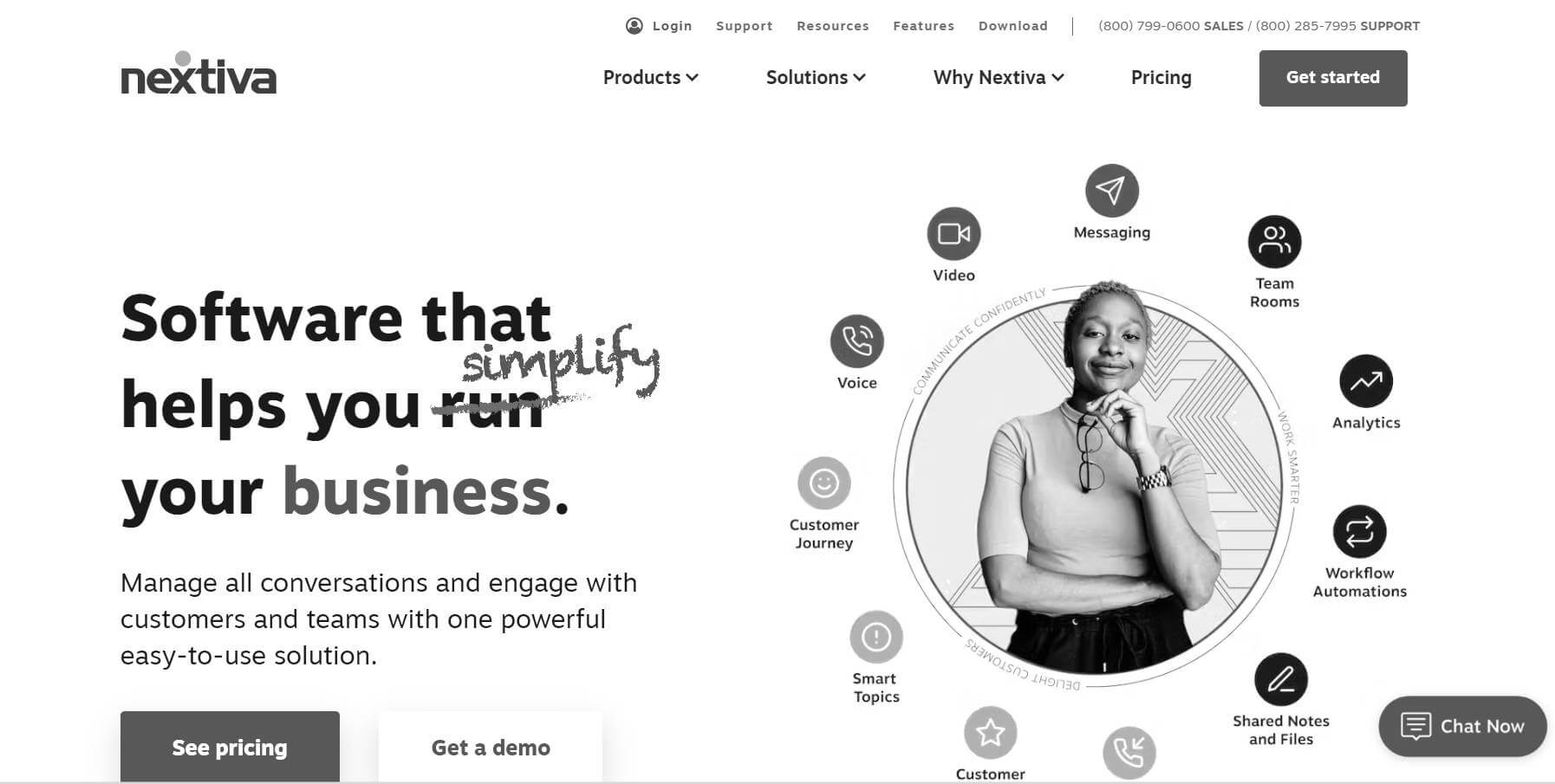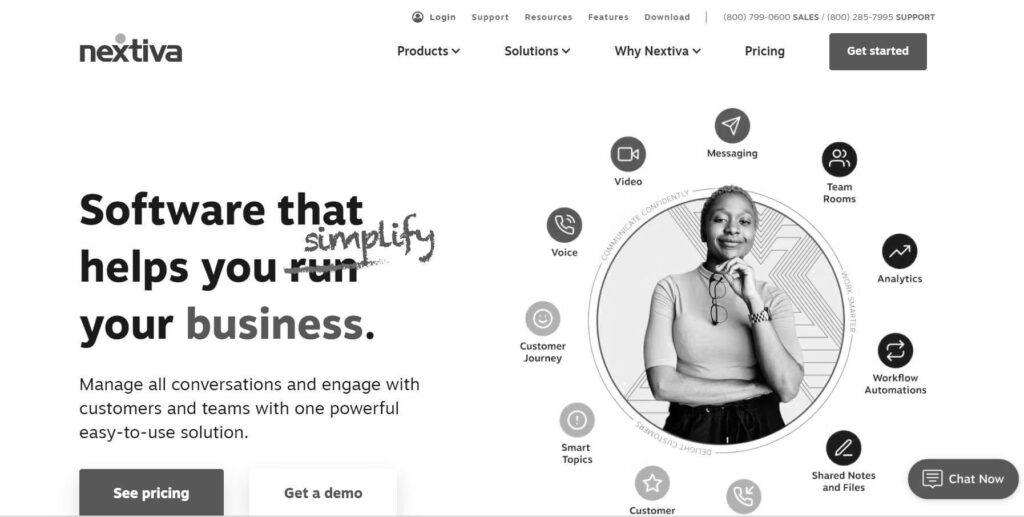 Nextiva is a top platform for business communication. 
It brings together VoIP technology, which is like using the internet for phone calls, with the flexibility of cloud computing. This makes it a solution for all kinds of companies, whether they're small or big. 
Even if you just need basic phone service or more advanced features like video meetings and call centers, Nextiva has you covered. They're known for their great customer service and offer a bunch of easy-to-use and strong products for businesses.
Overview of Nextiva pricing plans
| | | | |
| --- | --- | --- | --- |
| Plan | Description | Monthly | Annually |
| Essential | Easy, quick start plan | $30.95 | $23.95 |
|   | Unlimited voice and video calling |   |   |
|   | Voicemail |   |   |
|   | Toll-free numbers |   |   |
|   | Outlook/Google Contacts integration |   |   |
|   | Unlimited internet fax |   |   |
| Professional | Good choice for smaller teams | $35.95 | $27.95 |
|   | Unlimited conference calls, 40 participants |   |   |
|   | Unlimited video conferencing |   |   |
|   | Screen sharing |   |   |
|   | Auto-attendant (multi-level) |   |   |
|   | Mobile and desktop SMS/MMS |   |   |
|   | Salesforce/Hubspot integration |   |   |
| Enterprise | Designed for small and medium teams | $45.95 | $37.95 |
|   | Unlimited participants in voice and video |   |   |
|   | Call recording  |   |   |
|   | Unlimited video conference recording |   |   |
|   | Voicemail transcription |   |   |
|   | Microsoft Teams/custom integrations |   |   |
Nextiva offers four distinct plans for its cloud contact center service. However, the pricing details are not available publicly, so you need to get in touch with their team to learn more about the plans.
A detailed review of Nextiva pricing and features
1) Pricing
Business communication:
Essential:

Starts from

$23.95/user/month

. It includes unlimited voice and video calling, voicemail, toll-free numbers, Outlook/Google Contacts integration, and unlimited internet fax.

Professional:

Begins at

$27.95/user/month

and is ideal for smaller teams. This package includes limitless conference calls (with up to 40 participants), unrestricted video conferencing, screen-sharing, a multi-level auto attendant, mobile/desktop SMS/MMS, and integrations with Salesforce/HubSpot.

Enterprise:

The plan is a good choice if you have small and medium teams and starts at

$37.95/user/month

. It provides the choice for limitless participants in both voice and video conferencing, call recording, unrestricted video conference recording, voicemail transcription, integrations with Microsoft Teams/custom solutions, and Single Sign On.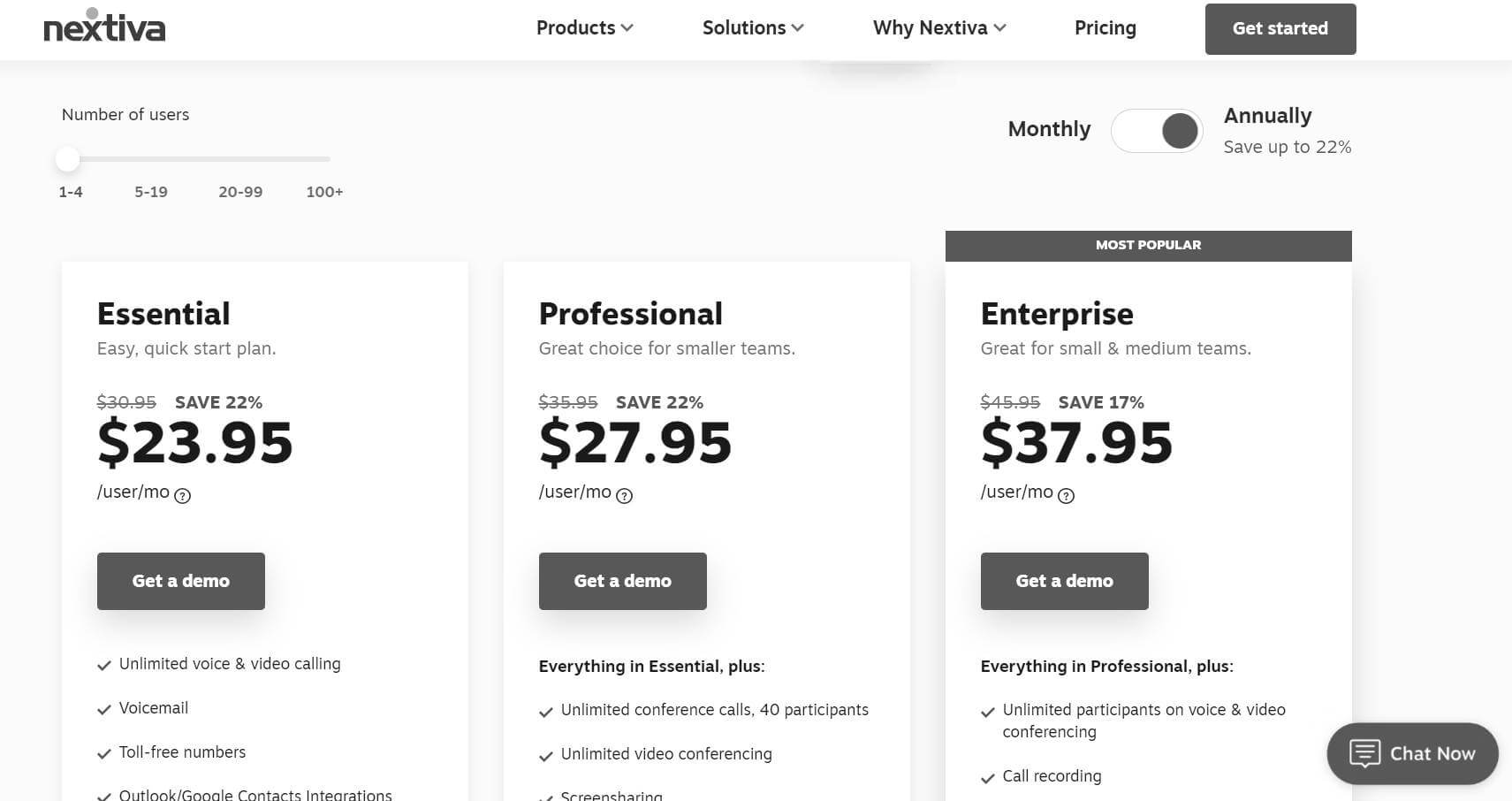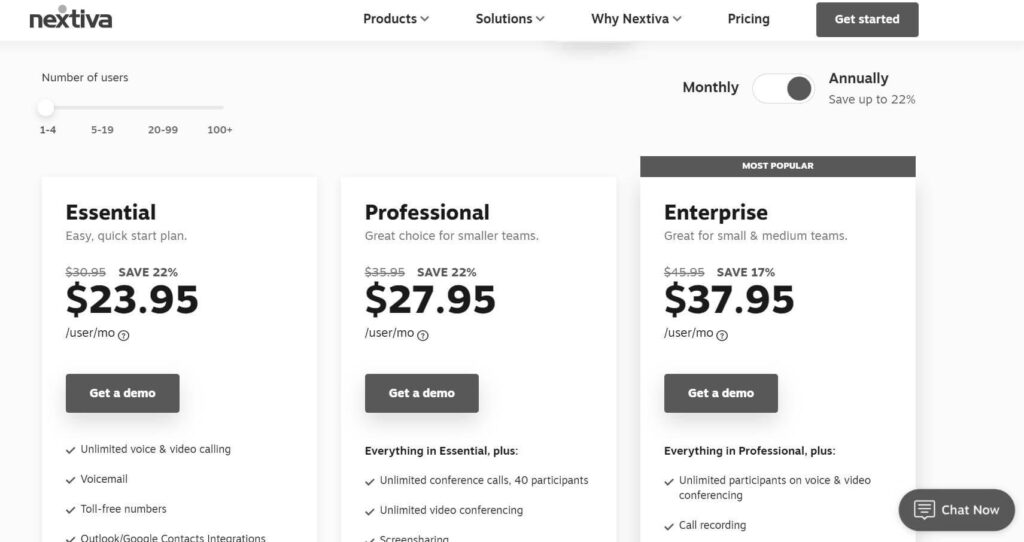 Please note that the pricing is determined by the number of users and could vary with an increase in the user count.
Cloud contact center:
The cost of the cloud contact center service isn't openly available, so you'll need to reach out to a Nextiva expert to get more information.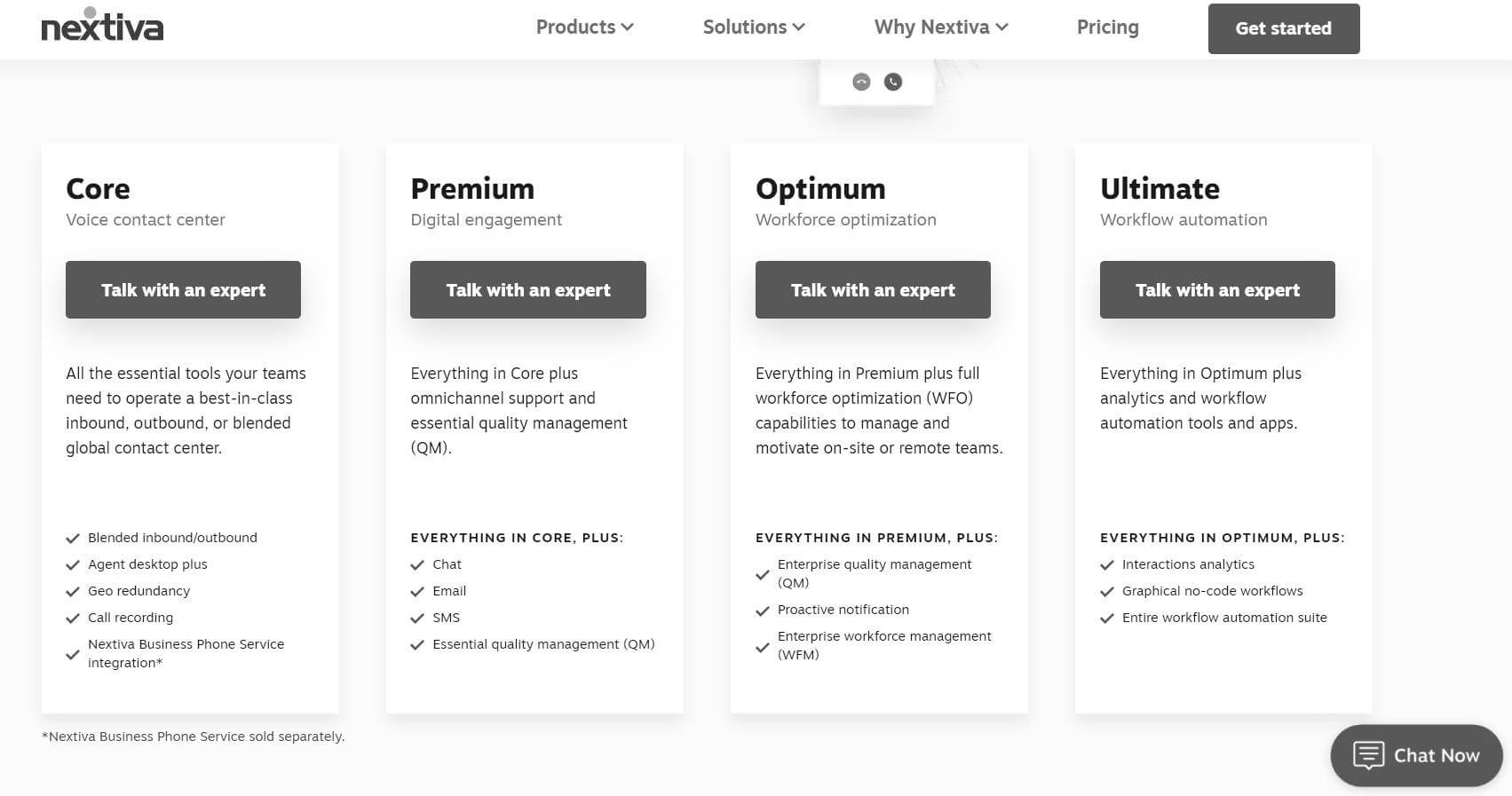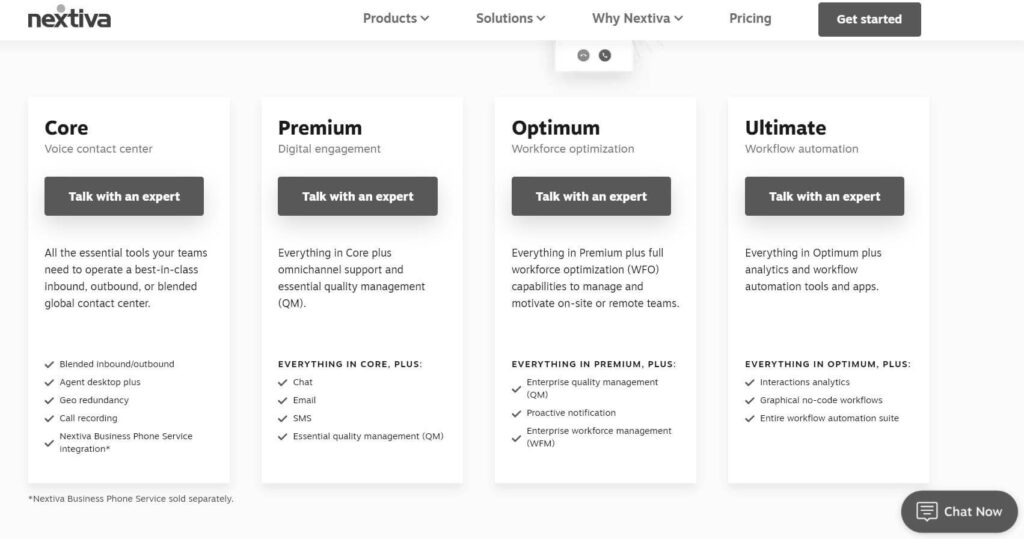 Core Plan
Voice Contact Center:

Tools for global inbound, outbound, or blended contact centers.

Blended Inbound/Outbound:

Handles both incoming and outgoing calls.

Agent Desktop Plus:

Enhances agents' interface for smoother work.

Geo Redundancy:

Backup in case of technical problems.

Call Recording:

Records calls for training and reference.

Nextiva Business Phone Service Integration:

Works seamlessly with Nextiva's phone service.
2. Premium Plan
Digital Engagement:

Supports chat, email, and SMS interactions.

Essential Quality Management (QM):

Tools to manage and improve service quality.
3. Optimum Plan
Workforce Optimization:

Optimizes team operations.

Enterprise Quality Management (QM):

Advanced quality management tools.

Proactive Notification:

Keeps customers and teams informed.

Enterprise Workforce Management (WFM):

Efficient management of on-site or remote teams.
4. Ultimate Plan
Workflow Automation:

Adds analytics and automation tools.

Interactions Analytics:

Analyzes interactions for insights.

Graphical No-Code Workflows:

Creates workflows without coding.

Entire Workflow Automation Suite:

Comprehensive automation solutions.
"I appreciate that Nextiva offers a range of plans and pricing options to suit my small business needs and budget."
⭐4.5/5, Wil C.
2) Business Phone System
Nextiva provides a complete business phone system that includes features like call management, call routing, voicemail, and more. This system allows businesses to handle incoming and outgoing calls efficiently.
"Nextiva keeps all departments/locations in one software while allowing us to divide them based on their specific phone needs."
⭐4.5/5, Jordan C.
3) Auto Attendant
Nextiva offers an auto attendant feature that acts as a virtual receptionist, allowing callers to navigate through a menu to reach the appropriate department or individual.
"The auto attendant greeting and app are extremely beneficial for me being a one-man show. It's easier for me to multitask."
⭐5/5, Brandon J.
4) Call Routing and Forwarding
Nextiva's VoIP system can route calls based on preset rules, ensuring that calls are directed to the right individuals or departments. Calls can also be forwarded to mobile devices or other phone numbers.
"Nextiva has solved our issue of administrative access to our voicemail system and call routing."
⭐5/5, Verified User in Investment Management
5) Mobile App
Nextiva often offers a mobile app that allows users to make and receive calls using their business phone number from their smartphones, enhancing mobility and flexibility.
"The desktop and mobile apps are easy to use and user-friendly." 
⭐4.5/5, Verified User in Medical Practice
6) Voicemail-to-Email
Through Nextiva, Voicemails can be automatically converted into audio files and sent via email making it convenient for you to access and manage your messages.
"I had help today with getting a staff member access to their phone's voicemail setup, and help with converting a recorded voice file to the correct format to upload to the Auto Attendant Module."
⭐5/5, Alesia B.
7) Scalability
Nextiva's VoIP systems can be easily scaled up to accommodate the changing needs of your business. It also offers flexible pricing plans that cater to the needs of businesses of different sizes.
"The most helpful part is the system itself. We have multiple locations and just under 100 employees, the communication platforms are easy to use and scale with our growing company."
⭐5/5, James C.
So that was our detailed breakdown of Nextiva's pricing plans. Furthermore, if you want to focus on your core business activities and are looking to outsource your customer service, consider Helplama.
Want to outsource your customer service?
Are you in search of US-based customer service agents who are well-versed in the intricacies of American language and communication? Your search ends with Helplama! 
Helplama enables you to deliver exceptional customer support through its team of committed agents.
With Helplama, you can ensure that your company communicates genuinely with your customers.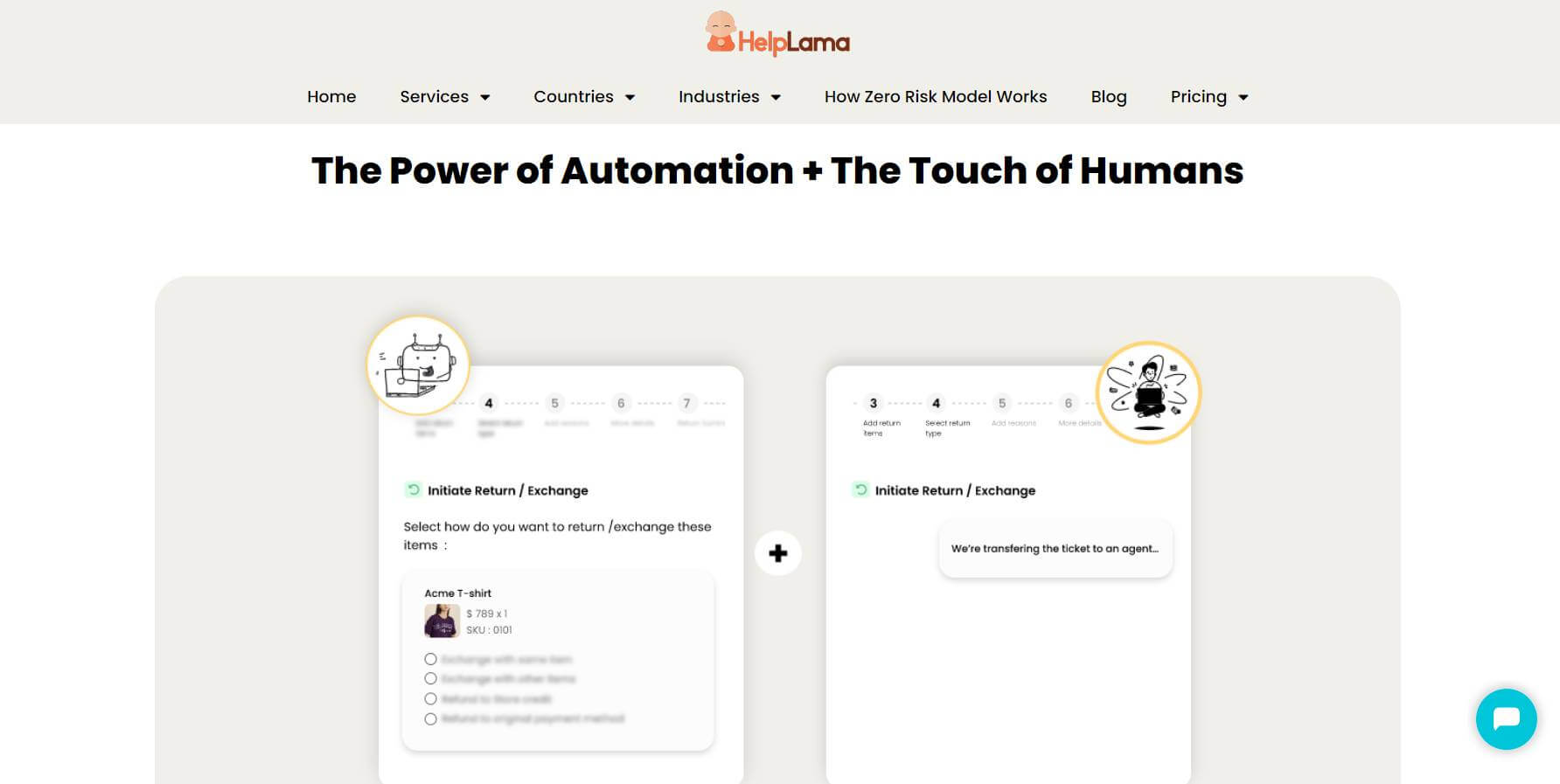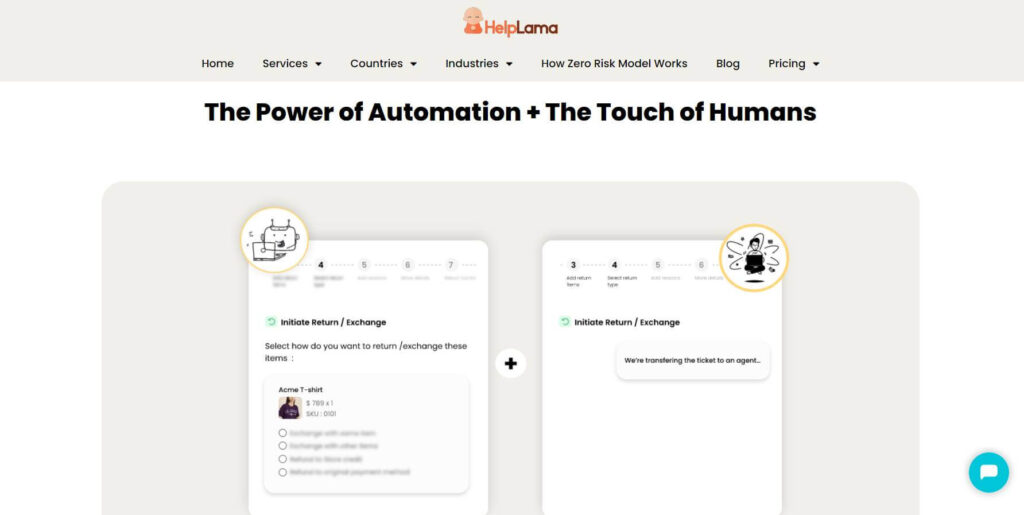 Key features
Human Expertise at the Forefront:

Helplama employs adept human agents who approach customer inquiries with genuine concern, delivering tailored assistance.

Uninterrupted Support:

Helplama's round-the-clock availability ensures customers receive aid whenever the need arises.

Seamless Connection:

By adopting a multichannel strategy, Helplama allows customers to interact via their preferred communication channels.

Customization:

Rather than generic solutions, Helplama collaborates closely with your brand to develop a customer support approach that mirrors your distinct necessities.

Scalability for Growth:

Helplama's scalability guarantee means that regardless of the expansion of your customer base, its service seamlessly adapts, sparing you the complexities of rapid growth.

Technological Edge:

Equipped with state-of-the-art tools, Helplama streamlines operations, seamlessly integrates with your systems, and harnesses AI to enhance both efficiency and precision.
Pricing
Personalized plans commence at $399, tailored to suit your specific requirements.
Conclusion
In summary, Nextiva offers a comprehensive communication solution with flexible pricing, advanced features, and positive reviews. Nextiva's offerings warrant careful consideration for their potential to elevate your business communication capabilities and customer interactions.
Moreover, if you're looking to outsource your customer service, Helplama stands out as the best option, presenting customized solutions that align seamlessly with a variety of client demands. 
Supported by a group of proficient agents, they curate encounters that foster trust and allegiance. Amidst the digital landscape, Helplama's unwavering dedication to top-notch quality shines brightly in each and every interaction.
Contact now for personalized pricing plans