Don't you have thousands of followers on social media? Well, you don't need a huge following to be an influencer and get brands to work with you.
The way brands approach influencer marketing has shifted dramatically. With the rise of micro-influencers, the number of followers is no longer an obstacle to obtaining brand partnerships.
Today, it's all about engagement and the impact you can create, and micro-influencers are known for creating good engagement. In fact, 77% of marketers say micro-influencers top their list of ideal influencers.
If you're a micro-influencer with an engaged audience, this article will teach you everything you need to know about working with brands. Let's start with some of the top brands that collaborate with micro-influencers.
Table of Contents:
– Top 10 brands that partner with small influencers
– Why do brands collaborate with influencers?
10 brands that collaborate with small influencers
Contacting brands that already work with influencers is generally a good idea, as they are more likely to have a budget and a streamlined process in place for managing influencer marketing campaigns.
Let's take a look at some of the top brands working with micro-influencers:
1. La Croix
Category – Beverages
Platform – Instagram
La Croix is a well-known brand that has seen success with micro-influencers. Instead of the traditional marketing techniques used by other beverage companies, La Croix collaborated with the Whole30 nutrition program and micro-influencers to showcase their products.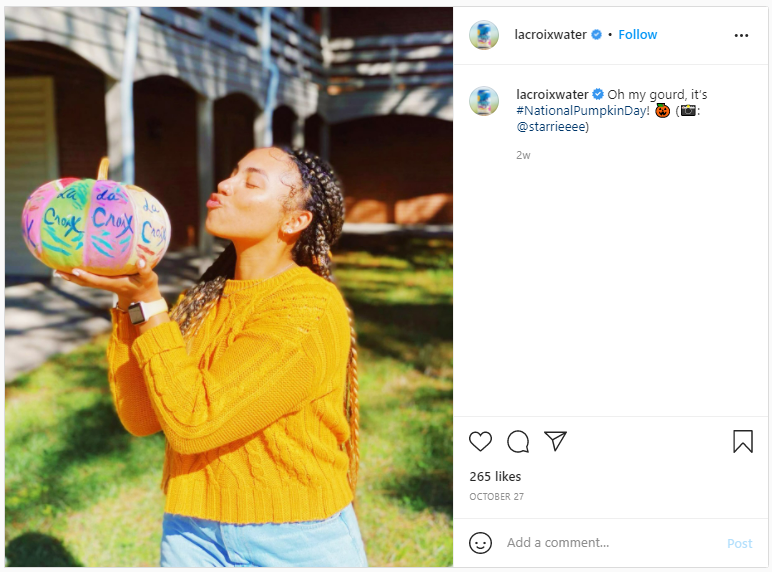 For a chance to be featured on their profile, LaCroix actively encourages its followers to use branded hashtags such as #LaCroixlove and #LiveLaCroix. The brand even collaborates with influencers with fewer than 1000 followers.
To encourage influencers collaborations, LaCroix even sends out vouchers for free cases of their drinks to micro-influencers.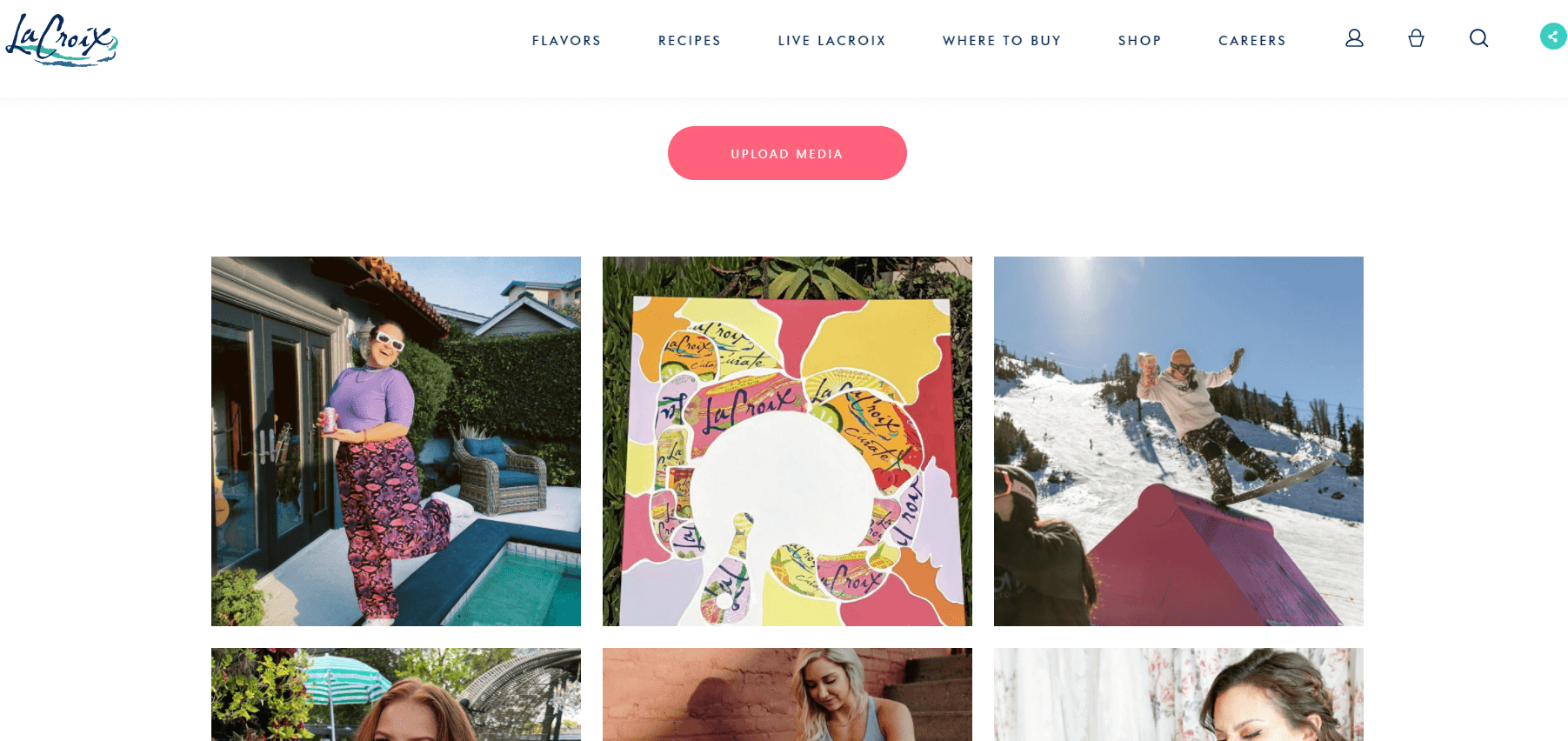 The Live LaCroix section on their website also showcases content uploaded by micro-influencers across different platforms.
How to collaborate with La Croix: La Croix looks for micro-influencers to represent the brand by finding people who have already tagged the brand in their social media posts. We recommend using the hashtags #LaCroixlove and #LiveLaCroix to get the brand's attention.
2. Daniel Wellington
Category – Fashion
Platform – Instagram, Youtube, Tiktok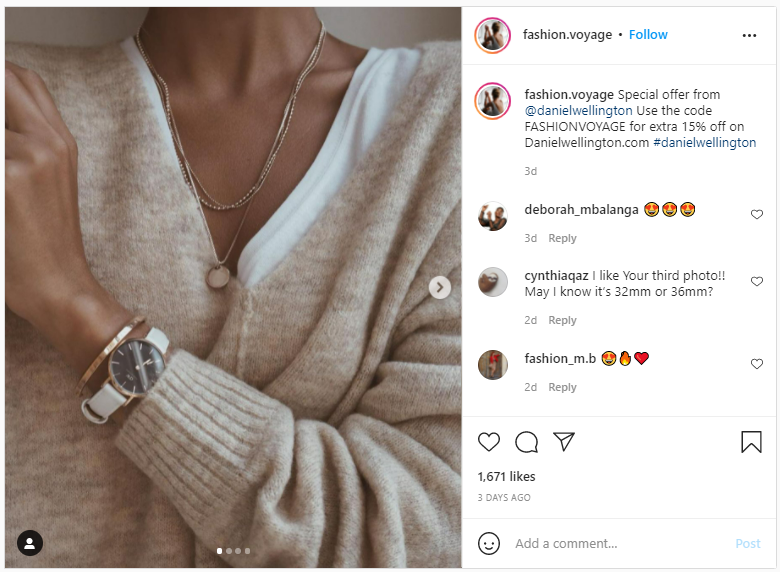 Daniel Wellington's strategy is straightforward: Offer a watch or other incentives to influencers in exchange for a sponsored post on Instagram promoting the brand.
Not only this, but they also give you a chance to get featured in their feed. Their daily #DWPickoftheDay contest challenges influencers to create creative content for a chance to be reposted on Daniel Wellington's official account.

How to work with Daniel Wellington: Sign up on their website to join their global ambassador community as an influencer. Entering brand contests like #DWPickoftheDay can also be a good way to get noticed by the brand. 
3. Asos
Category – Fashion
Platform – Instagram, Pinterest, Youtube. 
The ASOS Insiders influencer program is a major element of ASOS' success and 3.2 billion dollar revenue. Asos picks out fashion and beauty experts, to promote the brand's clothes, accessories, and/or beauty products.
ASOS Insiders post photos of themselves promoting the brand's product on their account, along with the product code in the image caption.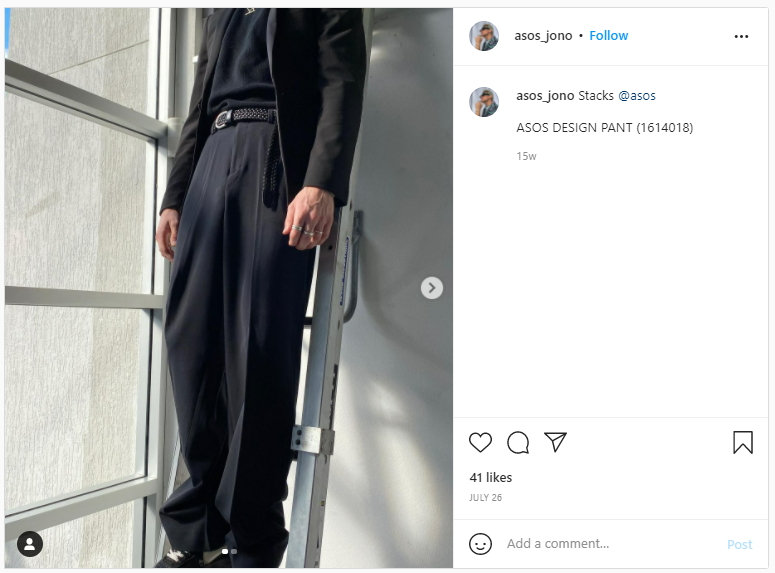 How to work with Asos: The best way to get noticed by the brand is by posting content representing the brand with the hashtag #ASSEENONME.
4. Coca-Cola
Category – Beverages
Platform – Instagram,Tiktok
Industry leaders like Coca-Cola are no strangers to influencer marketing. Their #Cokeambassador campaign has micro-influencers who regularly post photos of themselves with a Coke in hand.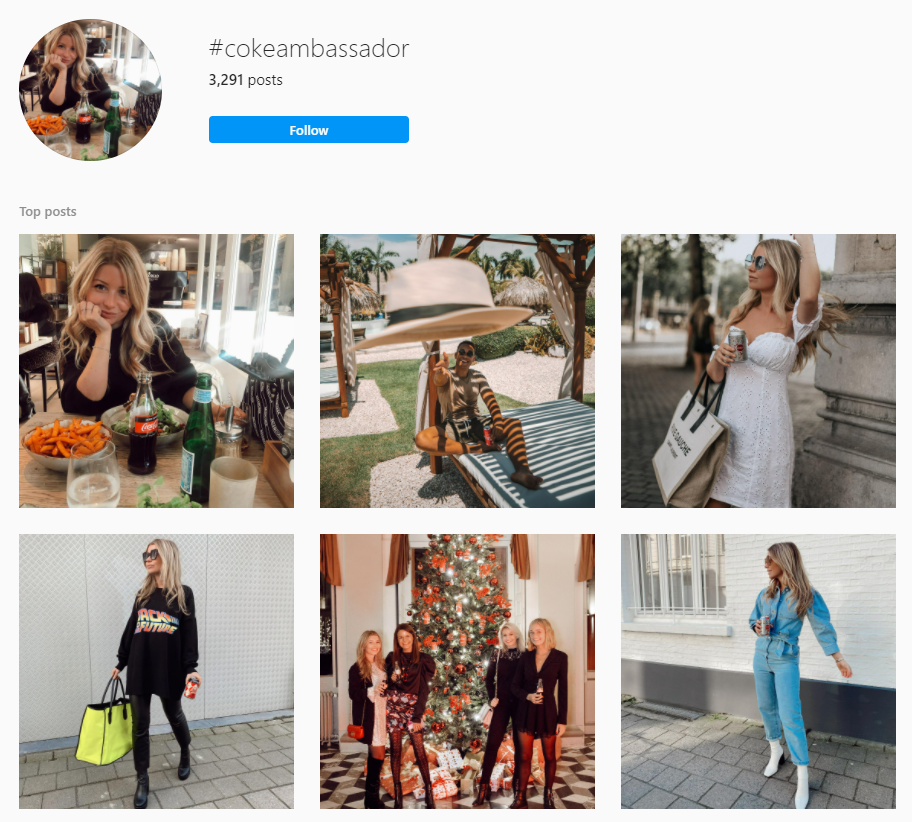 A recent example of their influencer marketing efforts is the @cocacolabelgium campaign. They collaborated with Instagrammers from the fashion, travel, and lifestyle industries with less than 100K followers to reach out to Belgian consumers.
How to work with Coca-Cola: Branded hashtags are closely monitored by the majority of brands. Most of Coca-Cola's influencers use #cokeambassador to represent Coca-Cola. Using this hashtag along with quality content can be a good way to get their marketing team's attention.
5. Sperry
Category – Fashion
Platform – Instagram
Sperry, which is known for its boat shoes, is focusing on Instagram to improve its digital marketing strategy and social branding.
Their campaign includes collaborating with small influencers who shared popular images of Sperry products on social media. The ambassadors receive a budget that they can use to engage their communities and audiences.
Sperry also launched OpenSponsorship, a platform that connects athletes with brands. This resulted in campaign opportunities for 6,000 athletes representing 160 different sports.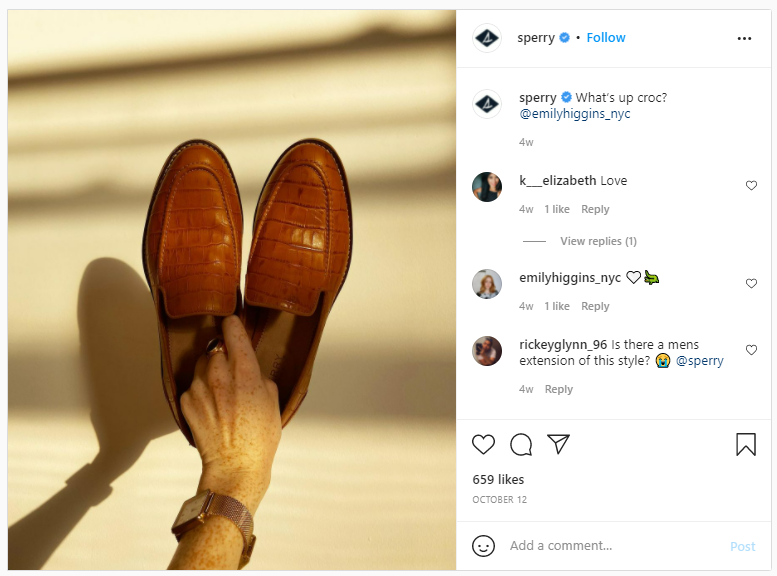 How to partner with Sperry: They usually select influencers from Instagram users who are already sharing high-quality photos of its products. So, make sure to add the brand's official hashtag #sperry and #sperrystyle to your content.
6. Glossier
Category – Beauty
Platform – Youtube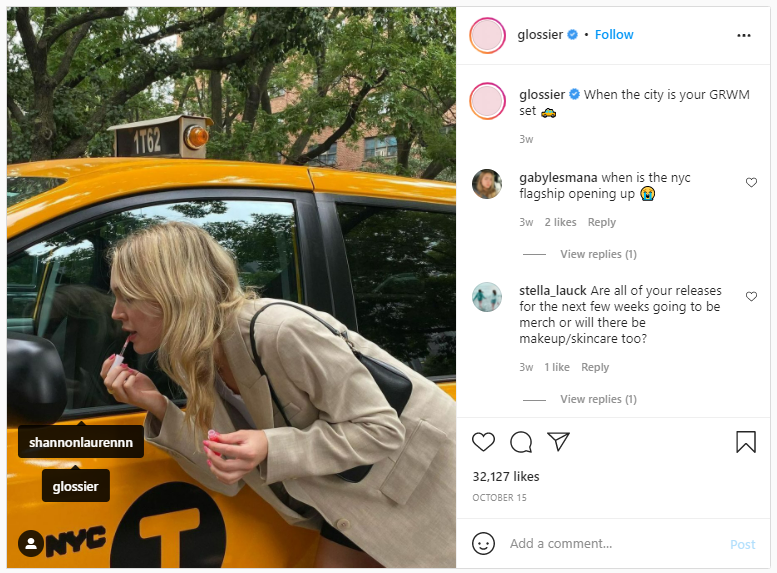 Glossier has established an influencer program in which influencers receive product discounts or other non-monetary incentives in exchange for posting videos about glossier products they enjoy.
They've created an environment in which anyone who wears and enjoys their makeup can be an influencer. In fact, The company has an army of more than 500 ambassadors.
"Our customers are our number-one mouthpieces and evangelists. They are doing exactly what we hoped they would. They are interpreting Glossier."- Glossier founder Emily Weiss. (Source- Vox)
How to collaborate with Glossier: A good way to get Glossier's attention is to start tagging @Glossier in content that highlights their products.
7. Amazon's Audible
Category – Tech
Platform – Instagram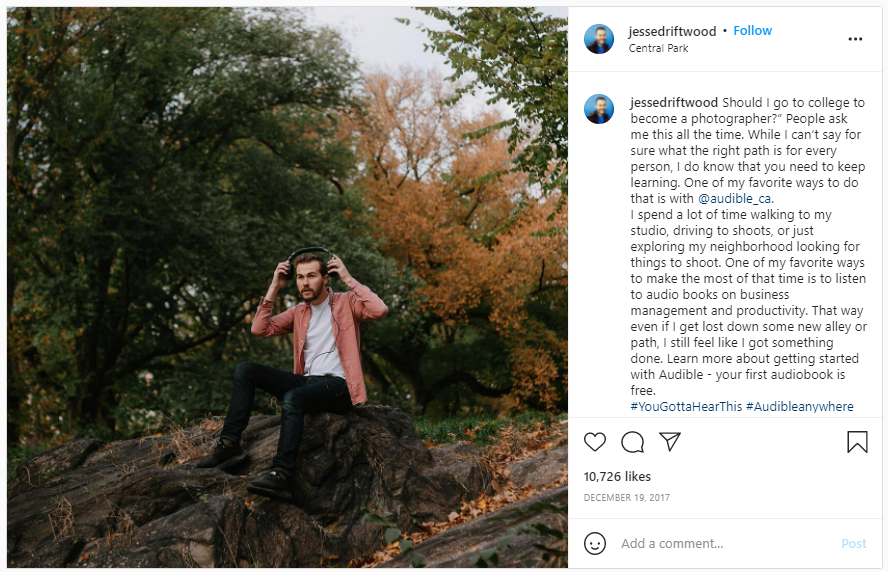 Audible collaborated on a campaign with photographer Jesse Driftwood, who had fewer than 100K followers on Instagram.
Rather than a sales pitch to promote Audible, Jesse shared his personal perspective on how using audible helped him stay productive. The post received over 10,000 likes and 300 comments, with a 30% engagement rate.
How to partner with Amazon: You can become an Amazon influencer by signing up on their website. 
8. Banana Republic
Category – Fashion
Platform – Instagram
The Banana Republic is a great example of a brand collaborating with Instagram fashion and lifestyle micro-influencers. They have run 13 such campaigns, reaching a total of 43.2 million consumers.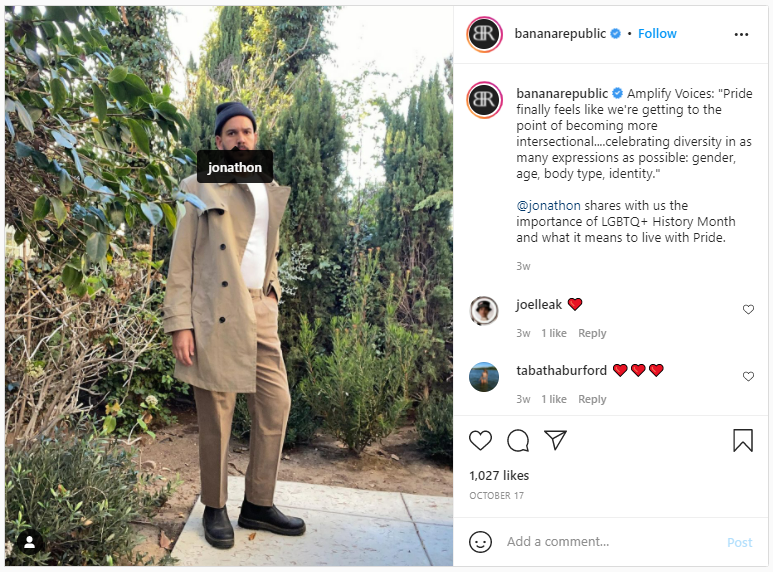 Their campaigns primarily work with Instagram micro-influencers to model their seasonal clothing lines in a variety of settings.
How to work with the Banana Republic: The most common hashtags used by their influencers when posting branded content are #itsbanana, #brmovesyou, #brmakeitmatter, and #brholiday. We recommend posting quality content with these hashtags to get noticed by the brand.
9. Forever 21
Category – Fashion
Platform – Instagram, Facebook, Twitter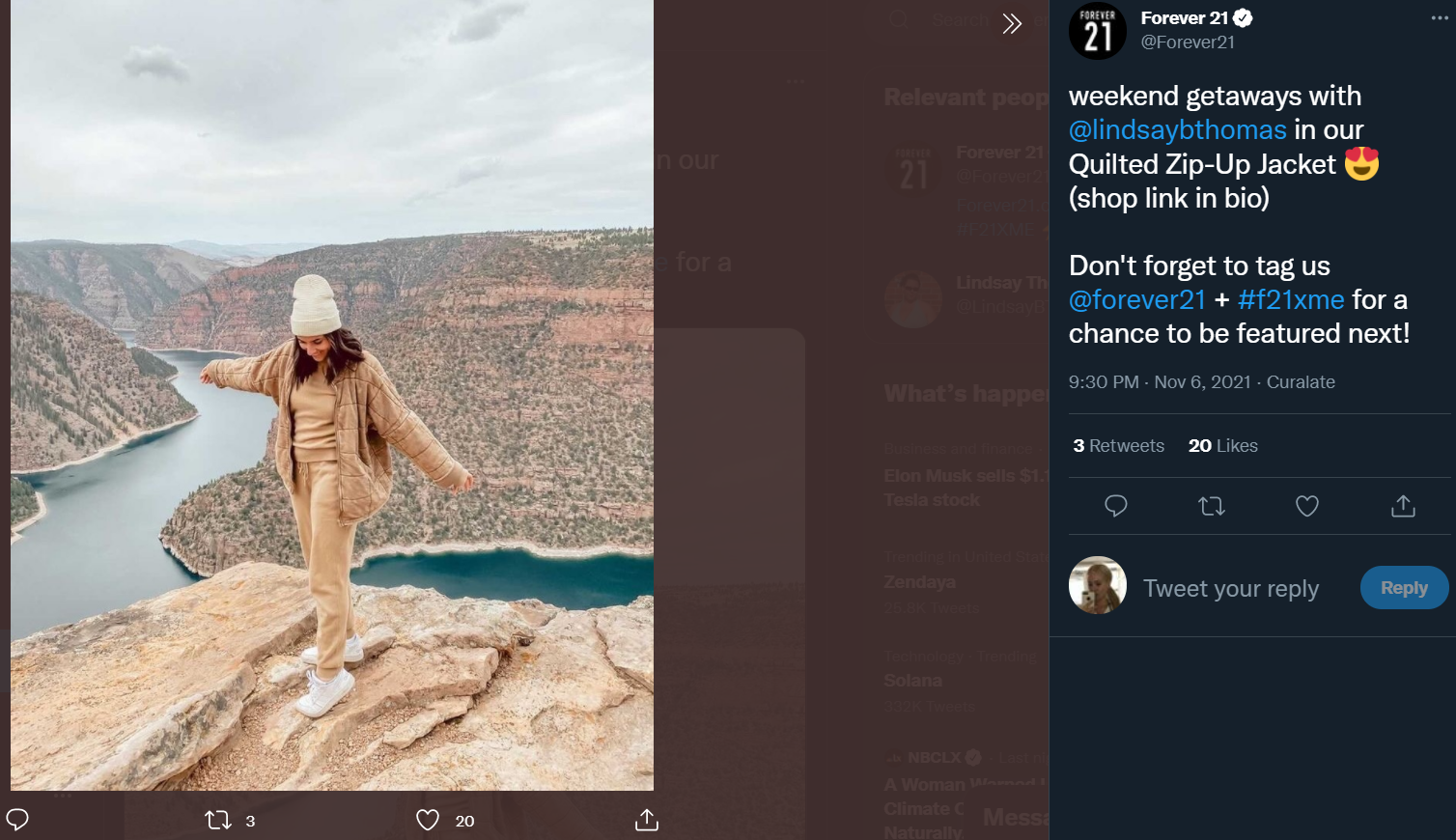 To be featured across Forever 21's social channels, the brand encourages users to post pictures of their favorite outfits on their social media feed with the hashtags #F21xMe.
In exchange for sharing content featuring Forever21 outfits, the Forever 21 Influencer Campaign pays influencers a flat fee plus an apparel budget.
How to work with Forever 21: Forever 21 is always on the lookout for new talent, so email your portfolio over to [email protected] today. Also, keep an eye out on their website and social media for influencer campaign announcements.
10. Sephora
Category – Beauty
Platform – Instagram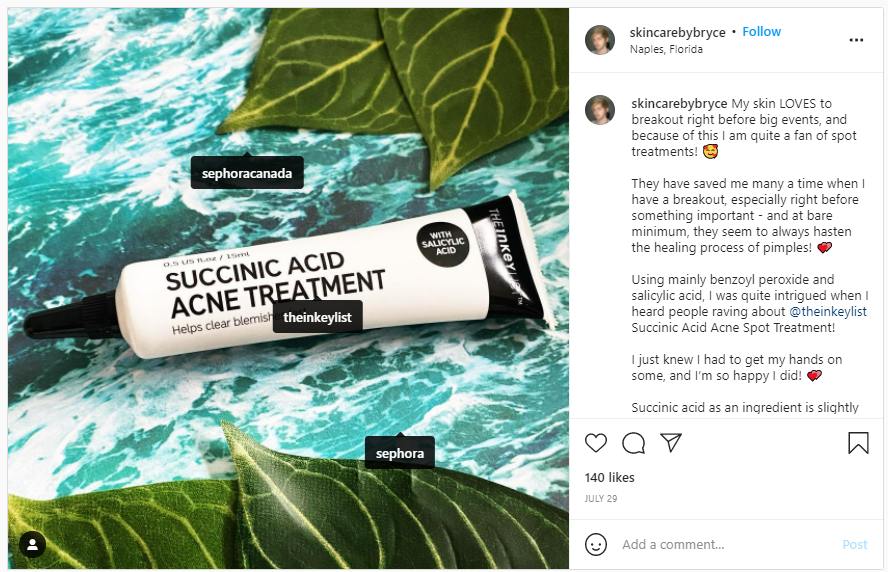 With over 58k Posts, #SephoraSquad is one of the biggest social media campaigns on Instagram. Sephora launched this campaign in order to turn fans into brand ambassadors.
They give micro-influencers access to new Sephora products to test and review on the internet. Sephora uses influencer marketing campaigns constantly to engage with a larger audience and highlight company culture.
How to work with Sephora: Keep an eye out for openings at their official Sephora squad website.
Why Do Brands Collaborate With Influencers?
Influencer Marketing is no longer about just audience size and reach. Today, It's all about building up trust among consumers.
According to Helplama's research, people are 3x more likely to read posts from a friend than from a brand itself. And brands are starting to realize micro-influencer collaborations can help with this.
To attract brands to collaborate with you, you should know the reasons behind brands collaborating with influencers.
Here are some of the top reasons why brands are interested in working with micro-influencers:
Better Audience Engagement
Target Specific Niche Audience
Genuine content
Budget-friendly and many more
To know in detail, check out our post on: How Collaboration With Micro-Influencers Help Your Small Business?
How to get brands to work with you?
Approaching brands to collaborate with you is good, but if you want brands to approach you, follow these practices:
1. Define your Niche
With so many influencers in the market, it can be difficult to stand out indeed.
Defining your niche will allow you to not only stand out but also create good content with a purpose.
To help you decide on a niche, ask yourself these questions:
What distinguishes you from others in your line of work?
Do you consider yourself an expert in any field?
What are you passionate about?
2. Post consistently
Do you want to see growth on social media? Do you want to stay top of mind with your followers and attract new brands? You need to be consistent.
You must be active in order to attract new followers and increase engagement rates
So, how frequently should you post on social media? Once a day? Once a week?
According to research, increasing the frequency with which you post content can boost engagement rates.
By posting 1-2 posts per day, you can keep your content fresh and relevant.
3. Approach directly
Once you've defined your personal brand, it's time to reach out to brands.
The first step is to find a way to approach the right social media manager or marketing team. Find out how to contact them by looking them up on the brand's website and/or social media. Also, keep an eye out for any requirements posted by them.
Secondly, you need to craft your pitch email or message. During the pitch, try to think of creative ways to connect with them. Include your media kit, a brief bio, and, most importantly, explain how working with you can benefit their brand.
Pro tip: Do a little research regarding the brand and its content strategies. This shows that you went the extra mile and put in the effort to learn about their brand and products.
4. Tag or mention brands in your posts
This is one of the most effective methods you can get noticed by the brands looking for influencers. Brands love to see people sharing their content & tagging them in social posts.
To tag a brand on social media, you can include the company's profile name in your post's caption or in comments, using @ tags.
As these @tags are clickable, this will draw the brand's attention, and they will realize you are promoting them.
On Instagram, you can also tag brands through photos. Photo tags are also clickable, and brands receive notifications when you tag them in photos.
5. Use relevant hashtags
Using hashtags can boost your efforts while looking for brands to collaborate with you. Using the appropriate hashtags while posting engaging content can help you capture brands' attention. Most brands often go through their hashtags looking for content or influencers to feature. 
Have a look at some top reasons to use relevant branded hashtags with your content:
More traffic
More Followers
Increased Engagement
Get noticed by brands (as they regularly monitor hashtags)
Some of the relevant hashtags in the micro-influencer space are #microinfluencers, #smallinfluencers, etc.
Most brands have a unique hashtag that is easily identifiable and instantly associated with the brand, such as Calvin Klein's #MyCalvins.
To identify relevant and branded hashtags in your niche:
Look at hashtags used by other fellow influencers (post captions)
Keep an eye on hashtags used by brands
6. Create a media kit
A media kit is also a great way to introduce yourself to brands and marketers while summarising your work and area of expertise. Brands typically request a media kit from influencers they want to work with. So not having one can result in missed opportunities for collaborations and makes you look unprofessional.
So, how do you put together an influencer media kit? Keep these key points in mind while creating a media kit for yourself:
Include your Social Media Statistics
Highlight your Demographics
Showcase previous work and collaborations
Include contact information( email, phone number, social media handles, website, etc)
Make it visually appealing
Here's an example: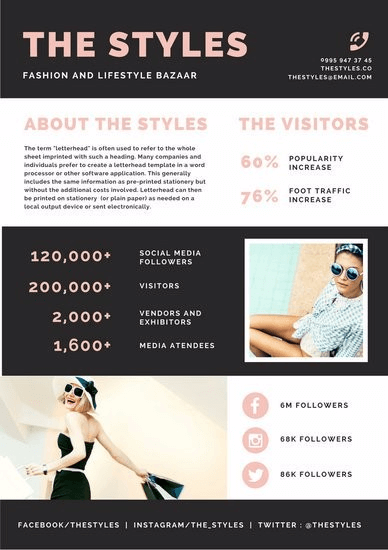 7. Join Influencer Marketplace
Are you a creator with highly shareable content that appeals to a niche audience? An influencer marketplace could be exactly what you're looking for to promote your work.
Using an influencer marketplace is one of the simplest and most efficient ways to find endorsements and work with different brands. 
Simply put, Influencer marketplaces connect brands with industry influencers.
Most influencer marketplaces/platforms have a similar process:
You sign up and post a brief describing your content and area of expertise
Wait for brands to respond
Interested brands reach out with relevant campaign details
Partner with them to create content and promote their products.
Conclusion
Getting brands to sponsor you on social media isn't easy; it takes time and a lot of effort.
However, if you consistently create high-quality content that brands want and connect with your followers on a personal level, you will begin to gain their attention.
You'll start seeing more brands interested in working with you as long as you're providing value that the brand can track, and start attracting an audience they want. Also having honest, open conversations with brands that you work with will help you build a strong relationship and could result in future collaboration opportunities.
With these tips, we hope you'll be well on your way to becoming a key micro-influencer in your niche and securing larger brand deals.