The COVID-19 pandemic has been a wake-up call for businesses in terms of operational flexibility and cost control. Though growth in e-commerce volumes has accelerated much faster than expected, there has also been a significant shift in consumer behavior. Demand has not been uniform across all e-commerce product categories with fashion and travel-related products in the negative while sales of sanitation and healthcare products soared to record heights.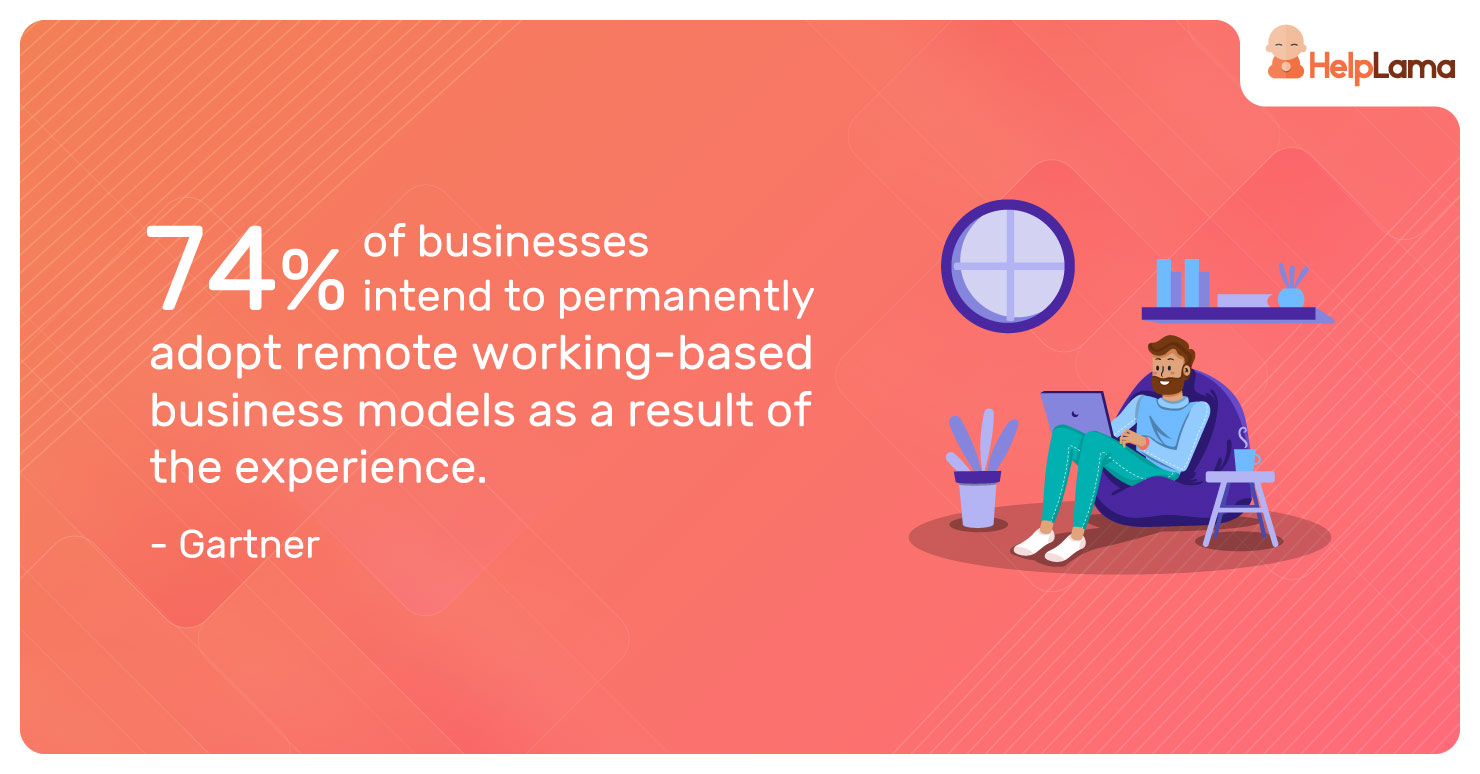 Online businesses have been working hard to manage supply chain disruptions, streamline returns, and support their customers during the pandemic. This has included measures like routing orders through new shipping and courier services as well as extending returns windows by several weeks. According to Gartner, 74% of businesses intend to permanently adopt remote working-based business models as a result of the experience.
The key factors: cost control and liquidity management.
Outsourcing customer support has emerged as an attractive solution in this context. With a freeze on new hiring and rising customer call volumes, brands are leveraging outsourcing to adapt to the changing business environment. Moreover, they are using the opportunity to learn the latest best practices followed by experienced outsourced customer support providers.
5 Reasons Why Outsourcing Customer Support Is A Great Idea
Here are 5 reasons why outsourcing customer support is all the more relevant in the post-COVID scenario:
1. Collaboration solves capacity issues and improves service quality
Online businesses attract customers from different time zones and geographies around the world. Due to reasons of size and scale, many find it hard to provide support round the clock without incurring significant costs. If support is not available, customers may be unable to get their questions answered during checkout or immediately after receiving their order confirmation email. For e-commerce stores, this is as much of a 'process and workflow' problem as a 'people problem'.
New generation customer support outsourcing providers work as an extension of your team. They use proven strategy models to benchmark your existing customer support processes and master it. With the help of the latest technology aids, outsourced customer support providers match your brand voice and tone within a few days.
Outsourcing customer support lets you deploy more agents for peak hours and maintain service quality at an affordable cost.
2. Multi-lingual support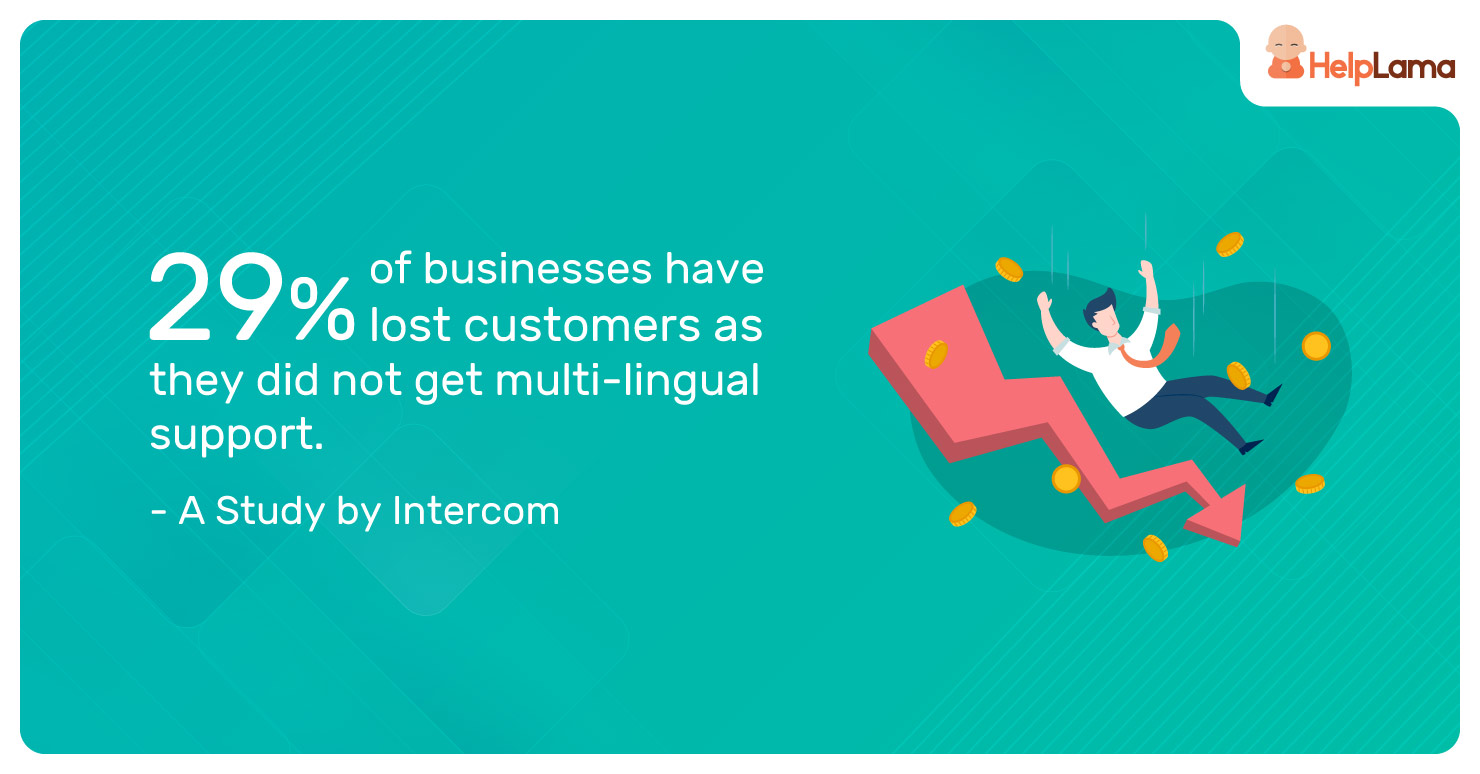 Customers are increasingly demanding personalized support. If you have a fair share of international customers, you may need to hire agents who speak two or more languages with high proficiency. Some brands choose to hire on-call translators to get around this problem. The downside: it drives up hiring costs and the cultural aspect may yet be missing.
Here's a fact for you to consider: a study by Intercom, a conversational relationship platform, found that 29% of businesses have lost customers as they did not get multi-lingual support. Outsourced customer support providers can provide flexible multilingual support which can help you overcome language barriers and engage new audiences around the world.
3. Focus on top priority business activities
E-commerce companies are now looking to diversify their supply chains to become more resilient to disruptions. Many US companies are investing in Tier II and Tier III suppliers to provide more options, in case of a supply shortfall. As you focus on your strategic business priorities, routine operations like customer support may slip under the radar. With outsourced customer support providers, the need to closely supervise your customer support team is reduced. Outsourced providers also provide key inputs on performance improvement and revenue growth.
This is because they bring a great deal of experience to the table in terms of understanding business needs and performance management. The impact of system outages is also minimized with outsourced customer support.
4. Lower hiring and training overheads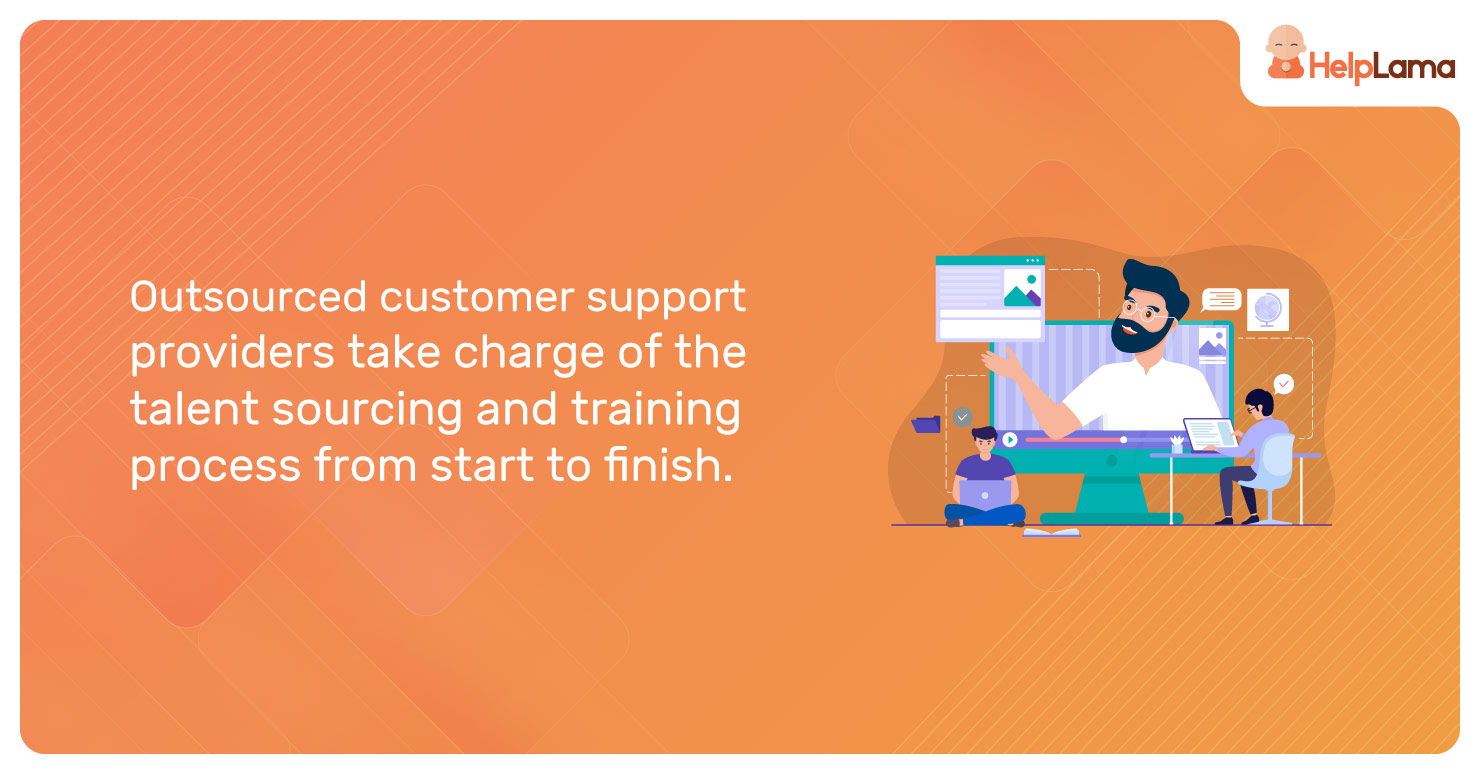 Hiring and training are among the biggest costs of supporting a large internal customer support team. Customer support employees often leave at short notice and the whole cycle starts all over again. Not only is this inefficient, but it can also impact the bottom line. In the post-COVID business environment, finding the right talent is critical if you want to create a memorable experience for customers on each interaction. Recruiters may find you dozens of replacement agents but they could be lacking the right temperament and customer-centric mindset that you desire.
Outsourced customer support providers take charge of the talent sourcing and training process from start to finish. For you, that means lower costs and better RoI. You have complete control over the agents that finally service your customers and can even provide them with additional training at your discretion. If your team has been unable to cope with increased contact volumes in these troubled times, an on-demand outsourced team can be a wise choice.
5. Cost-effective
Rather than committing to fixed-price contracts with traditional call centers, you can get better value for money by using flexible outsourced customer support providers. The advantage is that you can customize your plan based on your unique needs in terms of hours and type of support required. If you are not satisfied with the quality of service, some customer support providers even offer a 100% money-back guarantee which protects you from the financial impact.
Last words
24X7 customer support has emerged as a key part of the business continuity plans of companies in the aftermath of the COVID-19 crisis. However, the costs of sustaining support can be prohibitive at a time when revenues have taken a severe beating. A professional outsourced customer support provider like Helplama can help you augment in-house capacity and create customer engagement at a particularly difficult time for families and communities across the world.
This is the moment when you can differentiate your brand from the competition and build lasting relationships with customers by being available for them. It is a gesture that your customers are not likely to forget when things return to normal. Helpama's 'Zero-Risk' guarantee gives you complete freedom in terms of choosing when and what to outsource and at what price. Contact us today to learn more about how we can make a difference!