Customer service is now the biggest brand differentiator for businesses of all sizes. Great overall customer experience is now considered to be a more important factor than just the price and product quality. Customers prefer brands that make them feel valued. In fact, research conducted by Oracle shows that 86% of shoppers are even willing to pay more for better customer service. For most small businesses, good customer service may seem like a no-brainer but the truth is that there usually is a lot of room for improvement. Employees at small businesses including online stores juggle many different responsibilities which can see customer service slide down the to-do list. However, genuine customer service is an attitude, one that puts the customer at the center of everything that a business does.
As customers demand change constantly, a small business owner must also re-evaluate their customer experience priorities. To stay relevant, you need to think of new ways of adding value across the typical customer journey. The big brands are surely doing it. Let's take Amazon, for example. To address the problems of delivering to gated communities and apartment complexes, the company has signed contracts with landlords to install in-premise Amazon lockers. It should come as no surprise that it took top place for best overall customer service on the Retail CX Rankings report published by customer experience consultant, Verint ForeSee.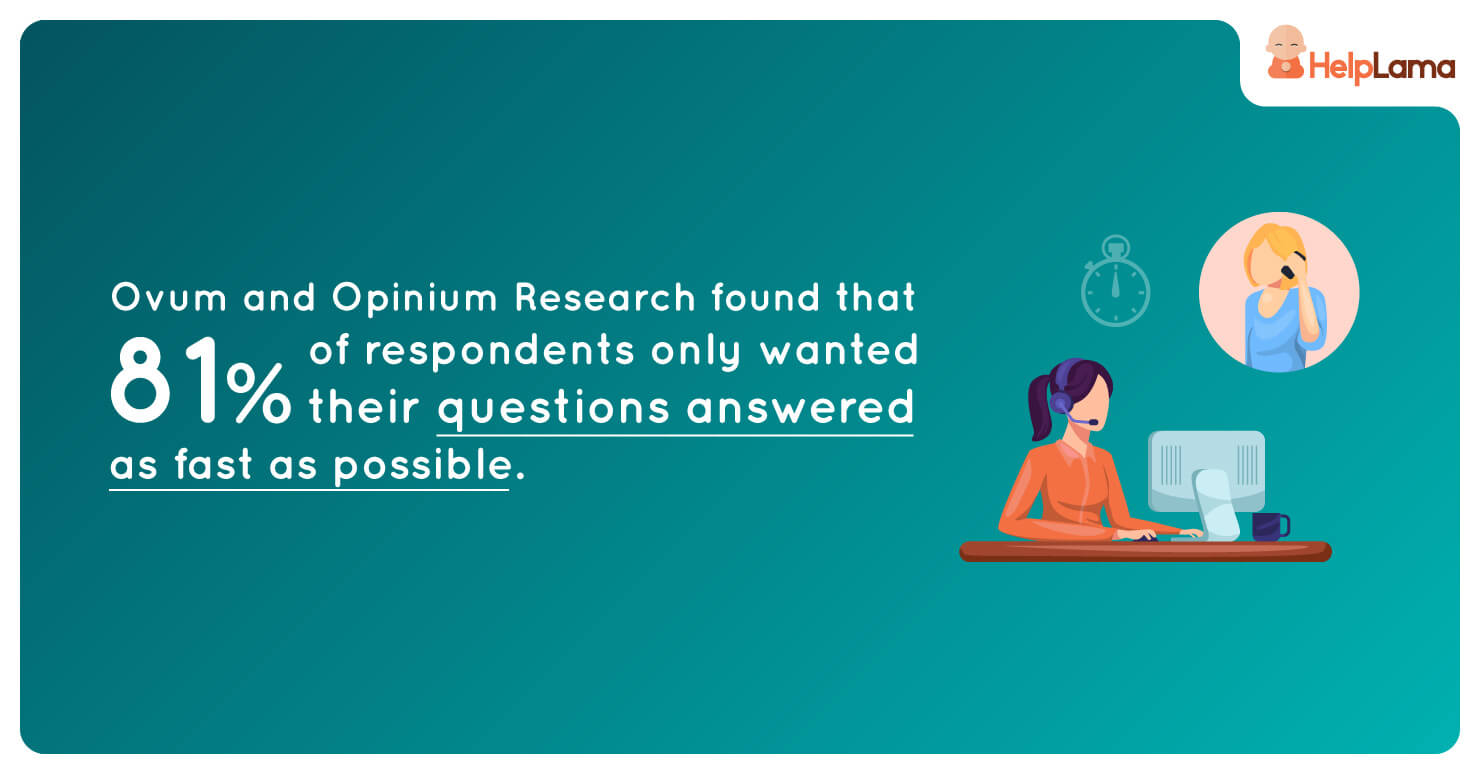 The customer service playbook for small businesses is somewhat different as their resources are much more modest. However, money is not as big a factor as many imagine. Along with a great product, most customers also want simple, easy to understand answers to their questions. Ovum and Opinium Research found that 81% of respondents only wanted their questions answered as fast as possible. This should be within the reach of any business with a committed team of employees. If you agree that all business is people serving other people, then customer service is essentially the whole purpose of being in business.
Customer Service Tips To Ace The Game
So, what separates great service from the also-rans? Here are 9 ways your small business can build better relationships with customers to compete with the biggest brands:
Be an expert in your niche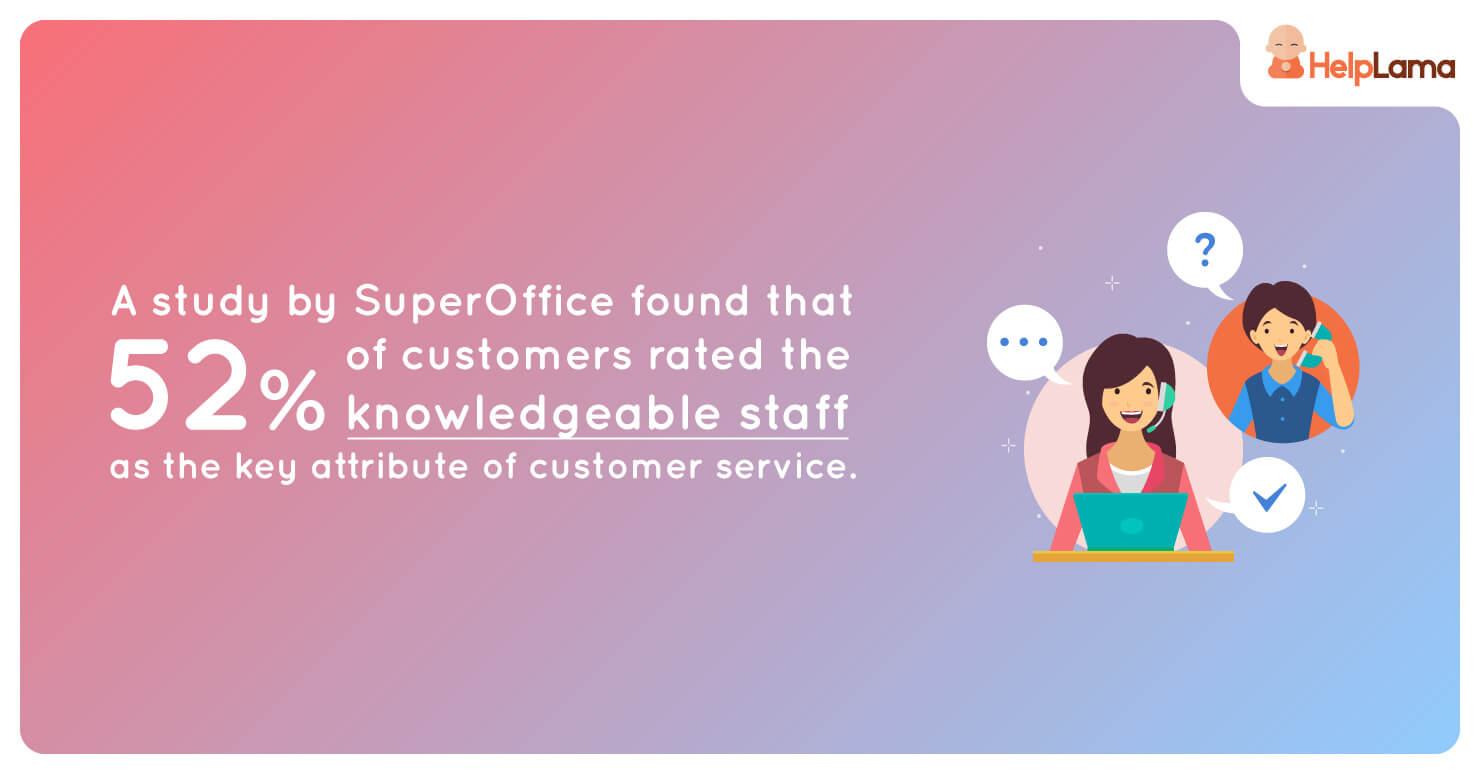 Customers instinctively know it when they are interacting with a pro. A study by SuperOffice found that 52% of customers rated knowledgeable staff as the key attribute of customer service. Non-verbal cues like tone of voice can easily tell customers whether your customer support team knows the product they are asking about. The takeaway for small business owners: If you want to set your team up for success, a well-designed knowledge base is essential.
This can help new employees quickly come up the learning curve while embodying the tone and voice of your brand in the shortest possible time. A knowledgebase can make it easy for your help desk reps to keep a conversation going with customers while still searching. This makes for a much less awkward experience for both your agent and the customer.
You don't necessarily have to be dealing in technical products to do this. Even if you're dealing in apparel, a knowledge base can help your agents build contextual expertise about the benefits of a certain kind of material vs another or the science behind sizing and design.
Pro tip: If an e-learning portal is a non-starter for cost reasons, use a content management system like WordPress to create your own knowledge base of marketing material, product manuals, and FAQs. Adding custom search fields or adding new data is easy thanks to WordPress's intuitive design. In fact, this can reduce the number of customer calls for your team.
Don't forget self-service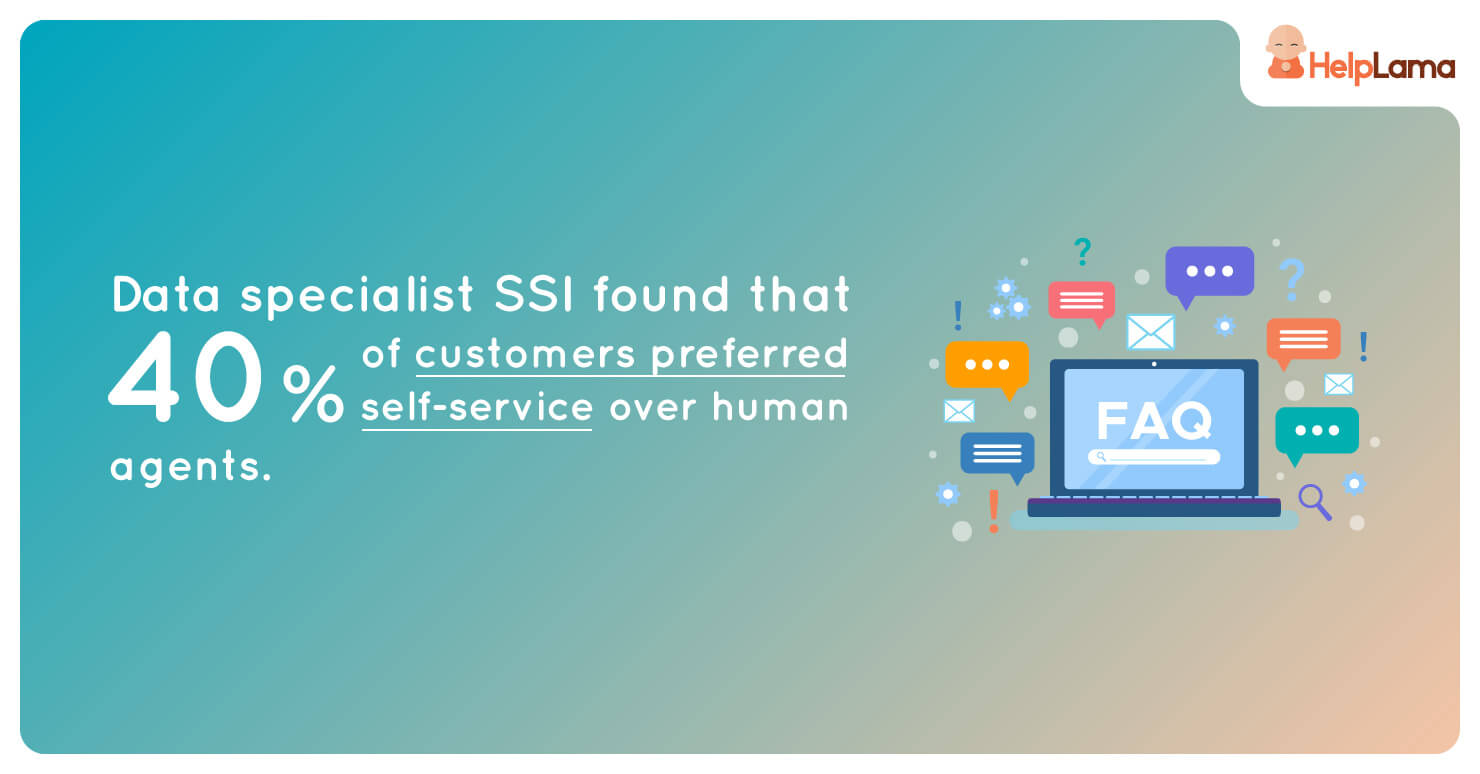 The customer service landscape is undergoing a profound transformation, thanks to chatbots and intelligent IVR. Data specialist SSI found that 40% of customers preferred self-service over human agents. Chatbots are capable of answering routine customer questions, reducing response time, and providing first contact resolution in most cases. However, if the answer to a query does not exist in the knowledge base, a chatbot can be programmed to route the customer to a live chat agent for further assistance.
There are cost-effective alternatives to chatbot you can use to provide self-service functionality to your customers. If your online store already features a comprehensive list of FAQs, organize the information using categories and labels to simplify the search. Make sure that navigating to the search bar is effortless. Adding how-to videos or screenshots can make the user experience interactive and make it easier for them to follow instructions.
Pro tip: If you haven't already, create a series of user onboarding emails with links to the FAQ section of your store. In addition to sharing product updates, you can also use your FAQ page to invite comments and suggestions from customers.
Customer service training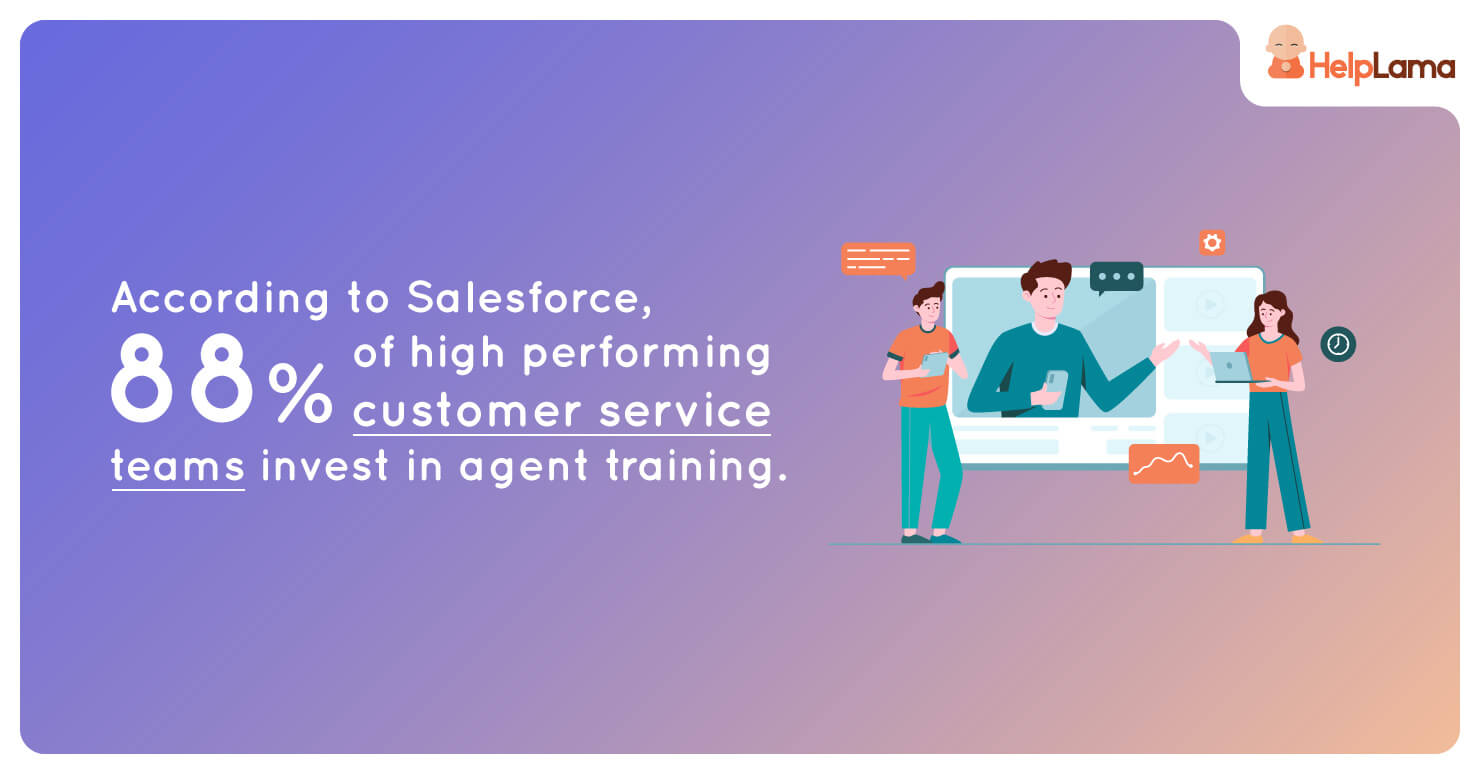 Customer service isn't the responsibility of a select few within your organization. For example, unless your marketing and sales have a common perspective of what customers really want, they could both be pulling in the opposite direction. The business case for developing customer service training from the growth point of view is a no-brainer. According to Salesforce, 88% of high performing customer service teams invest in agent training.
A professional customer service training program can be a good value for money in terms of the customer-centric culture it can help your company create. Certified online courses are also available if you are looking for a cheaper alternative.
Pro tip: Start holding a 10-minute huddle before the workday begins to tell your staff why you think customer service is important. Ask others to share their own experiences so that the larger group can benefit from the experience.
Empower your team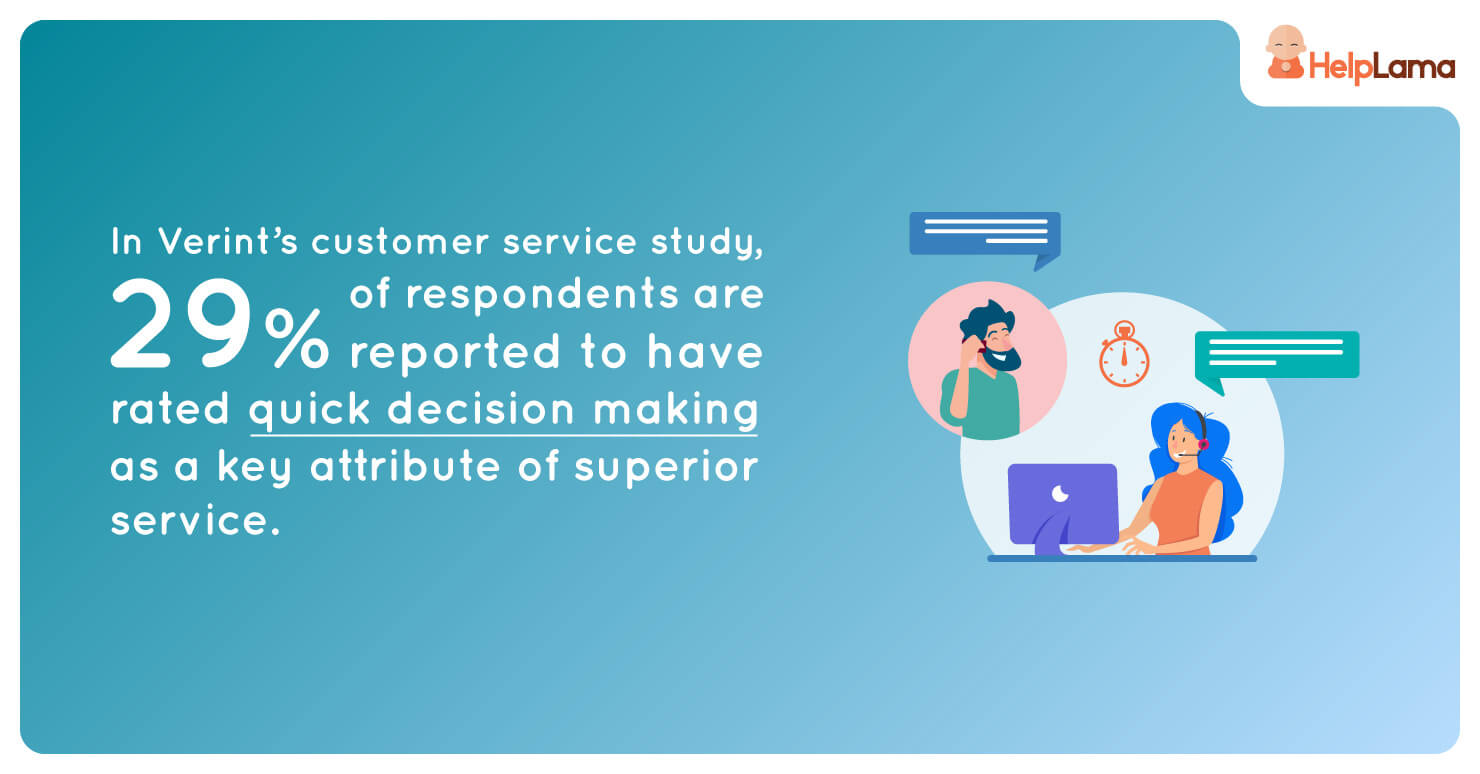 The vast majority of less than satisfactory customer experiences are the result of agents putting customers on hold to consult with their manager. In Verint's customer service study, 29% of respondents are reported to have rated quick decision making as a key attribute of superior service. Small businesses can be leagues ahead of their enterprise counterparts on this count. Being smaller in size, customer service requests need only go through a single manager. Even so, an empowered customer service team is likely to have a better response time and a better conversion record than others.
Pro tip: Delegate authority to a single team member to approve refund requests or process exceptions to a predefined extent. This can boost the overall handle time and turn customers into advocates for your brand.
Personalize your service: Acknowledge their concerns, offer rewards and loyalty programs, dedicated, offer free consultations or pre-sale previews.
Know when to get help: 
During peak season, your in-house team may find it hard to handle a surge in volumes. This can impact customer experience negatively- eg: abandoned calls, long response times, and eventually lead to a poor CSAT score for online stores. The cost of training and deploying a customer support team can be hard to justify in the event of unexpected downtime or agent inefficiency. Paying overtime may not be the ideal long term solution either in terms of agent burnout issues and the resulting impact on customer service quality. In times like these, outsourcing customer support can be a cost-effective solution. An experienced outsourcing partner can help you estimate the amount of support you'll need during different times of the year and chalk out a strategy to help you meet your service quality goals, contributing directly to bottom-line growth.
Last Words
Making a strategic decision to outsource customer support can pay rich dividends at a time of financial austerity caused by the coronavirus crisis. As budgets shrink, every penny needs to be accounted for. Helplama can help you boost bandwidth at short notice while keeping costs down. Our team of trained, US-based remote customer support specialists helps you buck the trend of high training and attrition costs. If you're worried about falling CSAT scores, you can rely on our expertise to help you identify and fix process gaps. Give your customers the experience they deserve with Helplama.
Call us today for cost-effective, on-demand, and 'zero risk' customer support.