What makes customer support truly exceptional? Some companies like Salesforce define exceptional service as "building relationships with customers" while others prefer the term "proactive service". In fact, businesses worldwide are spending a lot of time and money to codify the essential elements of exceptional customer support in a bid to gain an edge over the competition.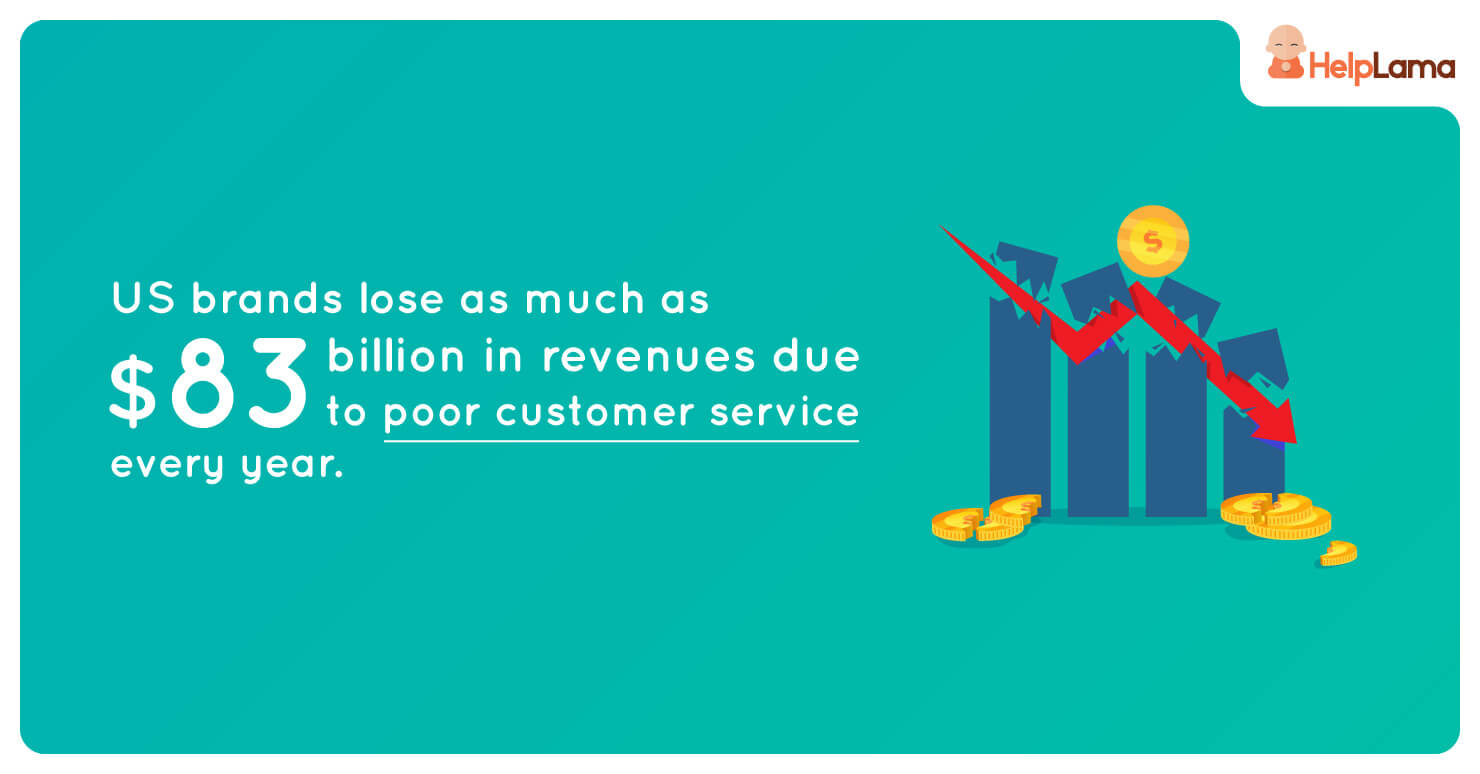 There is also a compelling financial reason behind it- US brands lose as much as $83 billion in revenue due to poor customer service every year. Even an incremental change in the status quo could mean a windfall in terms of market share and revenues for them. Fundamentally, exceptional customer support is about fulfilling customer needs proactively, throughout their journey with your brand.
From the checkout process to the unboxing of the product, there are several touchpoints that online stores can leverage to deliver the wow experience. It does not end there, though. The post-purchase experience is just as important. For example, by simplifying your terms of the warranty, returns, and refunds, you can create more reasons for customers to keep buying from you. The outcome is not just increased average sales per session but likely positive reviews on social media which can have a multiplier effect on sales.
Funnily enough, it does not take a lot to make a customer happy. Most just want quick service while others have the need to be understood and empathized with. Taking ownership of customer issues is another factor that can distinguish you from the competition. Processes and systems do have their place in delivering great customer experience. At its most basic, however, exceptional customer support is going the extra mile for the customer.
Key Qualities that make Your Customer Support Worth It
Let's take a look at the many qualities of exceptional customer support and how they relate to the key performance metrics:
Empathy
The ability to acknowledge and empathize with the customer's state of mind is based on two factors: the issue he contacts you about and his previous purchase history. A quick response at the start of the conversation can make an immediate difference to the customer's experience and elevate your brand in his eyes. The ability to visualize the situation is crucial to being able to 'put yourself in the customer's shoes' – a mantra that is ubiquitous in the customer service industry. Experts say that it is important to pace the customer to build rapport and apologize – whenever required-  to create a state of collaboration for a solution to be found.
Ability to understand the broader strategy of the company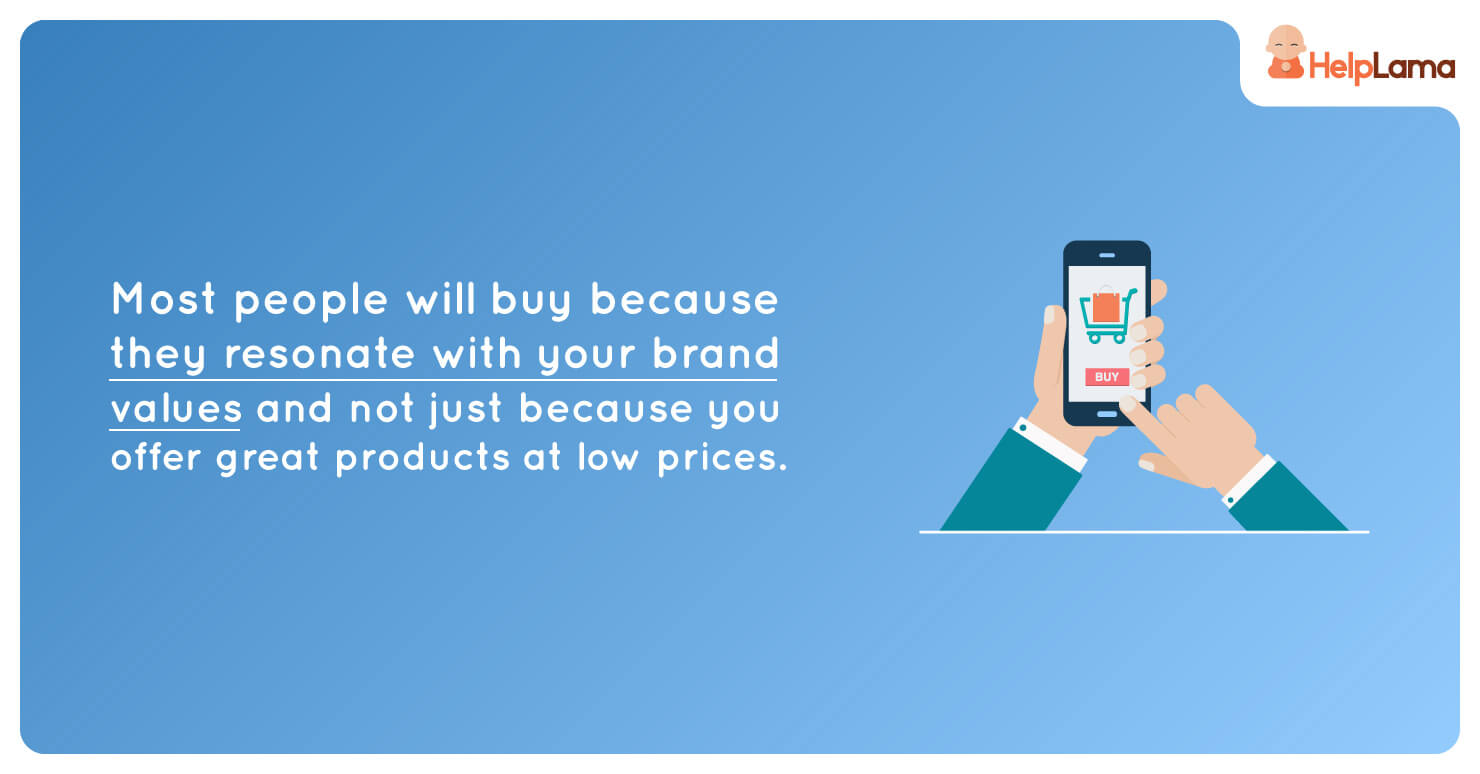 It is very important for your reps to be in sync with the broader mission of the company. To give the customer a consistent experience each time they interact with your store, your support team should be able to embody your brand voice and tone. This necessitates a thorough understanding of the broader mission which in turn, will help you agents see how their contribution matters. For example, if you're known to be a leader in healthcare products, your reps cannot ignore queries from customers which are completely unrelated to your product line. If a customer needs some help and your company is trying to brand itself as a leader in the organic diet or holistic health space, your reps CANNOT sacrifice the brand image by ignoring a wellness related question just because the customer is not (yet!) interested in your products. Most people will buy because they resonate with your brand values and not just because you offer great products at low prices.
It is also very important that the agents are able to understand how things work behind the scenes, for example, the basic cost of goods, your fulfilment/shipping costs and your margins. This allows them to take quick decisions with respect to refunds, reshipping or discounts. This can be critical from the cash flow point of view. For example, in certain cases, reshipping might be cheaper than a full refund.
Communicating with confidence
Psychologists say that the words humans choose to describe our experiences are responsible, in large part, for creating it in the first place. To deliver exceptional support, agents need to be able to paraphrase the customer's situation to confirm they have understood while taking care to avoid using the same words that trigger frustration or anger. Changing their tone of voice while recommending a solution can help agents non-verbally suggest to the customer that their ordeal is over. Confidence also relates to demonstrating product knowledge and indicating that the agent is in control of the situation. In this context, the speed with which the agent handles the situation determines whether the customer goes away feeling satisfied or not.
Emotional Equanimity
Customer service can be an emotional battlefield and your reps are often the last line of defense before a full blown escalation or worse, a customer cancelling an order. During peak hours, your agents may come across customers who are short because their order didn't arrive on time or their purchase wasn't covered under your terms of warranty. If handled tactfully, you may be able to convince the customer to come around to your point of view. So, you need reps who do not lose their cool with a frustrated customer.
They need to be able to see the big picture and know that the customer's anger is not directed personally at them. More often than not, a single bad phone call with a customer who shouts at you can be enough to ruin the rest of your day. You need reps who can take such phone calls once in a while without suffering from a significant productivity decline. Training agents in de-escalation techniques and solution-oriented thinking can pay off disproportionately in terms of repeat sales and referrals.
Offering alternatives for the customer to choose from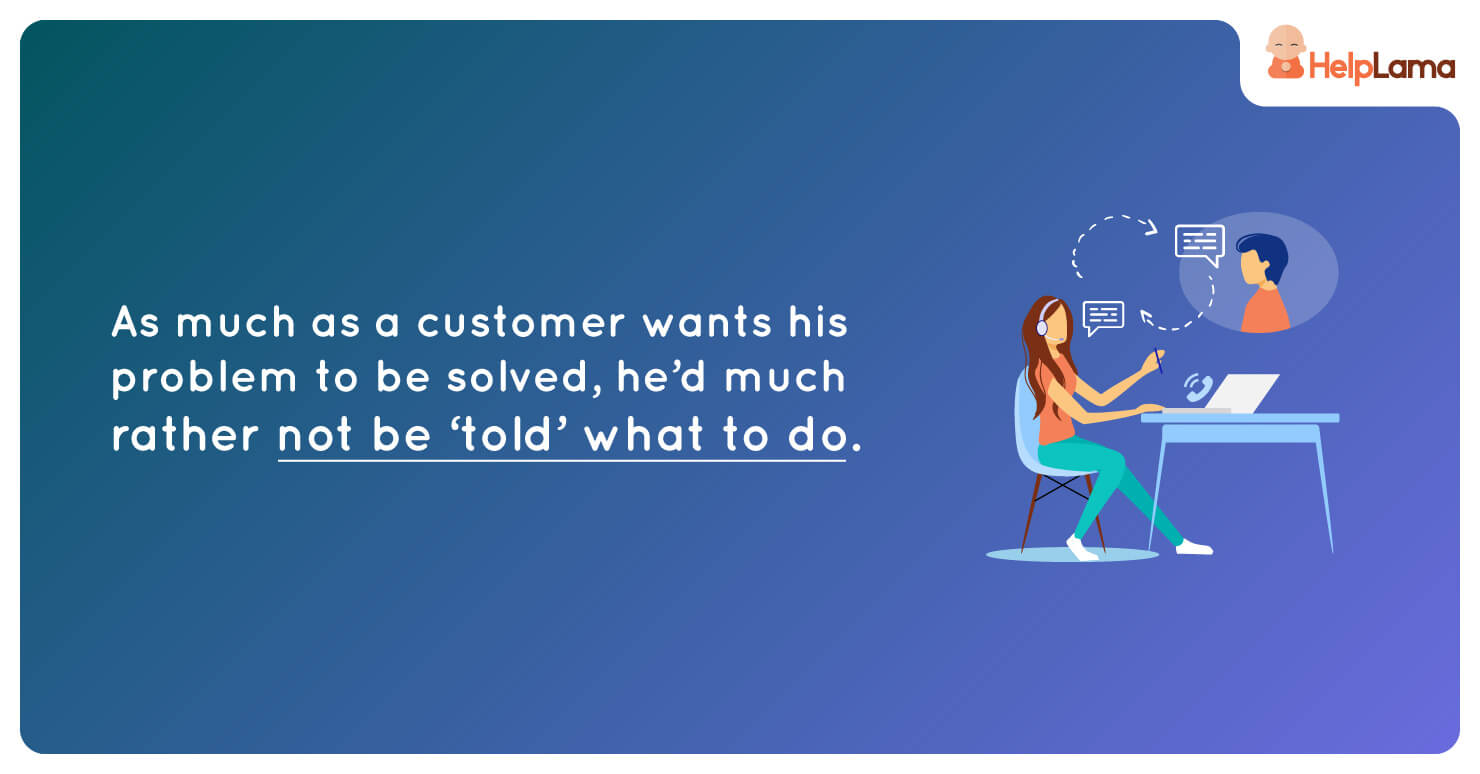 As much as a customer wants his problem to be solved, he'd much rather not be 'told' what to do. To deliver exceptional customer support, the agent must play the role of facilitator and offer a range of alternatives for the customer to choose from. For example, a customer may want a delivery expedited at short notice during peak season. A skilled agent should be able to provide an entire range of options including delivery to a local pickup point such as a store, delivery locker, etc.
While doing so, the agent must be clear about the possibility of delays, given the relative popularity of options such as in-store delivery. A quick summary of the request can put customers at ease and enhance the overall experience. Research suggests that this can greatly improve customer service quality. In fact, most customers prefer to interact with companies that tailor their products and services to their unique requirements.
Complete attention throughout the interaction
The agents need to make sure that past conversations of a customer are kept front and center to give customers a sense that their concerns are being duly noted by your team. Otherwise, your agents might come across as incompetent or worse, indifferent. On the other end of the spectrum, some customers really like to elaborate upon their smallest issues through incredibly detailed emails that run into thousands of words.. Since support agents are trying to resolve as many tickets as possible, they sometimes skim through these long emails, missing out on important points.
The agents should be trained to give due attention to every detail mentioned by the customer. Important details to capture include alternate shipping address, time of arrival, date of purchase, etc. This information can be logged into your helpdesk software so that your agents can resolve customer issues seamlessly. This data can also help you corroborate your C-SAT figures and zero in on the exact cause for a customer to be dissatisfied. Moreover, support agents should also keep an eye out for whether the person reaching out to them might be an important influencer.
Ability to multi-task and switch contexts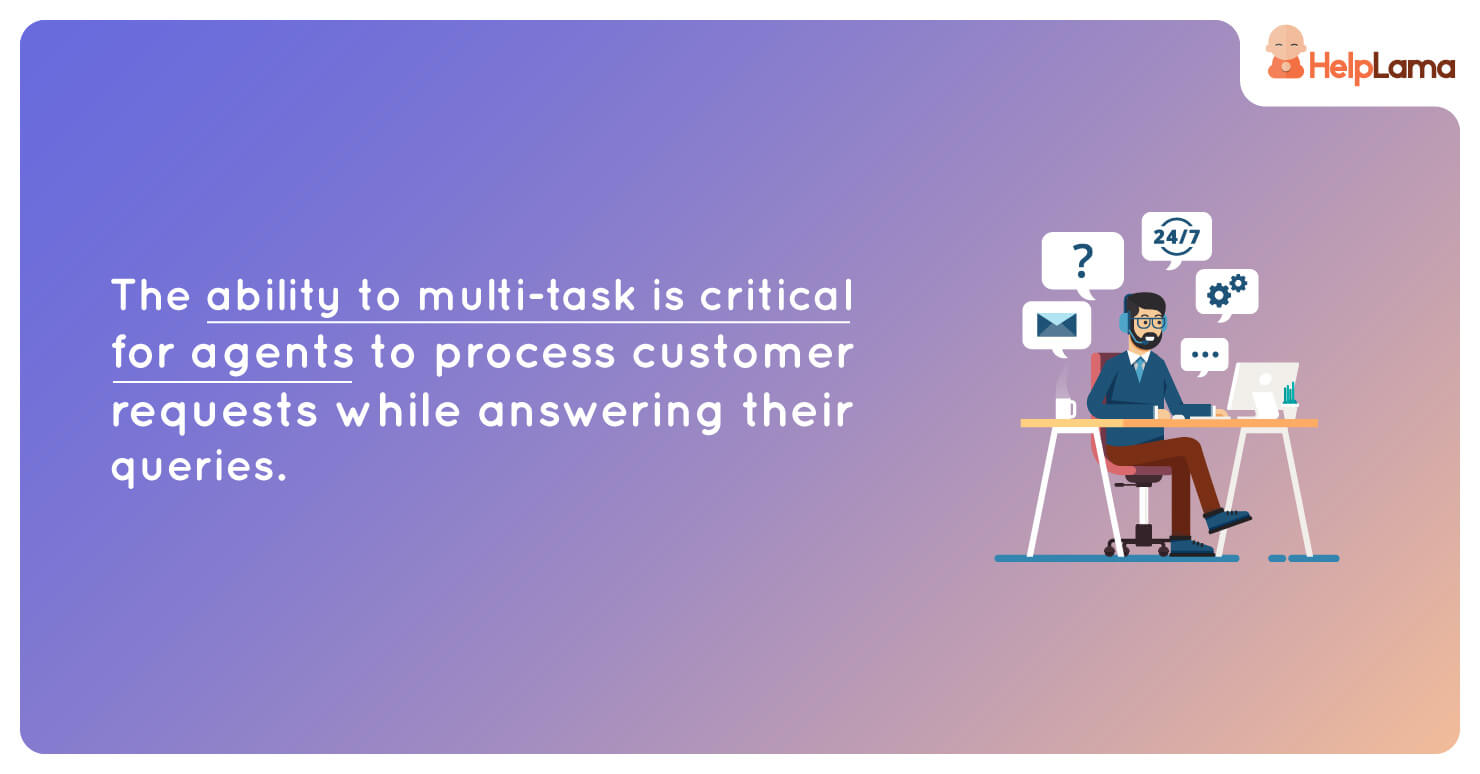 The ability to multi-task is critical for agents to process customer requests while answering their queries. How well they do this will determine the overall response time and even conversion rate for your team. Most companies rarely offer support through a single channel these days. Often, the agent offering email support would also need to take calls or live chats during the course of the day. So, an agent who is unable to switch contexts quickly will have a terribly hard time focussing on the customer. It is important that your agents are hands-on with email, chat, and voice tools. Integrating these channels with a common backend is key to agents' ability to provide the service customers expect. An up to date knowledge base with 'quick links' to FAQs is also a prerequisite.
Take full responsibility for customer issues
Customer support should always be proactive rather than reactive. As soon as a rep notices a problem with shipping to a particular location or with a certain product being out of stock, they should consider it their responsibility to proactively inform every customer who might be affected by this problem. Based on the defined goal for turnaround time, they should follow up with customers to make sure that their problem has indeed been resolved and that they can indeed close the ticket. At times, customers simply go silent after raising a request and this is not a good sign. The reps should consider every customer as their brand ambassador. Owning customer issues start to finish can drive loyalty and generate better online reviews for your store.
Last words
Skills like empathy, confidence, and product knowledge can directly impact both the efficiency and quality with which customer service is delivered, making it's cost justifiable. With businesses struggling to stay afloat due to the coronavirus pandemic, exceptional companies are thinking out of the box to stay relevant in the minds of their target audience. On-demand customer support outsourcing is turning out to be a game changer for small businesses. Helplama is a trusted customer support outsourcing partner for brands in niches ranging from furniture to apparel. With us on your side, you get: on-demand support, zero training costs, flexible pricing plans, and lightning quick deployment.
To know more about how we can help you be available for your customers night and day, call us now!