Who do you trust more, before purchasing a product or service: the brand or a fellow consumer?
Eighty-three percent of online respondents in 60 countries say they trust the recommendations of friends and family over traditional advertising.
That's why top brands and marketers incorporate user-generated content(UGC) into their marketing efforts to win consumer trust. 
In this guide, you'll learn about:
First, here are some of the top brands that are leveraging user-generated content to increase engagement, brand loyalty, and customer acquisition.
Top 20 Brands Using User-Generated Content
– Fenty Beauty
Fenty, which was founded on the concept of 'beauty for all,' was able to generate a staggering $100 million in its first 40 days alone. That too in a $532 billion competitive market.
Several consumers now discover beauty products on social media platforms such as Instagram and YouTube, so it's no surprise that Rihanna's Fenty Beauty turned to user-generated content (UGC) to drive engagement and sales.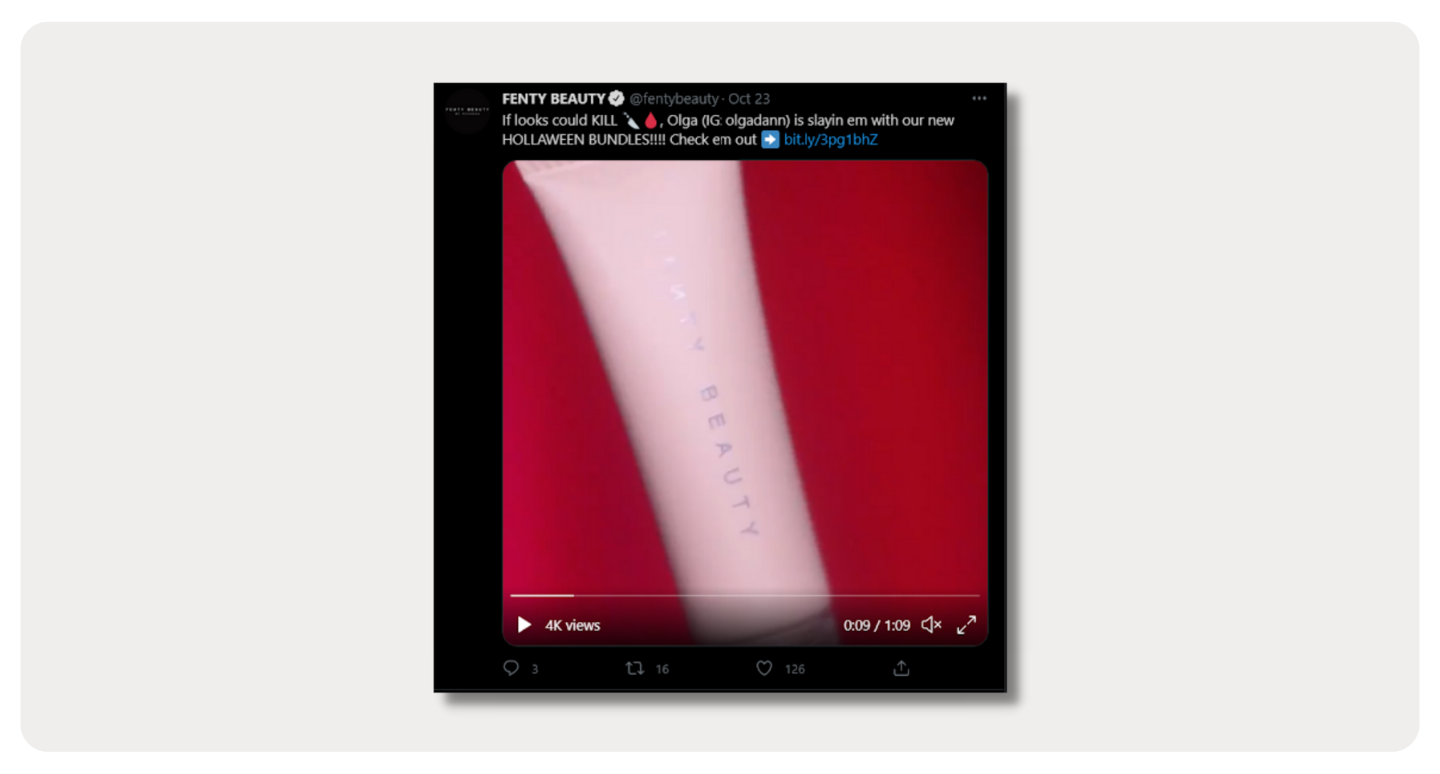 This beauty brand connects with its audience through video tutorials from users, influencers, and Rihana herself, as well as a branded hashtag #rihgram with over 14,000 user-generated posts.
Along with encouraging and sharing UGC on social media, Fenty Beauty also creates ads for its products by combining reviews and comments from verified customers.
The Result: This customer-centric strategy has resulted in the business gaining 10.9 million Instagram followers in no time.
– Uniqlo
"We don't chase trends. People mistakenly say that UNIQLO is a fast-fashion brand. We're not. We are about clothing that's made for everyone." – CEO Tadashi Yanai UNIQLO
UNIQLO one of Asia's fastest-growing clothing brands partnered with TikTok for the #UTPlayYourWorld contest.
While other brands are rushing to catch up with the current fashion trends, UNIQLO's strategy has always been to let the customers run the show.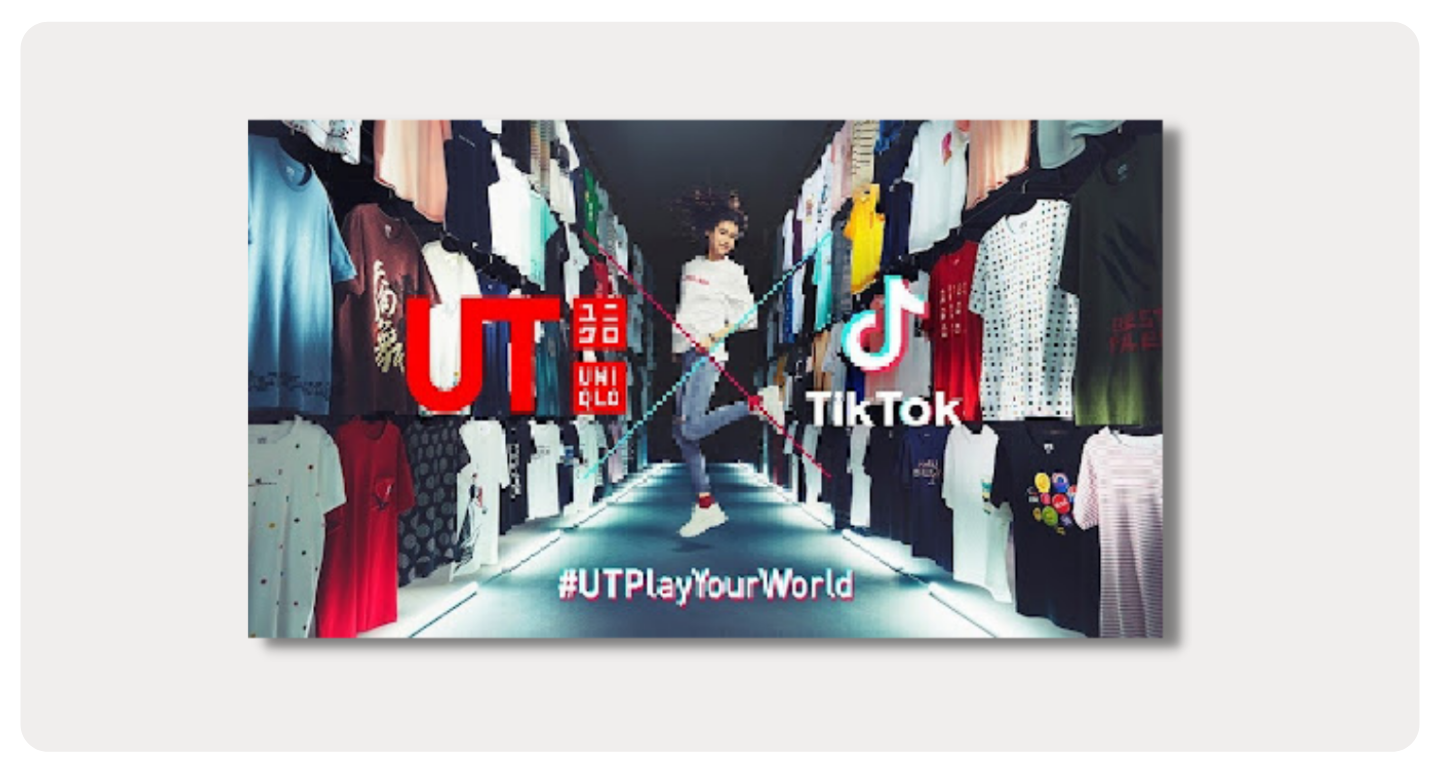 The strategy for the #UTPlayYourWorld contest was simple: Participants had to upload videos while wearing Uniqlo's "UT" logo T-shirt. The winners were given the opportunity to be featured on the brand's various social media platforms and online retail stores.
The Result: Over 95,000 TikTok users took part in the challenge, resulting in over 330 million views over the course of the two-week campaign.
– Hilton
Hilton Hotels & Resorts is a luxury brand that is no stranger to providing positive customer experiences and engagement in real-time. They created the campaign #HiltonStory to share this experience with their social media followers as well.
They repost pictures and videos from guests who have stayed at its properties on a daily basis, encouraging more user engagement throughout social media.
To encourage its customers to create UGC, contributors to the campaign are given the possibility of winning a free two-night stay at a Hilton location. Not only are they leveraging authentic content generated by real guests, but they're also making it engaging for everyone.
The Result: Hilton's Instagram account now has over 340,000 followers as a result of embracing UGC.
– GoPro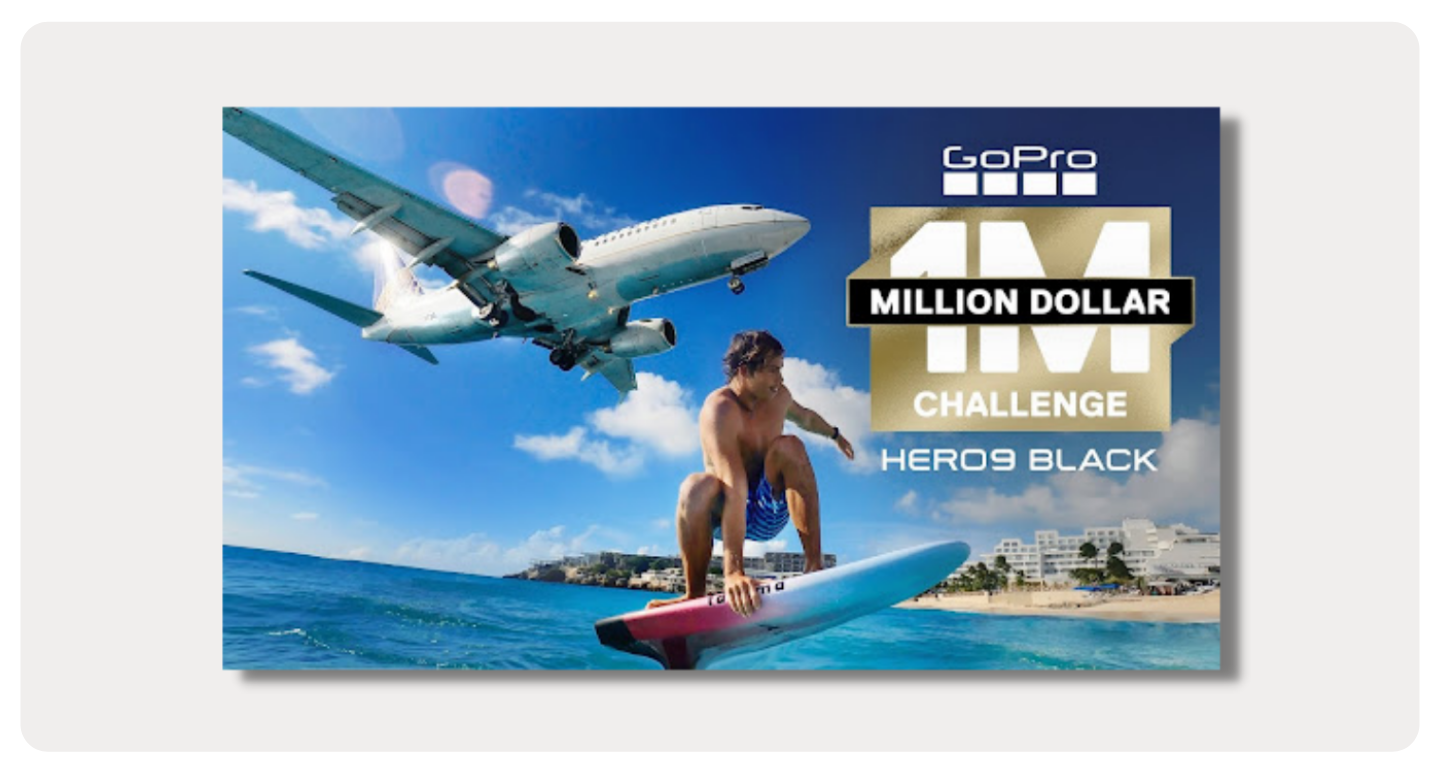 GoPro has always been associated with incredible experiences and adventure for its customers. They convey this brand message by focusing their content marketing efforts on the customer experience. Here's how:
GoPro's flagship product, the HERO7, was a game-changer, and they wanted to acknowledge it in a unique way. The idea was to produce a highlight reel from different GoPro footage sourced from their community across the world.
GoPro invited consumers to post their films on social media with the hashtag #MillionDollarChallenge, and the best were chosen to make a short video. Each of the submissions included in the film earned a $1 million split – thus the campaign's name.
– Coca Cola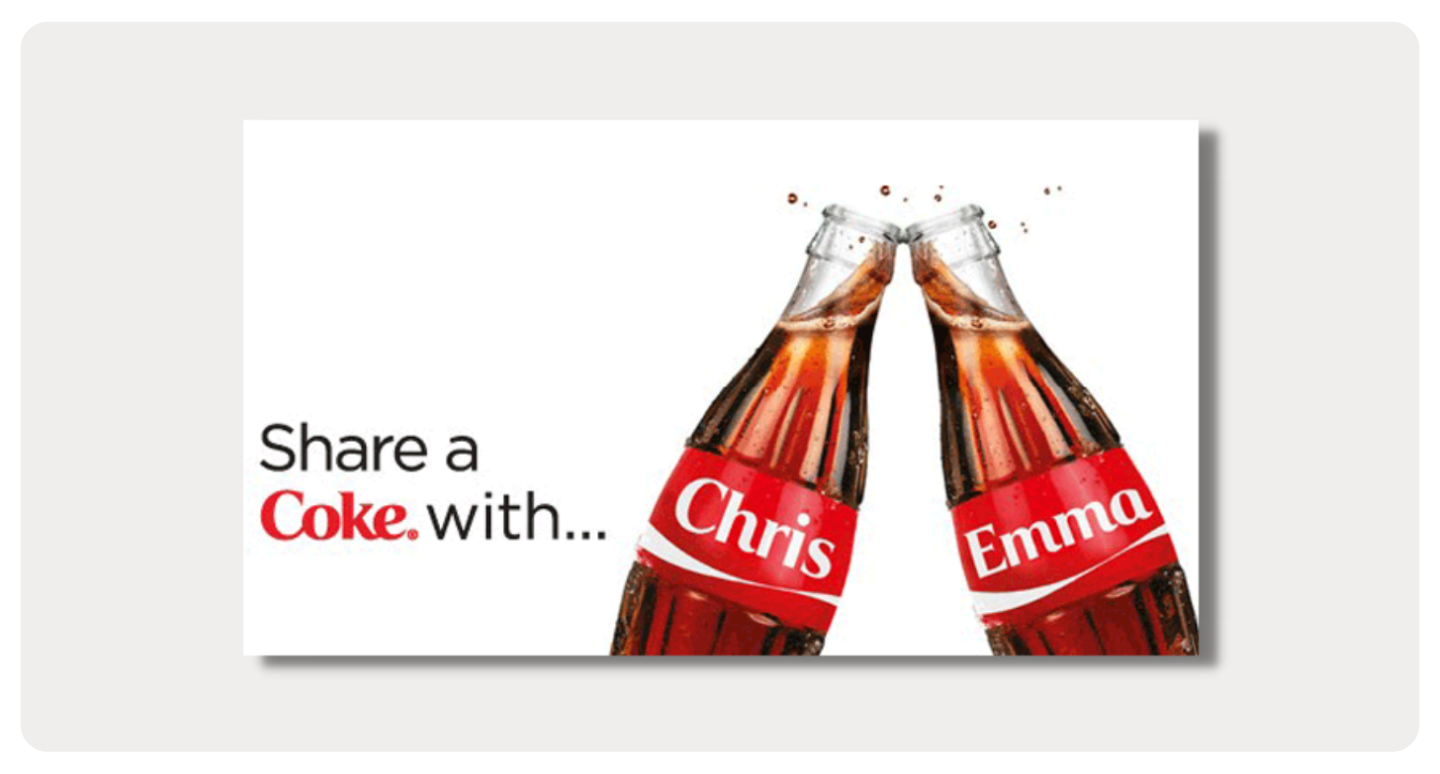 Coca-Cola creates unique marketing strategies, to sell its products in more than 200 countries around the globe. Today, after the word 'Okay', "Coca – Cola" is the most widely known word/term in the world.
The idea behind their user-generated content (UGC) campaign, labeled "Share a Coke"
was to print about 150 of a region's most common and popular names on its bottles, encouraging people to find bottles with names and share their experiences on social media using the hashtag #ShareaCoke.
These are some of the incredible results:
Product consumption increased by 7%.
Over 150 million personalized bottles were sold.

Want to Automate UGC? Top-rated UGC Tool
Claim Your 6 months of
FREE

Credits Now!
Get the code. Use anytime in the next 6 months.
– Netflix
Netflix's market cap is now more than $300 billion. This is the result of Netflix's extensive digital marketing strategies executed over the years.
Creating buzz and engagement around their new shows and movies is an important part of Netflix's social media strategy. Netflix worked this out by reposting fan Instagram posts to promote their premieres.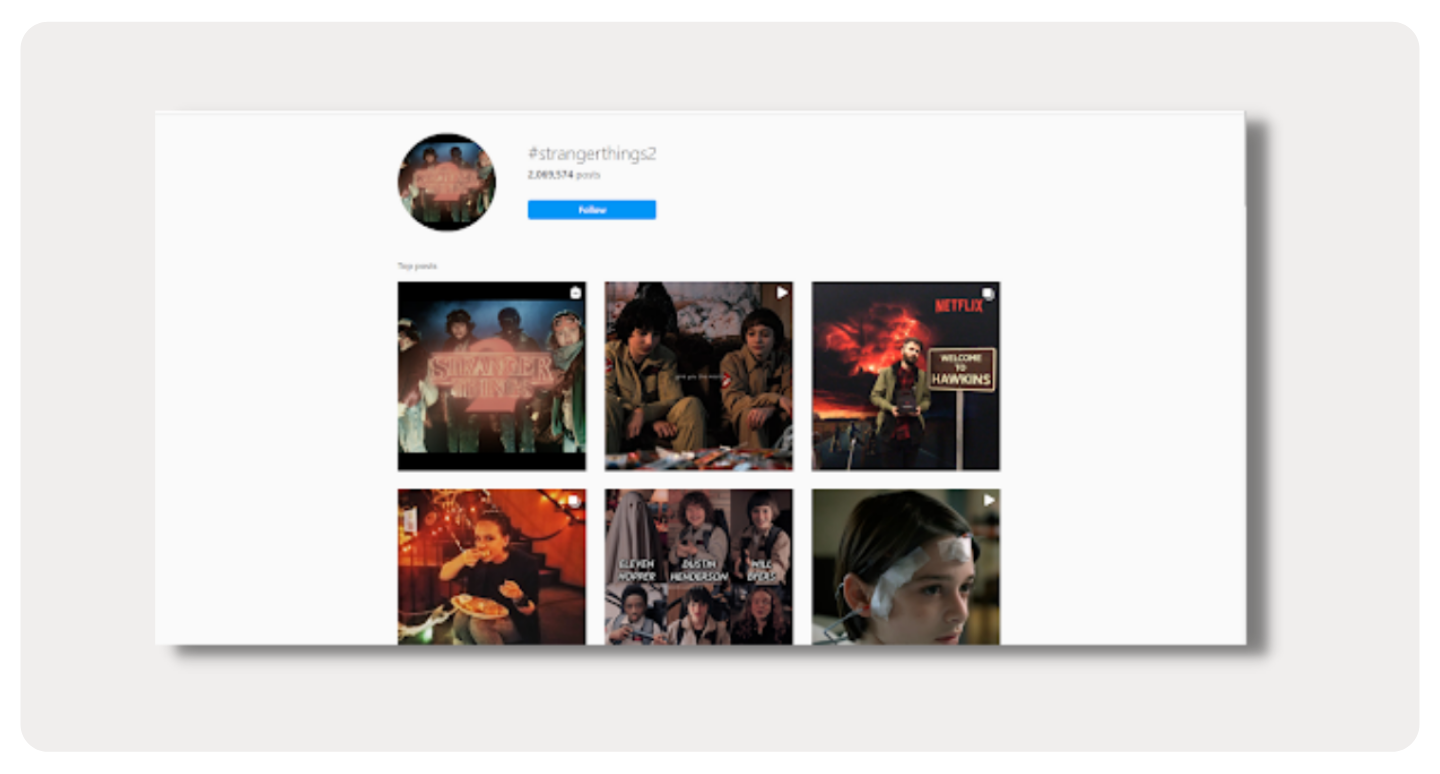 For example, the premiere of their original show "Stranger things " saw, extensive promotion of fan posts using the hashtag #strangerthings2. This generated more than 2 million posts under the hashtag in no time.
The result: Netflix had fewer than 500,000 subscribers in 2001. It now has 213.56 million paying members.
– Loews Hotels
Loews Hotels used to focus its marketing efforts mainly on offline channels. Looking at the very limited reach and difficulty tracking results, they decided to take the digital route.
Loews Hotels now devotes 70 percent of its budget to digital channels, up from 30 percent previously.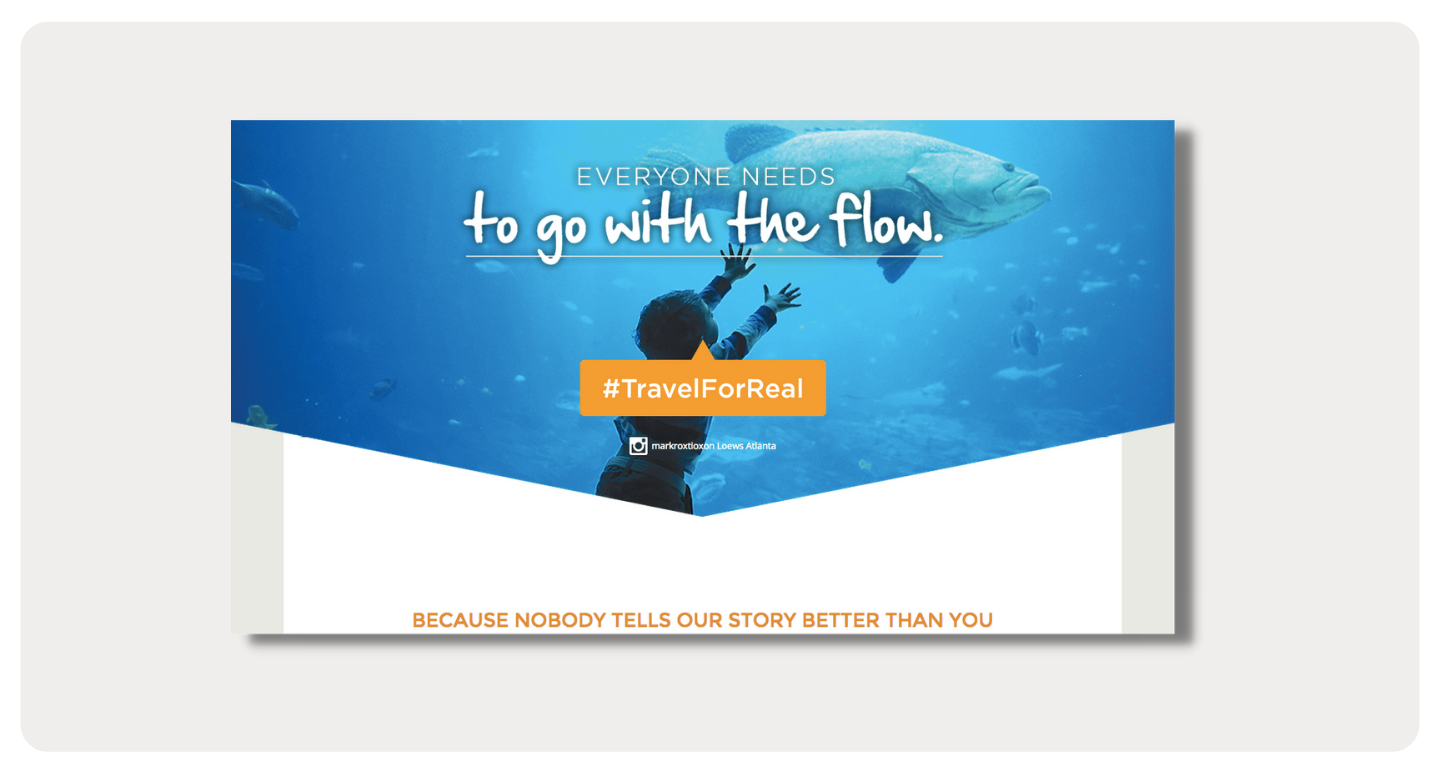 Loews Hotels realized in order to create a more genuine experience in its advertising, it had to avoid the industry's standard.
Their marketing team first started going through Instagram for photos shared by previous guests, using relevant hashtags and location tags to get feedback on customer satisfaction.
With the hashtag #TravelForReal, they turned it into a full-fledged user-generated content campaign, encouraging customers to share what it's like to stay at a Loews property on Instagram.
– Spotify
Spotify is an audio streaming service that has changed the way people play music. As of 2021, Spotify has over 165 million premium subscribers worldwide.
Spotify's UGC campaigns are the perfect examples for using data-driven marketing. Their UGC campaign focuses on content that can be shared across multiple platforms.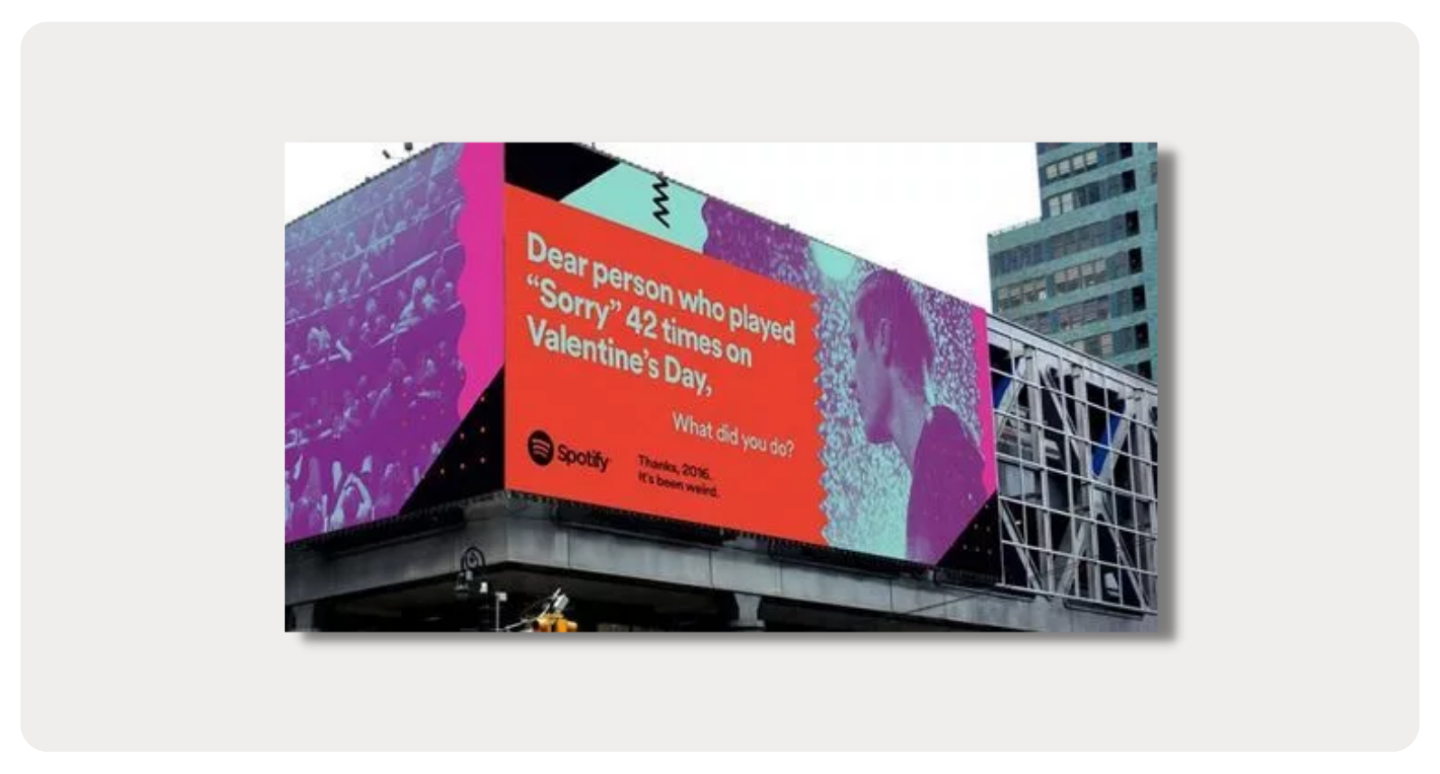 Spotify's "Thanks 2016. It's been weird" campaign combined user data with witty captions to capture social media attention. The campaign also shared creative user playlist names for their advertising headlines.
– Apple
From 2004 to 2020, Apple's revenue increased from $8 billion to $2,274 billion, thanks to its various marketing strategies.
Apple was quick to position its fans as its greatest marketers. Here's a look at their #ShotOniPhone campaign: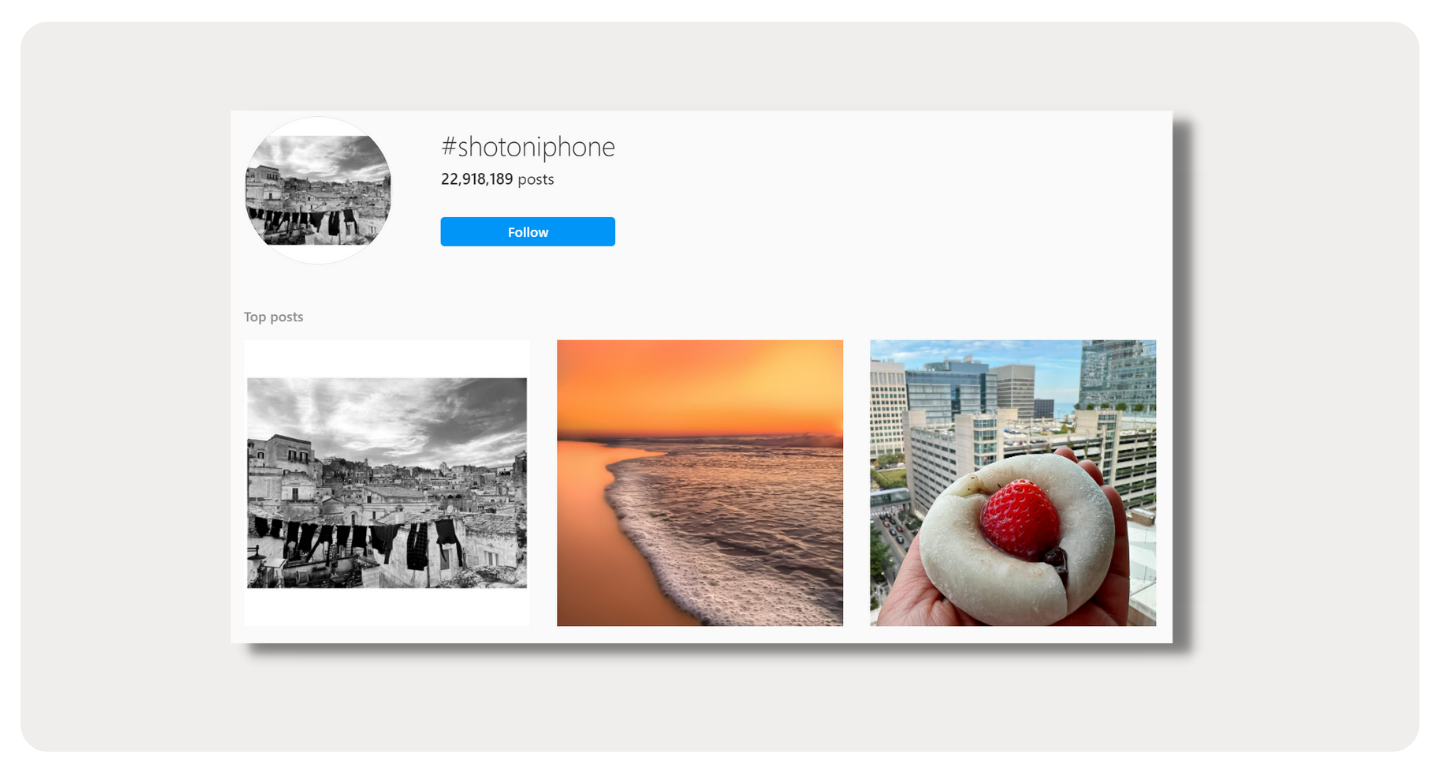 Apple invited iPhone users to submit their best photos in order to raise awareness about the iPhone's new cameras. Users were asked to use the hashtag #ShotOniPhone to share their best iPhone photo on social media.
The idea was to choose ten photos and display them on billboards across different cities, in Apple stores, and online.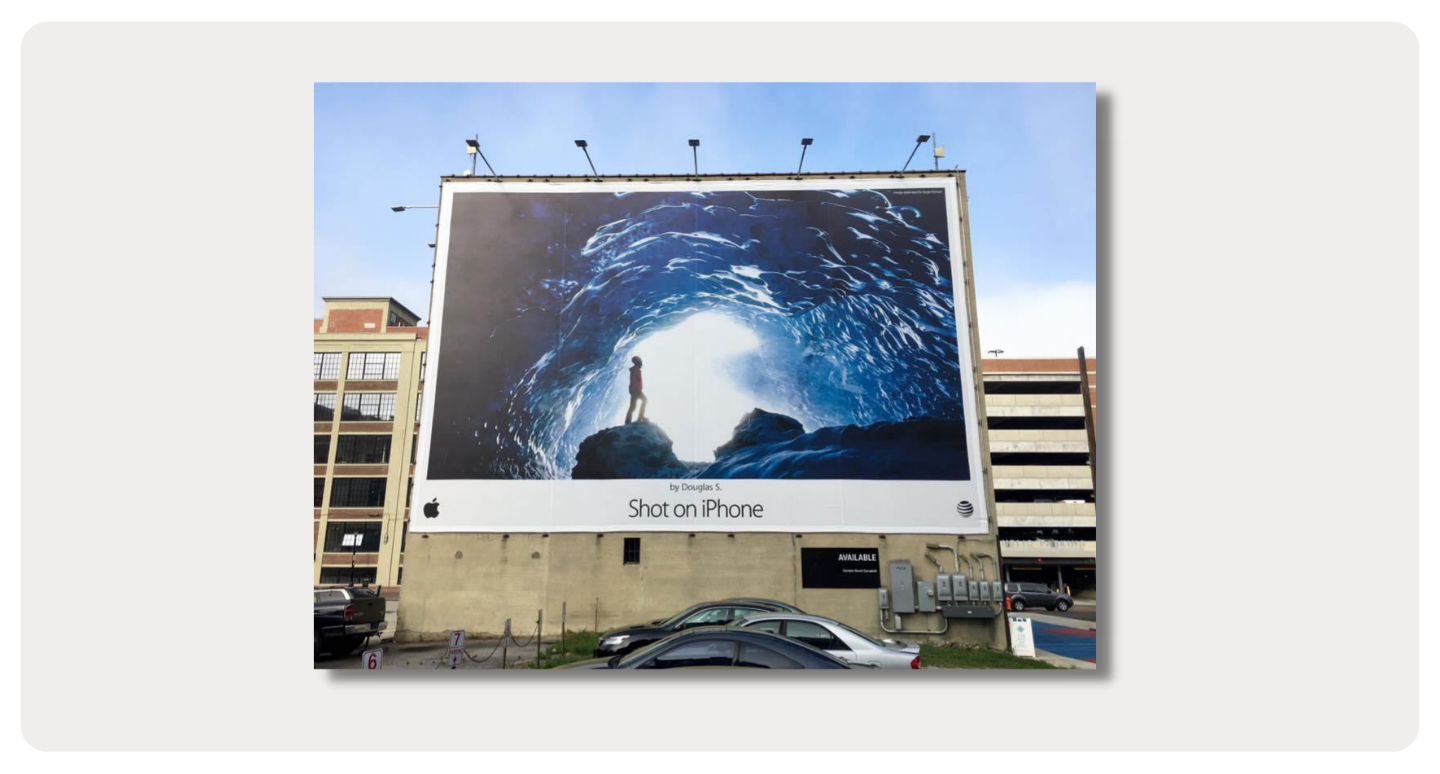 The Result: #ShotOniPhone has evolved into an online movement in its own right, with the hashtag serving as a symbol of pride and high-quality work. There are currently over 22.8 million mentions using the #ShotoniPhone hashtag.
– Starbucks
Starbucks, the world's largest coffee chain, launched the white cup contest UGC campaign in 2014, encouraging customers to doodle on Starbucks cups and share their work on social media using the hashtag #WhiteCupContest.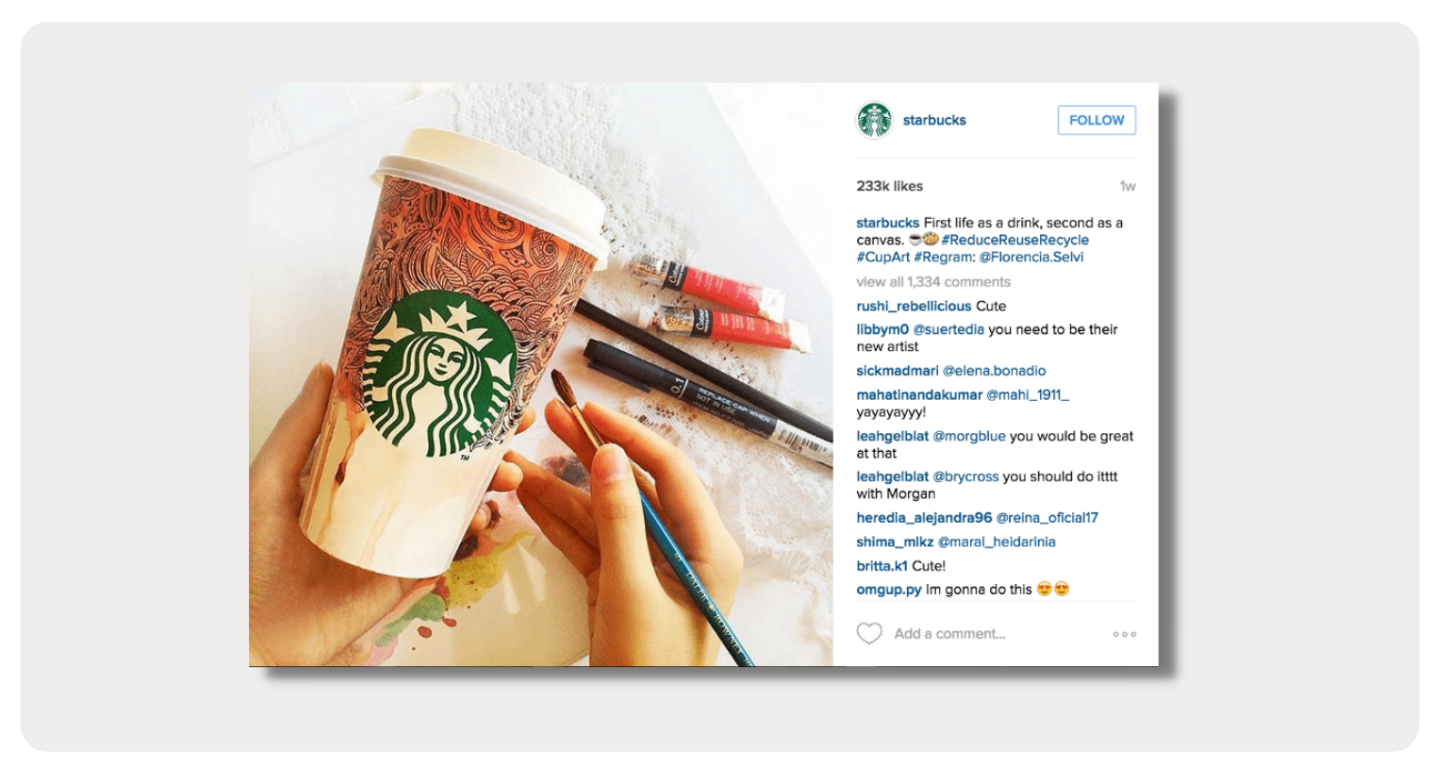 The winning design for the contest would be printed on limited-edition Starbucks reusable cups.
As a result of the Instagram user-generated content campaign, the brand received around 3,000 submissions in just three weeks.
– Airbnb
Airbnb is well-known for its genuine marketing techniques, and they've found the right strategy with UGC.
Their Instagram account serves as a gallery of visitor pictures showcasing a variety of strange and beautiful accommodations from across the world.
Guests are invited to post photos of their stay using the hashtag #AirbnB, with the most interesting photographs being reposted to the brand's main account and its 4.9 million followers.
As a result, this creates an online, social-friendly brochure of inspiration for potential customers looking for a unique place to stay.
– FedEx
FedEx realized that sharing traditional marketing content and "stock image" style photography on Instagram wasn't really capturing the attention of their target audience.
The brand's marketing team devised the ideal strategy for showcasing themselves through interesting and unique places.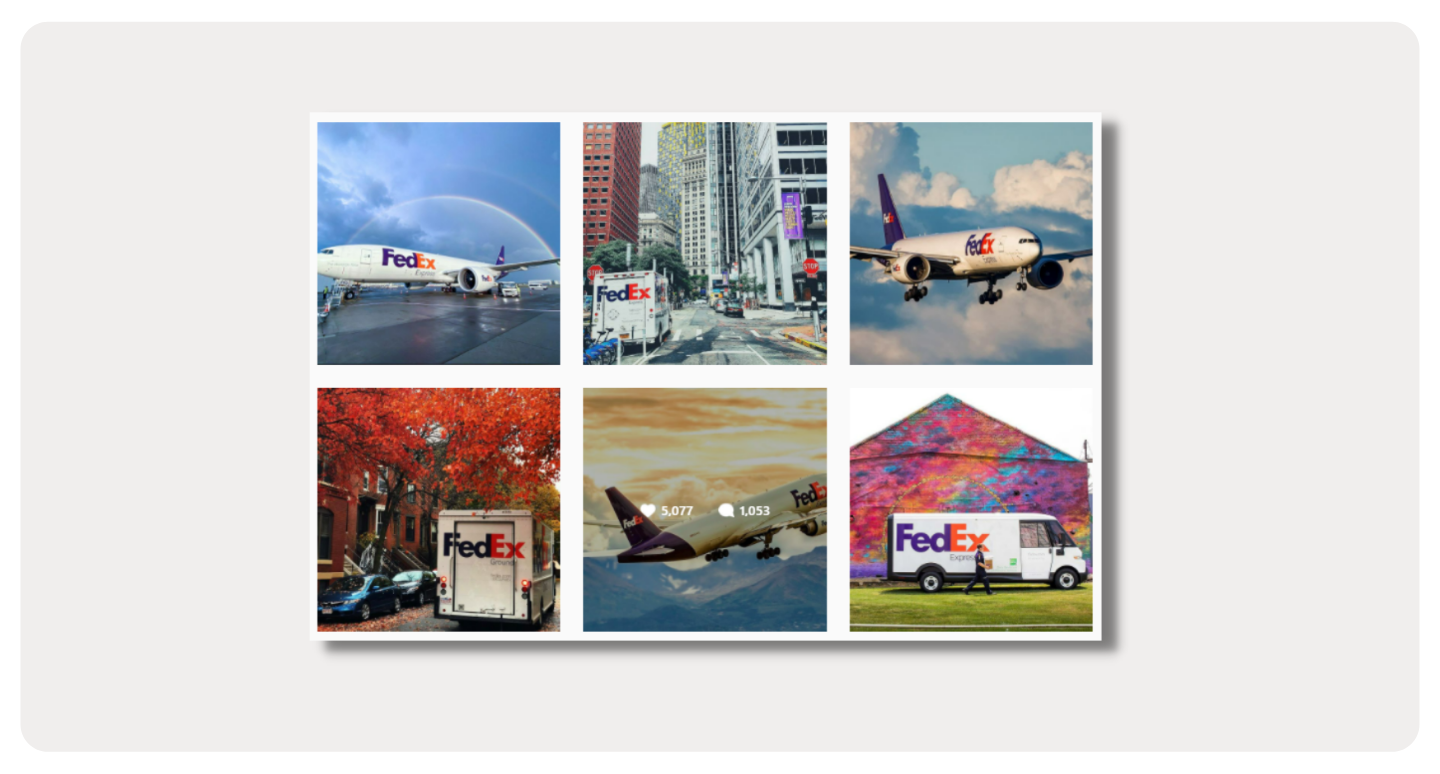 "FedEx in the Wild" was the campaign that followed FedEx trucks and planes as they made deliveries all around the world, even during the pandemic.
This encouraged users to share photographs of different places they'd seen a FedEx delivery truck or plane.
The result: In the first nine months after switching to UGC, FedEx's follower count has gone up by 404%.
– Wayfair
For brands in the home goods and design space, home decorating trends are a huge source of user-generated content. Wayfair is one of the largest eCommerce retailers, with nearly 20 million products to choose from.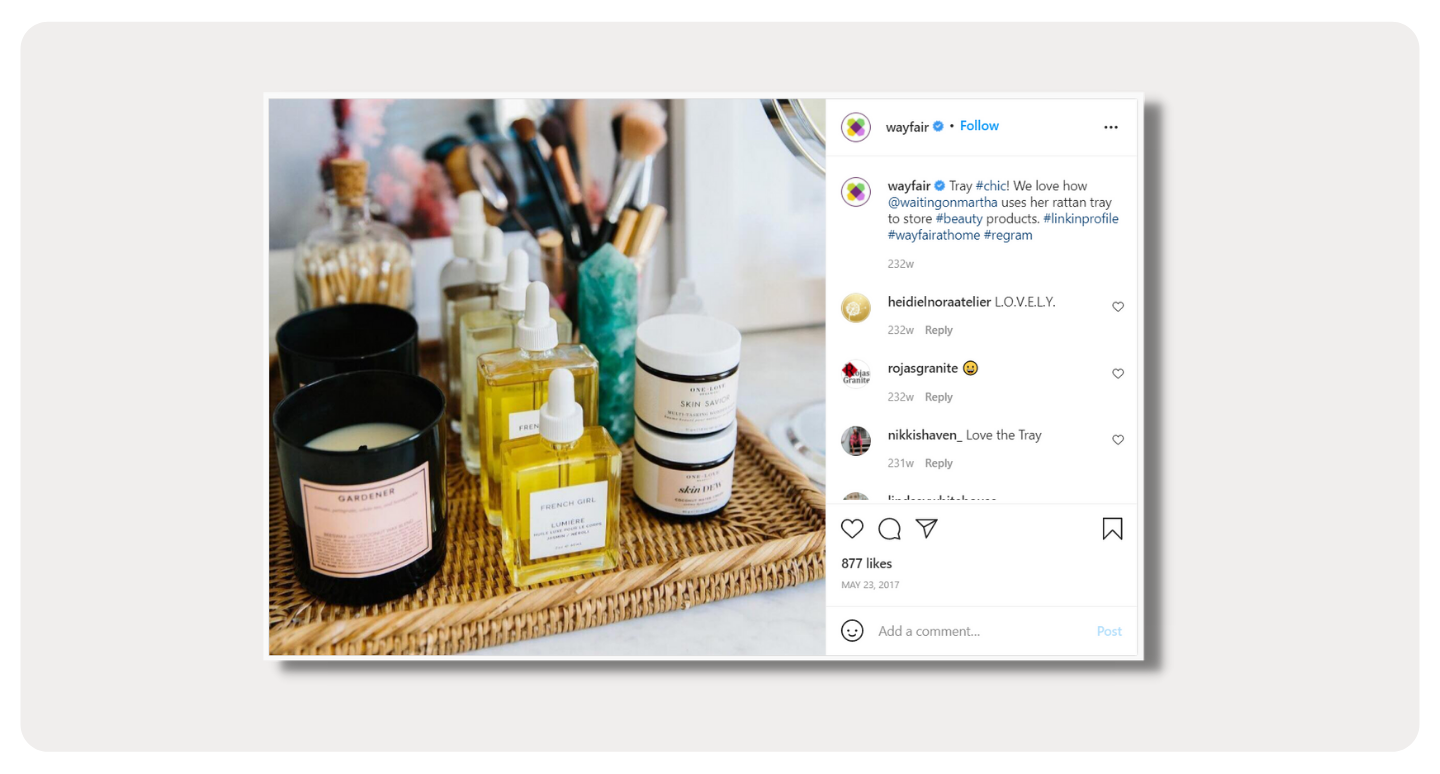 Shopping for a new couch? Their content will show you how it appears in other people's real homes — making the whole experience more authentic.
Their shopping experience seems trustworthy because Wayfair incorporates user-generated content directly on its website and social media channels.
– Pottery barn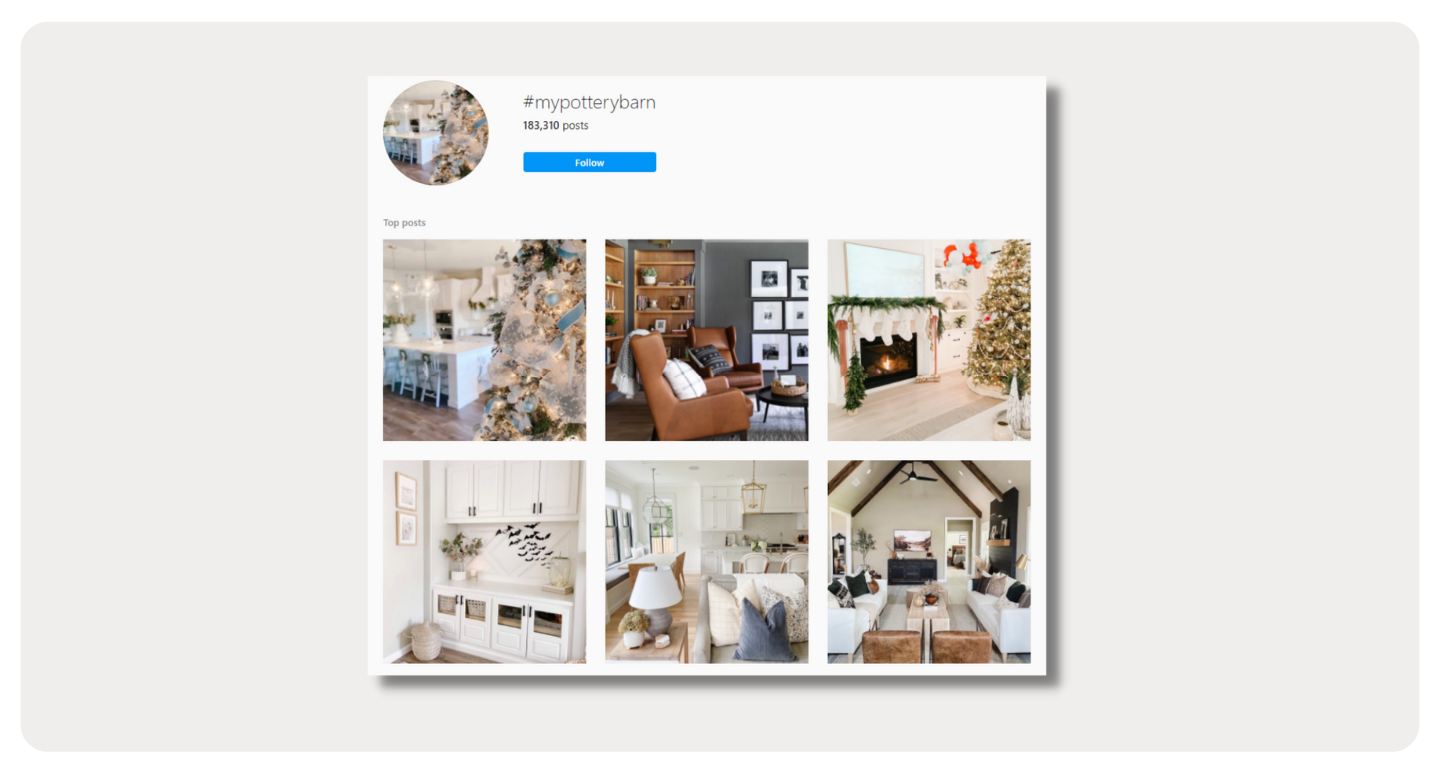 To leverage User-generated content, Pottery Barn allows and encourages its customers to showcase their purchases, combining customer testimonials and design inspiration for their audience.
Pottery barn asks its users to tag posts with #mypotterybarn for a chance to be featured on their Instagram feed. This practice by Pottery barn is an example where the focus lies on providing users with an authentic buying experience.
As a result, there is a large collection of user-generated content (over 180K posts) that a potential customer can look through before making a purchasing decision.
– Aerie
#AerieREAL is a user-generated content (UGC) campaign by women's lifestyle retailer Aerie, that promotes body positivity and inclusion across their website and social media.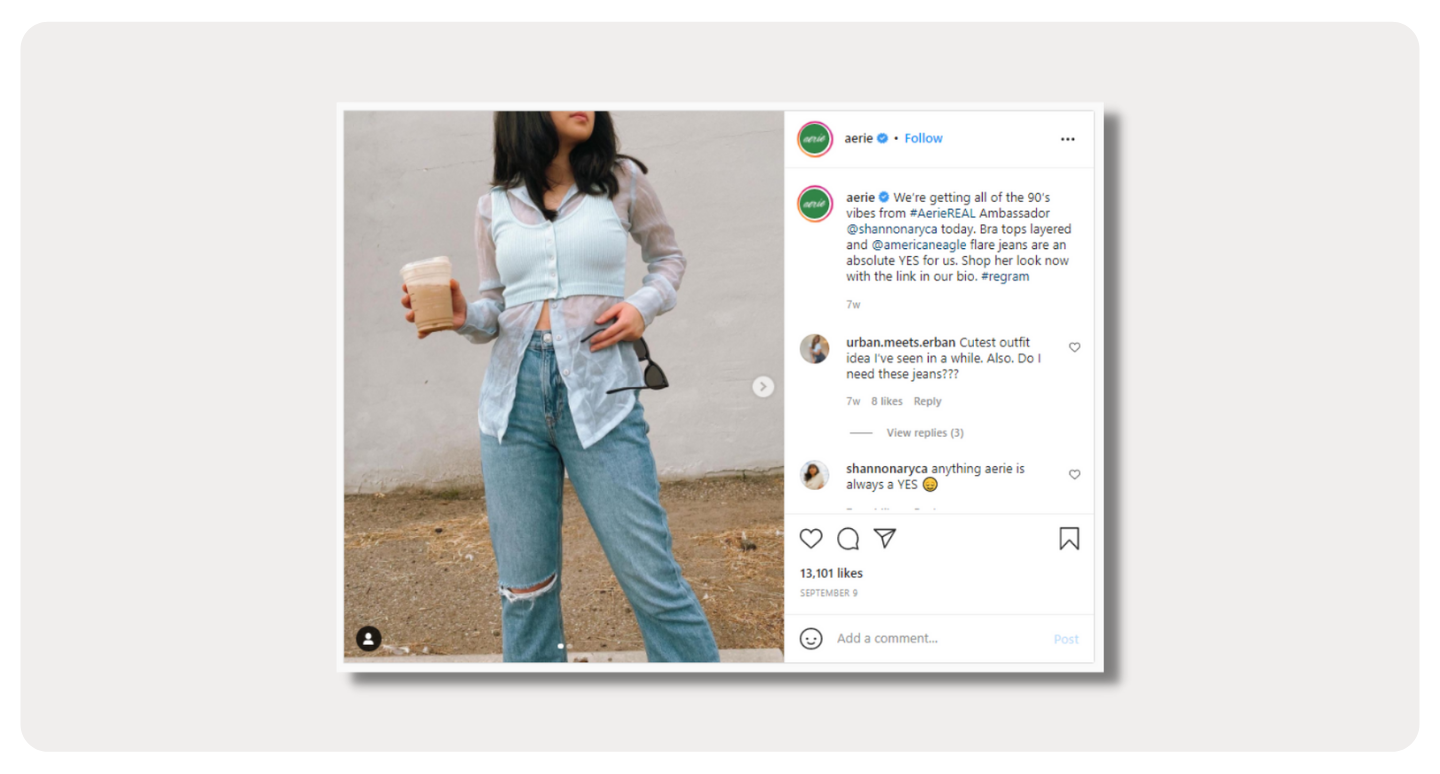 Aerie has truly built its brand around authentic connections with customers and turning them into ambassadors for the brand.
The brand has pledged to raise awareness about how edited photos can harm women's self-esteem. Aerie also donates $1 to the National Eating Disorders Association for every post shared with the hashtag #AerieREAL.
The Result: After launching #AerieReal, the retailer's sales grew by 20 percent.
– Calvin Klein
Calvin Klein has always had an innovative digital presence and their #MyCalvins campaign went viral on social media.
The campaign's main focus was to collect user-generated content across several channels and promote curated fan posts across social media and their websites.
CK even created a landing page that highlights the campaign: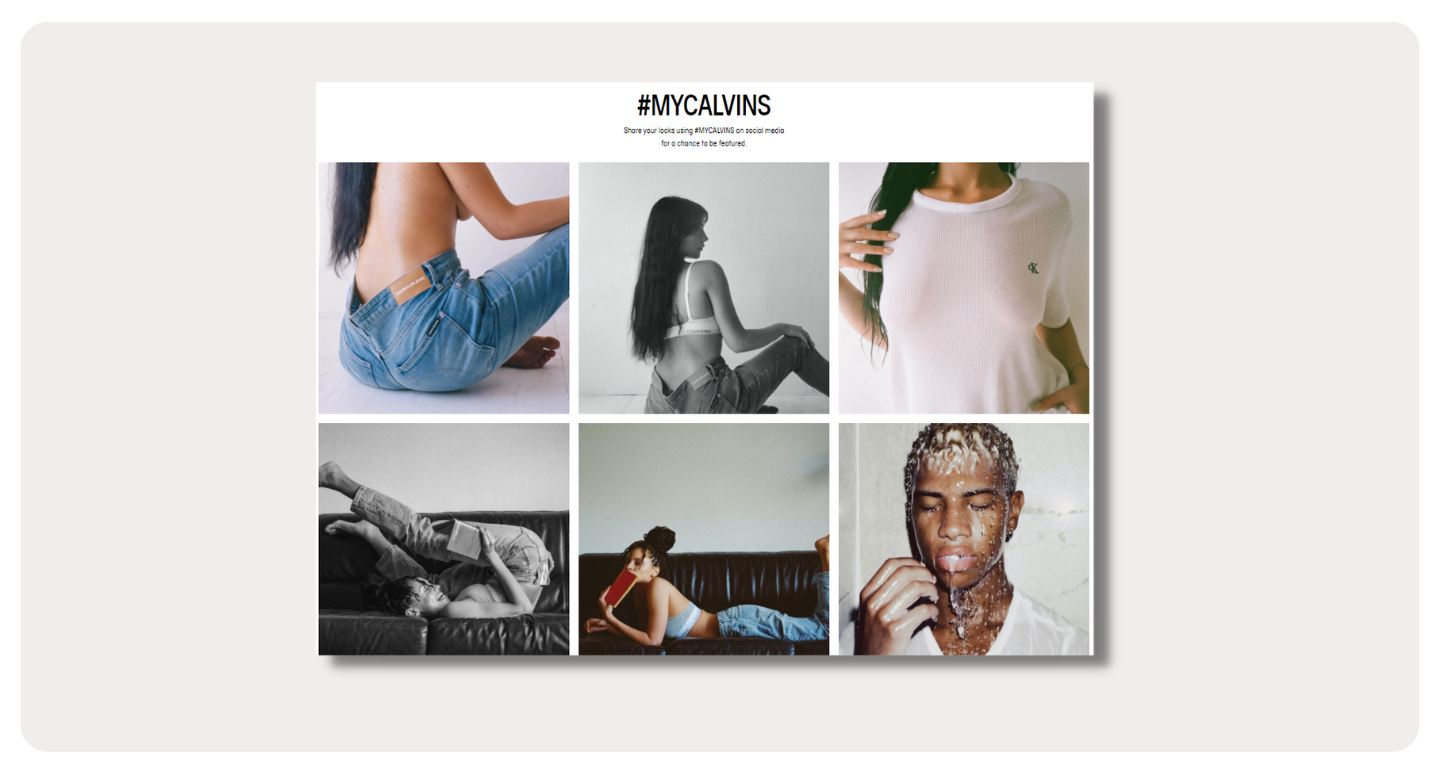 This encouraged users to include the hashtag #MyCalvins in their posts for a chance to be reshared across CK's network.
What they've achieved with this campaign:
– Google
Google, as a relative newcomer to the smartphone space, faced a challenge because most people had not heard of the Pixel phone. They needed to find a way to get the word out about their new Pixel phone to a wider audience.
Their marketing team realized that consumers are less likely to be affected by big-budget, for-hire influencers. Instead, they gathered a group of micro-influencers who were already die-hard pixel users.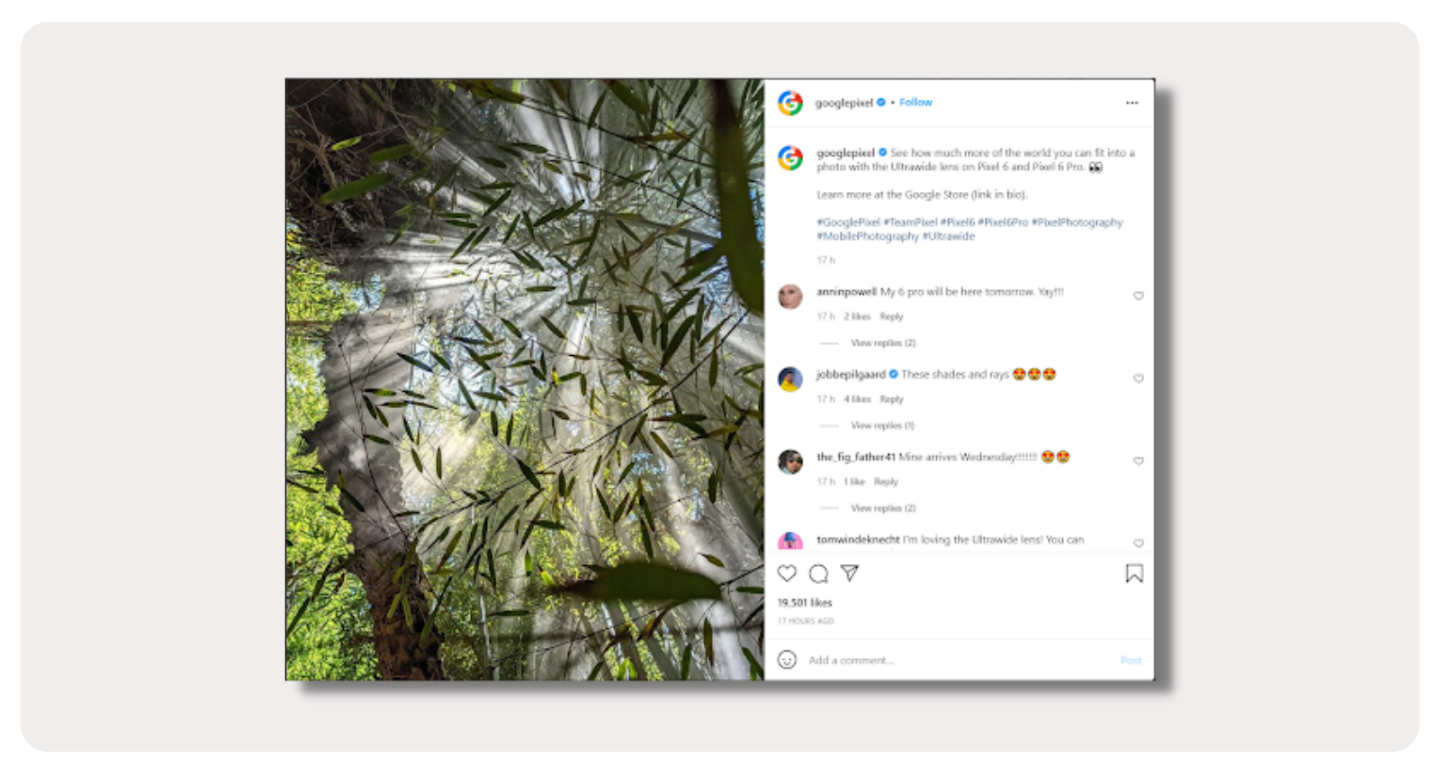 With a community of 500+ influential Google Pixel advocates, the brand started using high-quality UGC to showcase the product.
The Result: Google Pixel's UGC marketing campaign saw a 7% uplift in unaided awareness.
The branded #TeamPixel hashtag has had over 3 million posts since its launch.
– BMW
28% of car buyers want to see other owners' experiences and comments on a make or model of car. Rather than only posting precisely edited shots of their vehicles on Instagram, leading automobile company, BMW introduced the hashtag #BMWrepost.
The best photographs from users are curated and reposted on their Instagram account regularly, showcasing their cars and their loyal customer base.
The hashtag has gathered over 2 million posts to date on Instagram.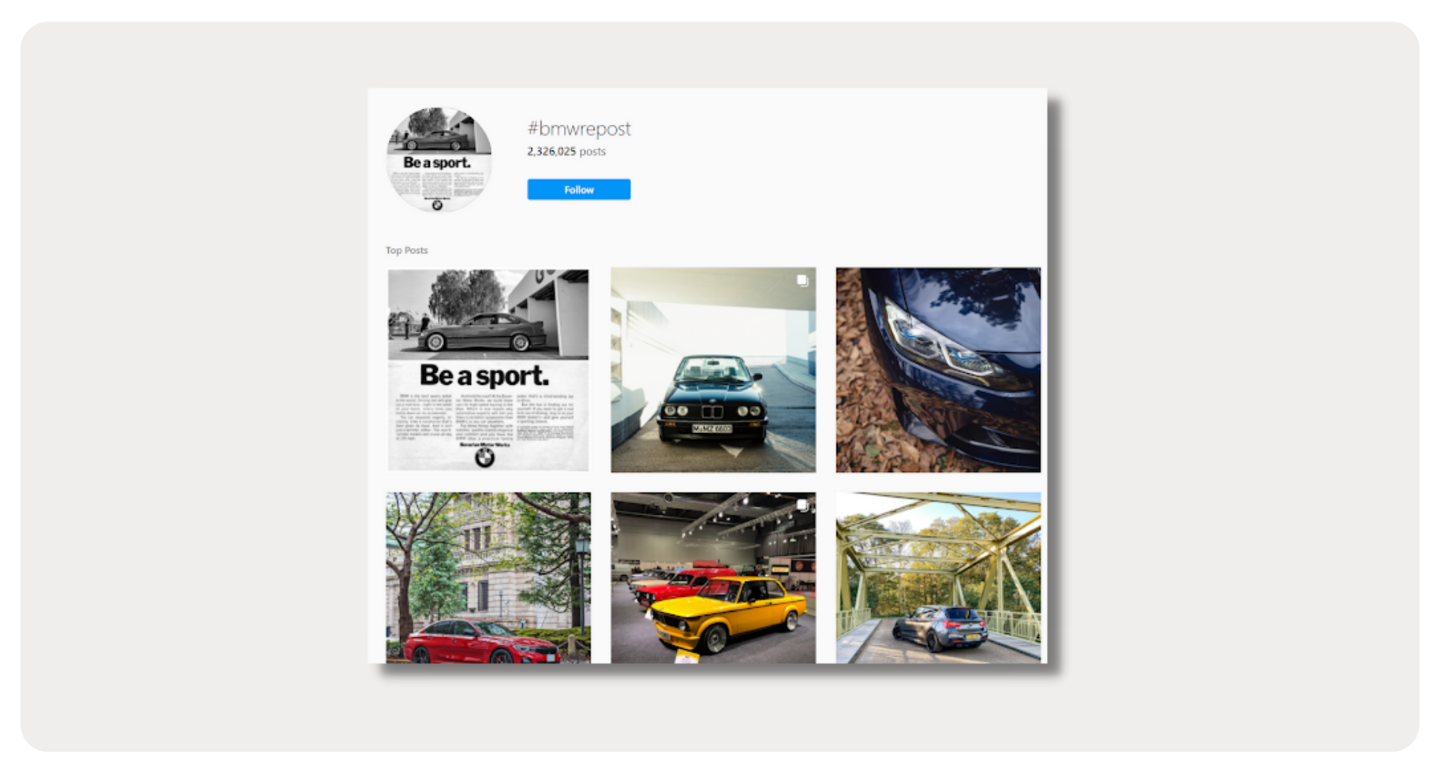 The key takeaway here is to provide customers and users with a platform to boast about their purchases.
– Adobe
Adobe's Instagram is one of the best examples of how to leverage user-generated content effectively in social promotions.
The hashtag #Adobe_Perspective was used to find and repost content from creators who have utilized Adobe products to create outstanding images and artwork. This campaign allows Adobe to show off its products while also engaging with its user base.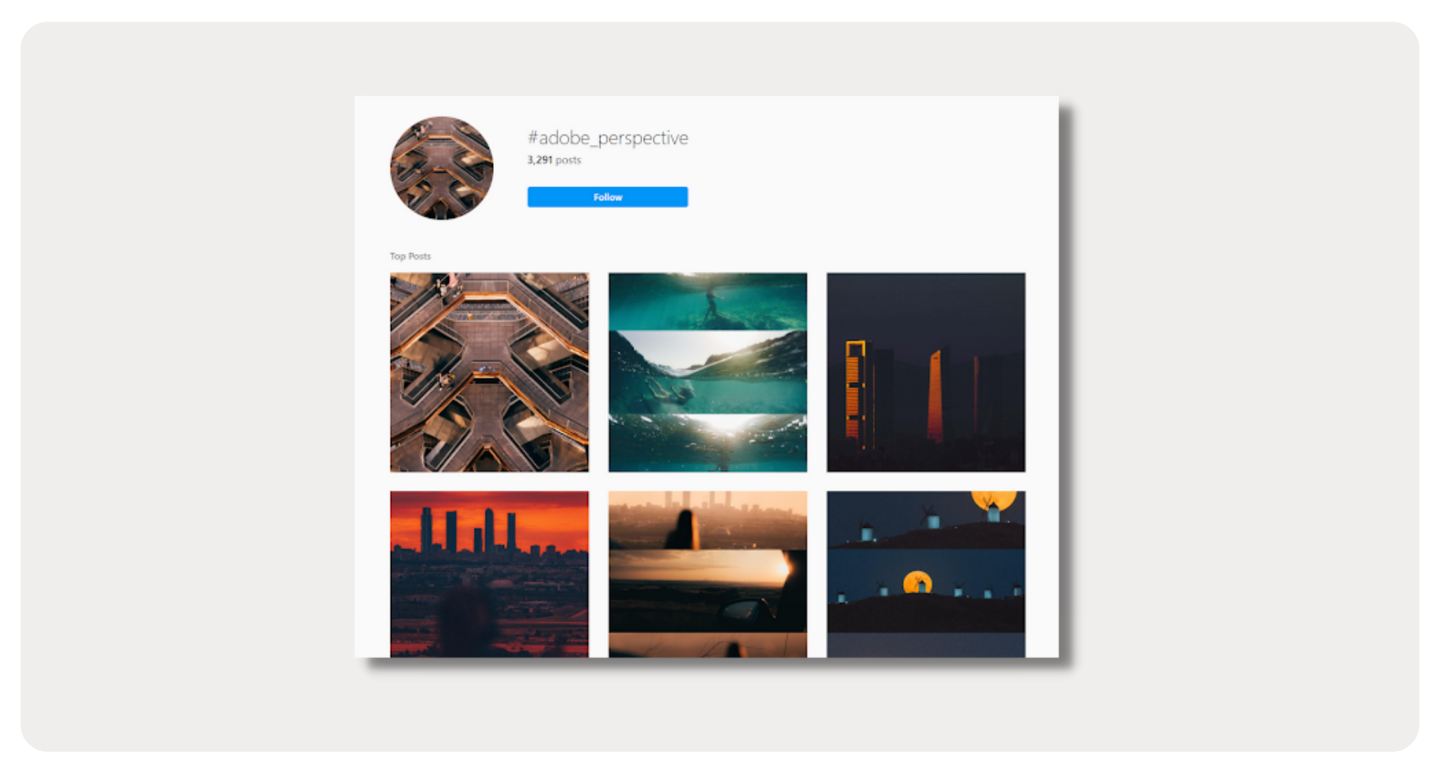 Adobe also uses user-generated content to demonstrate its company values. During Pride Month, they encouraged their audiences to use the hashtag #Adobe_incolor to share creative works in support of the LGBTQ community.
– Mercedes
The luxury car manufacturer, Mercedes is no stranger to the use of user-generated content (UGC). The brand received the award for "Best Branded Content Strategy 2016," with 95 percent of the content created by users.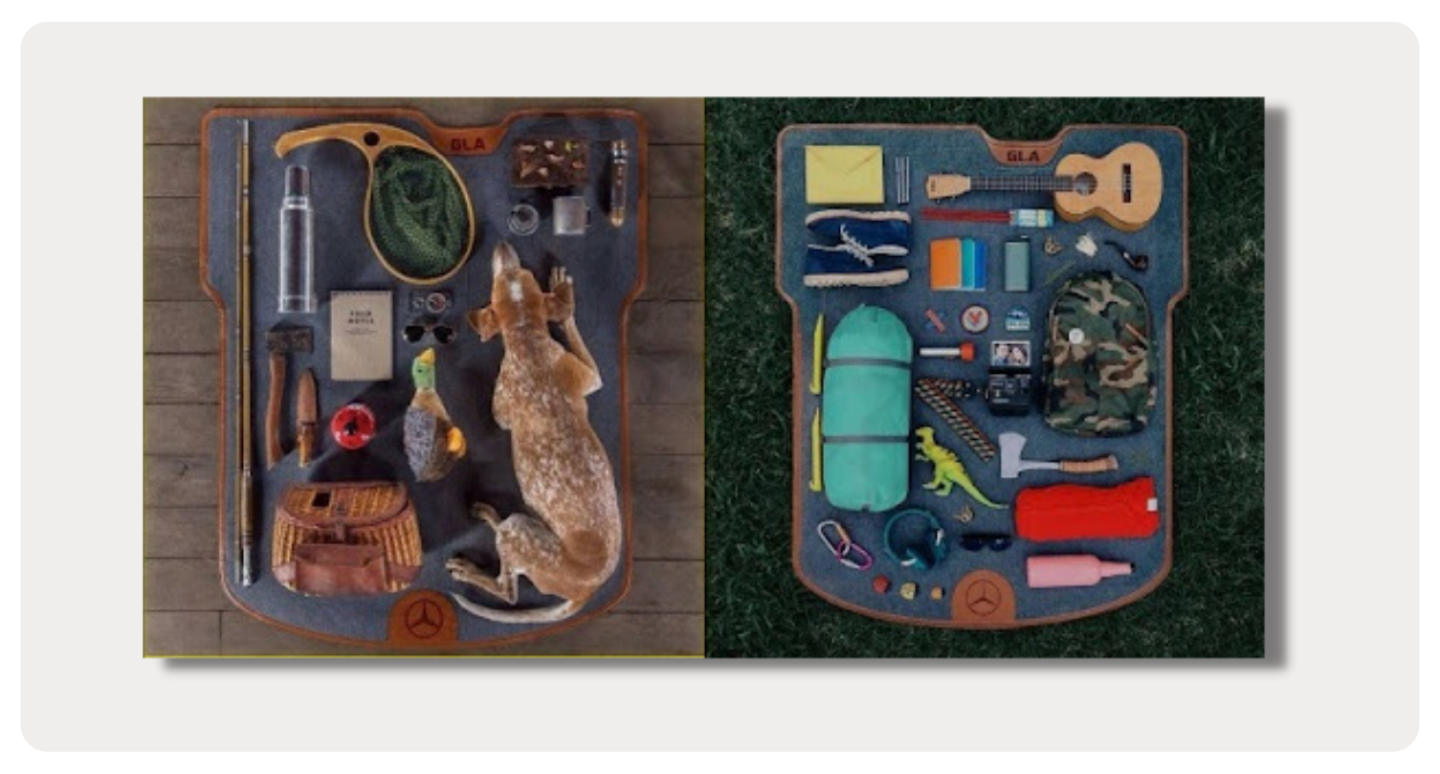 For the launch of their new GLA, Mercedes asked consumers to contribute content showing what they would load in their new car. As a result, there was a flood of genuine, unique content that would have cost a lot to generate through an agency.
The Result: Mercedes has seen a 54 percent increase in site visits since implementing UGC into its marketing mix.
---
6 Ways to Leverage User-Generated Content for Your Campaigns
1. Add Reviews and Ratings to Your Site
As per research, 63% of customers are more likely to make a purchase from a site that has user reviews. This means adding ratings and reviews to your website or store can be a great idea to leverage user-generated reviews and testimonials, and influence consumer purchase decisions.
When deciding what to buy, most people use popular search engines like Google. By integrating these reviews and ratings throughout your site, you can not only improve the user experience but also keep your brand favored by search engine algorithms.
2. Allow Customers to Add Images to Reviews
So, you've some reviews and ratings for your site, which is great. However, there is one aspect of reviews that may have an even greater impact on engagement: Images.
Posts that include images produce 650% higher engagement than text-only posts.
By incorporating user-generated images along with reviews, you can gain the edge that your brick-and-mortar competitors have long had i.e. customers can visualize themselves using one of your products.
3. Share User-Generated Testimonials on Social Media
Consumers today expect high-quality, interesting, and engaging content from the brands they follow on social media.
User-generated videos have a high shareability potential and a higher chance of going viral, which can significantly increase your reach and following. 92 percent of users are likely to share UGC they have seen with others.
Another reason to share UGC on social platforms is – not every consumer checks user reviews online. Promoting testimonials or reviews on social media can be an effective way to capture the attention of these customers.
4. Run Campaigns/Challenges on Social Media
Several UGC campaigns include a social media contest or a challenge, which can be a good start to get a lot of people involved. Here's what social media campaigns/challenges can do for your brand:
Keep your customers excited and engaged
Encourages social sharing
Increase Social media reach
And most importantly, encourages User-generated content(UGC)
For example, you can run a photo contest along with a branded hashtag to promote your products and get customers to spread the word.
Using rewards and incentives in exchange for participation can be a good way to increase engagement. In fact, 75% of consumers say they favor companies that offer rewards.
5. Integrate a UGC-powered Social Hub
If you have multiple brand accounts and hashtags across multiple social channels with UGC, you can use these posts and highlight them to your audience.
A social media hub, also known as a social hub, is a digital tool that displays user-generated content from various platforms, such as Instagram, Facebook, and Twitter, all in one place.
These tools also automate the collection and placement of social content from different platforms on product and landing pages. This simplifies the integration of user-generated content onto your homepage, product details page, etc.
6. Build a Customer Loyalty Program
Loyalty programs have shown to be one of the most successful strategies for generating income and encouraging client loyalty. According to statistics, According to research, 87% of shoppers say they want loyalty programs.
Tip: Provide incentives to encourage your customers to participate in loyalty programs.
Sometimes your customers need a little extra push to generate UGC for your brand. This can be achieved through one-of-a-kind discounts, social media promotions, or small giveaways.
---
Mistakes to Avoid in UGC Campaigns
1. Publishing Content Without the User's Express Permission
When users post images, videos, or other information promoting your business or product, it does not really mean you have permission to use it.
Before you start sharing, make sure you have clear permission to use the content. This ensures that you will not face any legal problems in the future.
Reaching out and asking for permission allows you to connect with your audience on a more personal level, and can lead to brand loyalty. Also, keep track of your requests and the responses you receive from your users.
2. Neglecting Your Brand's Identity
Your brand's identity should remain consistent across all fronts. This can include your company's key values, message, style, etc.
Working with different influencers, it's easy for your brand's identity to become blurred. 
If you want your brand to generate the right content from your audience, you must set up simple guidelines for them to follow in order to avoid any misunderstandings. These guidelines maintain consistency through different campaigns.
3. Seeking Perfection
UGC is effective because it provides authenticity to your audience. But some brands continue to use carefully curated perfect images from influencers in their posts.
If you want to have a better UGC strategy, stop looking for perfection.
Your priority as a marketer should be to show how a real customer consumes a product/ service from your brand.
4. Lose Control to Your Consumers, Giving Them Too Much Power
Consumers are in charge these days. They've gained command of public discussions over the brands they use. Consumers and influencers alike have the creative freedom to interact with your content once it has been published on the internet.
However, always be in control of your brand's narrative and identity by:
Regularly monitoring the content generated by your customers, and
Take action if required.
Final Words
So now, you must have a good idea of how UGC can benefit your business and how you can leverage it. The right UGC strategy gives customers and users a transparent platform to start a conversation about their purchases. Not only is UGC marketing cost-effective, but it can also increase engagement and expand your brand's reach.
However, incorporating UGC into your marketing is not an easy task; marketers must be aware of the numerous challenges that come with creating a successful online community using UGC.
If you're just starting out, a good UGC tool can ease the process by automating most of the UGC marketing tasks for you.
Finally, we recommend that you should definitely try out different approaches mentioned in this guide to leverage user-generated content for your business.

Want to Automate UGC? Top-rated UGC Tool
Claim Your 6 months of
FREE

Credits Now!
Get the code. Use anytime in the next 6 months.