In today's rapidly evolving and technology-driven business environment, outsourced IT support is essential to maintain a dependable and efficient IT infrastructure for achieving success. However, the management and support of IT systems can be a complex and resource-intensive task, often requiring specialized knowledge and dedicated staff. This is where the concept of outsourcing  IT support comes into play as a transformative solution. In this article, we will delve into outsourcing, exploring its numerous advantages and uncovering the actual expenses associated with this strategic approach. Whether a small startup or a well-established corporation, comprehending the intricacies of outsourcing IT support can empower you to make informed choices that propel your business forward.
What is Outsourced IT Support?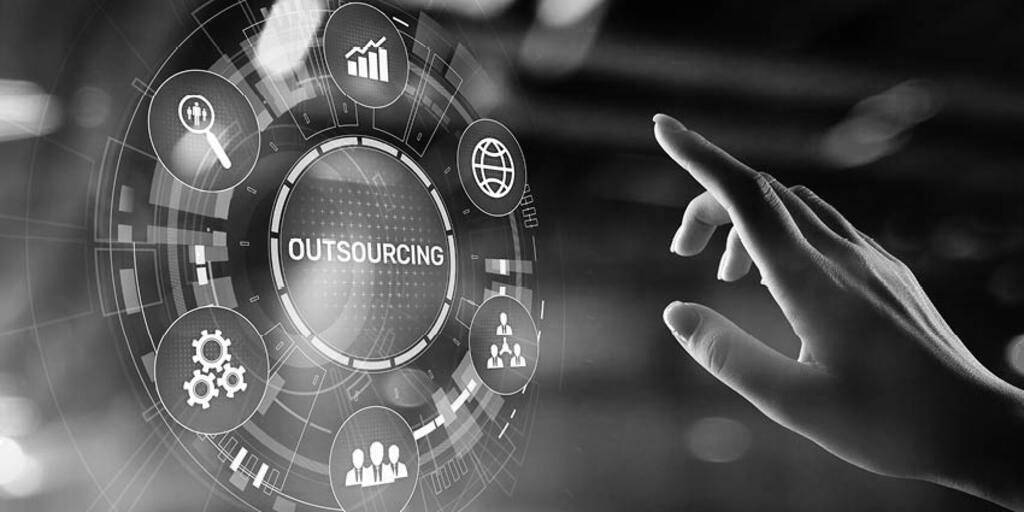 Outsourced IT involves the delegation of your business's technology needs to a dedicated third-party expert, often referred to as a Managed Service Provider (MSP), IT Services Provider.
Service packages offered by these providers can vary widely, ranging from on-demand hourly support (commonly known as "break-fix") available as needed, to comprehensive monthly fee-based contracts encompassing services like help desk support, network monitoring and management, and strategic guidance from a vCIO (virtual Chief Information Officer).
With numerous MSPs of varying sizes and service offerings available across the U.S., it's essential to select an IT service provider that you believe can genuinely collaborate as a trusted partner for your organization.
What IT Services Are Suitable for Outsourcing?
Several IT services are well-suited for outsourcing to third-party teams. Below is a concise list of the most frequently outsourced services.
Help Desk services

IT Strategy Planning

Backup and Recovery

Network Management

Employee Onboarding and Offboarding
Benefits of Outsourced IT Support
There are numerous compelling reasons to invest in outsourced IT, and here are the top advantages of entrusting an external team with your IT support:
Enhanced Business Focus:

Outsourced IT Support frees your time from IT management, letting you focus on your core business.

Access to Proven Expertise:

It provides access to experienced professionals for quick solutions.

Rapid IT Support:

Skilled experts deliver real-time remote support promptly, ensuring minimal delays and maximum efficiency.

Reduced Security Risks:

IT experts knowledgeable in compliance standards can enforce strong security measures, reducing data and sensitive information risks.

Enhanced Employee Productivity:

Outsourced IT Support and dedicated help desk services minimize downtime and improve employee performance through proactive issue resolution by MSPs.

Up-to-date Technology:

IT evolves rapidly, and an MSP can stay ahead of the curve, saving you both time and money.

Lower IT Operational Costs: Outsourced IT Support provides cost savings, prevents network issues, and offers transparent billing.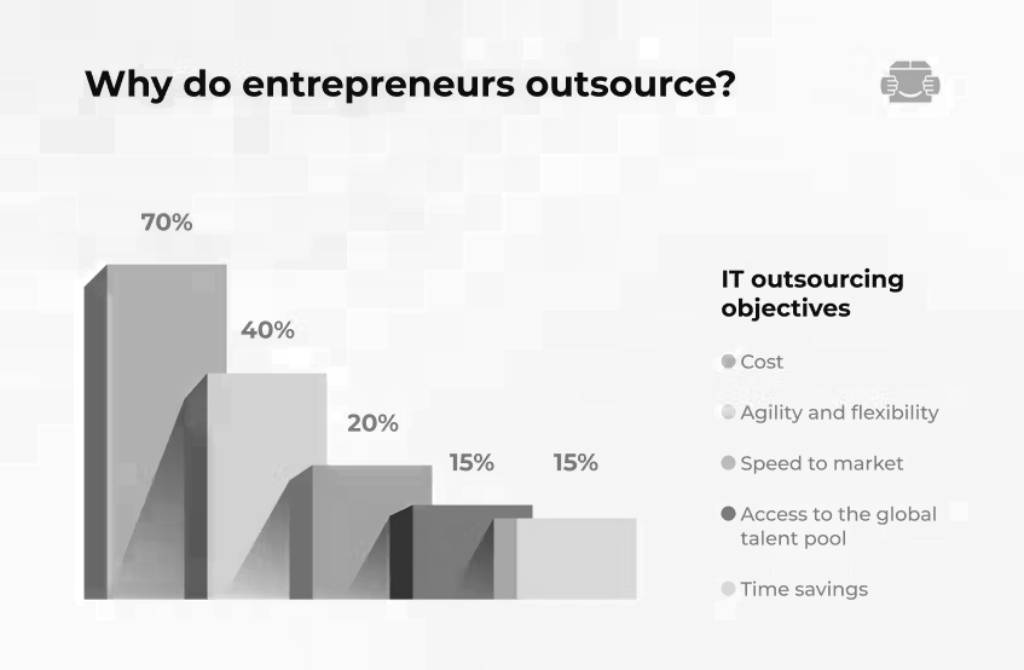 Before delving into pricing, it's essential to understand the two fundamental models of outsourced IT support
1. Fully Outsourced IT
Fully outsourced IT means that an organization opts not to have an in-house IT team and instead outsources all IT functions to a Managed Service Provider (MSP). The MSP handles various tasks such as remote support, help desk services, security monitoring, backups, and software updates. They can also manage servers, provide cloud services, assist with IT budgeting, offer vCIO services, and handle special projects.
2. Co-Managed IT
Co-managed IT is a flexible solution that allows businesses to complement their existing internal IT team with external expertise. Whether your internal team lacks the time or specific skills required, co-managed IT can step in to assist.
This approach can involve outsourcing routine tasks like updates, backups, security monitoring, and help desk support to free up your internal resources. 
Difference between Outsourced IT vs. Co-Managed IT
| | |
| --- | --- |
| Outsourced IT | Co-Managed IT |
| The third-party provider takes full responsibility for IT management. | Shared responsibility between the organization and the provider. |
| Limited control over day-to-day IT operations, with the provider handling most tasks. | The organization retains control over IT decisions and can collaborate with the provider. |
| Provider typically offers a broad range of IT services, from help desk support to network management. | Focuses on specific IT functions, with the organization handling the rest in-house. |
| Less flexible as the organization relies heavily on the provider's expertise and processes. | More flexibility as the organization can customize IT management to its specific needs. |
| Access to specialized IT expertise and resources provided by the third party. | Combines the organization's internal knowledge with the provider's expertise. |
| Often based on fixed monthly fees or hourly rates, providing predictable costs. | Cost structure varies based on the extent of services used, potentially offering cost savings. |
Cost of Outsourcing Support & Services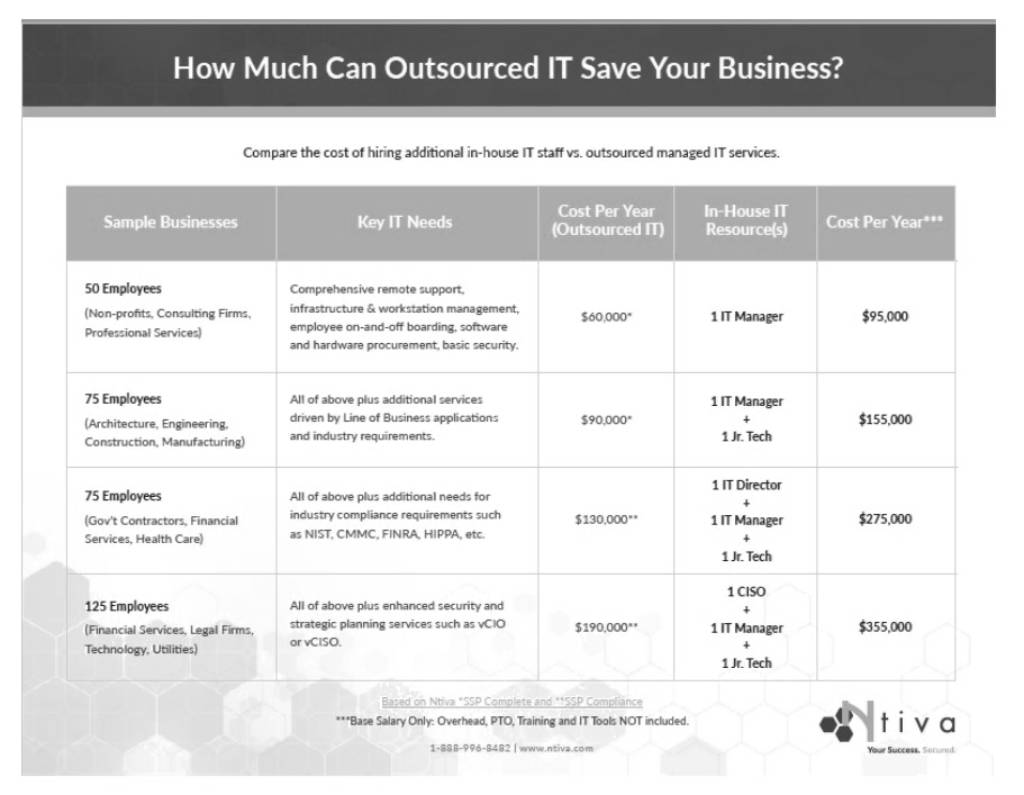 1. Maintaining an In-House IT Team
Having an internal IT team may appear convenient, ensuring there's always someone available to handle technical issues and maintain your systems. However, this approach often comes with significant costs, which can vary depending on your location and needs.
Entry-level desktop technicians typically earn around $50,000 annually. Their main responsibilities include hardware and software maintenance and addressing minor troubleshooting issues.
IT managers, with salaries ranging from $80,000 to $150,000 per year based on experience, oversee critical IT systems alignment with your business strategy. They handle high-level tasks and prepare the IT infrastructure for future growth and industry standards.
What Does the Average In-House IT Team Cost?
For an organization with around 20 to 30 employees, a basic in-house IT team typically includes one "Tier 1" help desk technician for day-to-day troubleshooting and one IT manager responsible for larger administrative issues and business processes.
On average, considering salaries alone, maintaining this team would cost approximately $150,000 to $200,000 per year. These figures do not account for additional expenses like paid time off (PTO), insurance, and other overhead costs required to operate and sustain the IT infrastructure of a small-to-medium-sized business.
As your business grows, these costs inevitably increase. With just two team members, it becomes challenging to support an office of 75+ employees in the long run. To meet the demand, you'll likely need to hire an additional Tier 1 help desk technician, leading to a rise in overhead costs.
2. Fully Outsource Your IT Department
The idea of outsourced IT, remote help desk services, or cloud computing may make some individuals uneasy. They might believe that having an IT technician physically present at their desk is the best way to resolve computer issues. However, when it comes to most routine IT problems, this assumption couldn't be further from the truth.
3. Co-Managed IT
Combining an internal IT manager with an outsourced IT provider offers the best of both worlds for your business. Co-managed IT allows your IT team to refocus on top priorities like enhancing employee productivity and aligning systems with business goals, utilizing technologies such as mobile apps, collaboration tools, and cloud computing. This approach combines experienced IT managers guiding your organization towards IT stability with 24/7 help desk support, resulting in a productive IT department suitable for businesses of all sizes.
How Much Does Outsourced IT Support Cost?
Determining the cost of outsourced IT support can be a bit complex, as it depends on the specific needs of each business. Generally, most organizations start with a basic service package that includes help desk support, remote monitoring, software updates, procurement, server management, basic cybersecurity, and more.
The average cost typically ranges from $85 to $150 per user per month, depending on the chosen service package and the number of employees. For instance, in a 50-person organization without on-site servers and an average cost of $100 per user, the annual cost would be approximately $60,000.
While there may be occasional one-time charges for things like emergency on-site visits or strategic planning sessions, the savings compared to maintaining an understaffed in-house IT team are substantial. As your company grows, the additional cost will primarily involve adding new users, along with any new project implementations that may arise over the years.
Recommend read: How To Handle Outsourcing Customer Service The Right Way.
Need Better Outsourced IT Support?
Helplama offers outsourcing support services designed to streamline and enhance your business operations. With Helplama as your outsourcing partner, you can offload various tasks and responsibilities, allowing your team to focus on core business functions.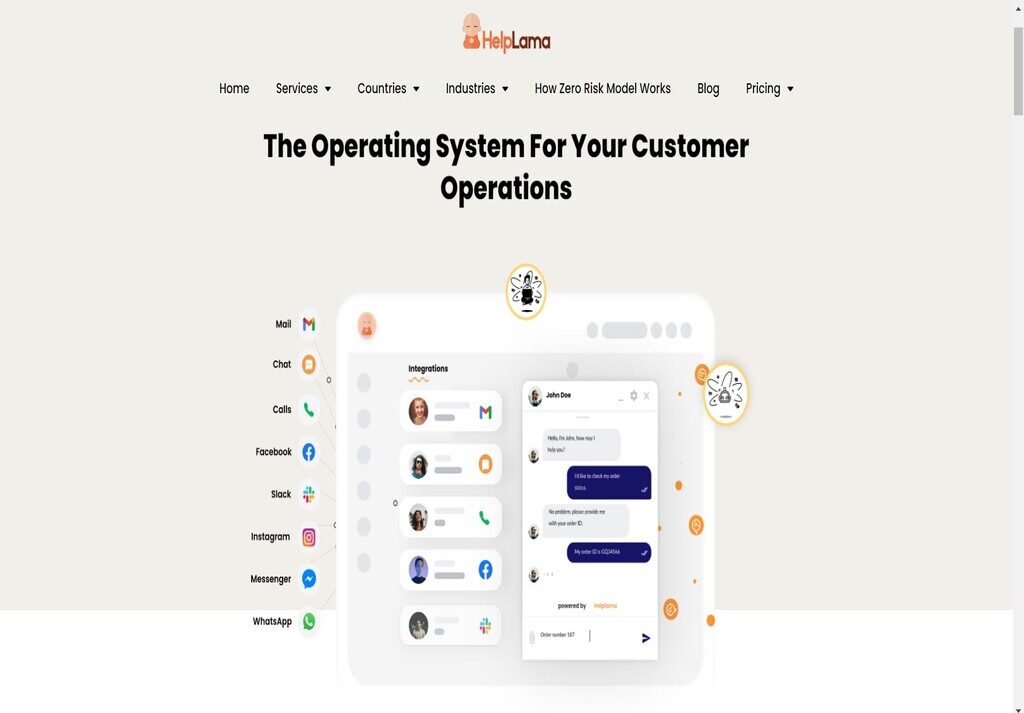 Key Features
Customer Service Support:

Helplama provides customer service solutions to address inquiries, resolve issues, and enhance customer satisfaction.

Technical Support:

The team offers technical expertise to assist with troubleshooting, software support, and IT-related queries.

Virtual Assistants:

Helplama offers virtual assistant services to handle administrative tasks, appointment scheduling, data entry, and more.

Multichannel Support:

Can manage customer interactions across various channels, including phone, email, chat, and social media.

24/7 Availability:

Helplama offers round-the-clock support to ensure your customer's needs are met anytime, anywhere.

Scalability:

Services are scalable, allowing you to adjust resources based on your business demands.
Conclusion
In today's fast-paced digital realm, outsourcing IT support is your secret weapon! Discover the advantages: more focus, expert guidance, and cost savings. Say goodbye to pricey in-house teams and hello to efficiency. Unleash the power of outsourced IT for your business in the digital age!
Helplama serves as a prime illustration of how outsourcing can enhance your operational efficiency. With their round-the-clock availability and utilization of cutting-edge technology, they excel at propelling your business toward success.