Through the years, Live chat has evolved from an optional luxury to an immediate necessity for an eCommerce business. Given the efforts contributed towards its advancement and innovation, the live chat feature has become so indispensable that its exclusion from an online business prevents 77% of customers from making a purchase.
Exclusion of Live Chat Customer Support from an online business prevents 77% of customers from making a purchase. – FurstPerson.
Considering the heightened importance of quality customer support in today's era, it's absolutely essential to make sure that flawless help is provided to website visitors, regardless of the day or the hour of their visit.
Great customer care can deliver a big boost to the brand image of the company and around the clock support makes sure that no customer leaves without making a final buying decision. But, a sloppy effort in providing support can be equally counterproductive and can greatly damage a brand's image.
This is why extreme care must be taken while deploying live chat.
Most businesses begin live chat deployment by providing in-house support. But this framework might make it impossible to provide after-hours/weekend coverage so a lot of online stores turn to outsourcing vendors for handling spikes or extended support requirements.
But, the sheer number of outsourcing vendors is so profuse that it becomes quite difficult to decide on the right one. That is why choosing wisely from this ever-expanding sea of outsourcing vendors becomes imperative because your investment choices must be in sync with your goals. Only then would your customers be content and happy with the service provided.
To make it easier for you to choose judiciously, we provide you with a list of provisions that you should demand from your vendor while trying to hire the best outsourced live chat partner for your business.
The More, The Not-So-Merrier
In other words: the fewer, the better fare.
Quality is the focal parameter to be considered when you contemplate contracting out your live chat service. While outsourcing, the ideal setup would be where the outsourced agent is focusing all their effort towards your customers, instead of working simultaneously for as many as 10 stores at the same time.
95% of people value thorough, high-quality support. – Kayako.
Whenever an agent fractionates his attention between multiple customers, the clientele of every individual store is going to end up feeling ignored at one point or the other.
If you wish to introduce live chat into your business, it is better to implement it flawlessly than to do a mediocre job at it.
According to a recent study by Kayako, 95% of people value thorough, high-quality support more than speed and the number of coverage hours. This fact just corroborates that there is no middle ground in providing exceptional live chat support. And a lack of attention while delivering support over live chat entails an overall negative experience which can ultimately drive down sales.
You should opt for a setup where dedicated agents can spend the required amount of time with your customers.
This allows them to engage with your customers on a relatively intimate level and ensures a positive user experience which eventually leads to a considerable increase in conversion rate.
Initially, engaging with your customers and creating a 'wow' experience might not sound important to you, but it is imperative! In a survey by the same Kayako states that  29% of customers will most definitely share their positive experiences related to your business with their acquaintances if they are satisfied.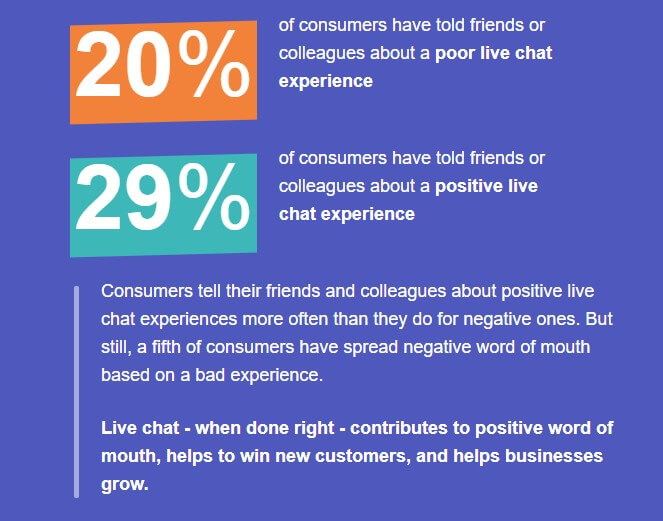 Screenshot is taken from this page.
There is no reason why businesses shouldn't invest a bit extra on outsourcing to utilize the amazing opportunity at word of mouth marketing.
Siri… What Is 'The Shipping Policy'?
AI bots will power 85% of customer service interactions by 2020. – Gartner.
Although customer support outsourcing holds massive promise, it is mainly the poor quality delivered by outsourced agents that ends up being a major limitation. That is why most quality conscious businesses are quite skeptical about outsourcing.
Most traditional outsourcing providers use outdated training methods to train new agents. These methods are neither very efficient nor do they have the scope of involving the clients within the entire training process.
Their cynicism is not unfounded as most traditional outsourcing providers use outdated training methods which hardly have the scope of involving the client within the entire process. No doubt this is a grave predicament but fortunately, this complex problem has a state of the art solution – Artificial Intelligence (AI).
Editor's Note (TL;DR):

When an agent is onboarded, he has no familiarity of the procedures you follow for handling live chats. The agent is neither conversant with your product line nor your customer support process and hence may make disastrous mistakes if he starts dealing with live customer requests immediately.

In fact your company may have thousands of products and each of the products have hundreds of specifications. Not only does the agent have to remember all of that, he has to memorise a good bunch of procedures for refunds, returns, replacements, offers, promotions and much more.

Now, the convenient way of training this agent for the traditional outsourcing providers would be to make him go through all the transcripts of your previous chats so that the agent can have a fair understanding of your product line and policies. But, this type of old school training process is pretty much inefficient in the sense that it can take the agent weeks and even months to get complete understanding and then gain expertise. He can also find such outdated training procedures hard to remember and difficult to reproduce in practical scenarios. Hence, only reading the past chats is not enough to give the agents much insight on what can happen in real time. And without a better understanding of the entire process, it would not be ideal for the agent to go live on chat. And if he is still made to do so, then he may mess up very easily and many major deals can be lost because of that.

But, at Helplama, we have introduced an innovative way of providing training using a completely different paradigm. Contemplate the scenario where this agent is being trained on these same chat transcripts but through a simulated mock chat session. These mock chat sessions are essentially virtual scenarios based on your previous chat transcripts created by our technical experts with the help of AI. The agent is trained by way of taking live chats in such virtual scenarios which are very similar to real life scenarios of your business. In such sessions, the agent is required to give relevant responses to the questions put forward to him. At the end of every such session, the performance of the agent is rated and score is awarded accordingly. The agent is also intimated at the end about the mistakes, if any, made by him throughout a particular mock chat session. The agent is considered qualified if and only if the score of the agent crosses a certain benchmark score. This way, even before the agent has actually dealt with any live customer, he gets adequate training to deal with a customer before he goes live. This definitely helps him in understanding as well as concentrating on your business exclusively. And, from the detailed analysis obtained from the mock chat sessions, you can also decide on your ideally preferable candidate so as to eliminate your sense of uncertainty with your choice of investment. Hence, several hours of simulated chat sessions are something that a company should always ask for, before trusting an outsourcing agent.

Now, let us consider another massive problem that outsourcing companies face when a freshly trained agent starts delivering live support. Once the training is complete and the agent starts taking chats, initially he requires a lot of assistance for delivering support. The standard procedure to sort out this problem is to assign an experienced agent to  the new agent so as to assist him with the process of handling chats. But this practice is neither efficient with respect to time nor is it convenient. This is because, in such a process, the experienced agent has to take time out of his productive time to train new agents. This would essentially mean putting good resources to waste because an experienced agent would lose out on productivity  since he would need to spend a good proportion of his time training new agents. Now, imagine this new agent, while receiving chats, gets smart suggestions for every incoming chat from an AI embedded in his chatting system. It would not only be easier this way for the agent to handle the chats competently but also learn from the smart prompts given by the AI every time he is confused or stuck. Thus, with the help of AI, this agent learns the process very quickly and becomes efficiently trained without wasting excessive manpower. On the other hand, if the AI is to deliver support all on its own, without human aid, then it is certainly going to be a massive failure. This is because, even an AI is not 100% accurate. Only when a human agent is assisted by an AI, can the agent deliver the best result as, on their own, both of them have their own limitations. The human agent can   use his rationale to process and filter the suggestions given by the AI while selecting the correct answer. This way the training can be optimized with the help of AI.

PS: This long explanation was much needed for understanding the evolution that is happening in the customer support industry. Have deleted few of the points from the original portion while editing because I have already explained those points in brief here.
This essentially means that even before dealing with a single live customer, an agent can secure several hours of 'support time' under their belt. Not only will this allow the agents to adapt to your norms beforehand but will also help them to concentrate on your business directives completely and exclusively.
Given such an arrangement, you will not only be able to choose your ideal candidate, owing to the detailed analysis obtained from the mock chat sessions, but will also be able to eliminate your sense of uncertainty with your choice of investment. Hence, several hours of simulated chat sessions and simulated chat transcripts are something that a company should always ask for, before trusting an outsourcing agent.
And Thus, God Shall Speak To Thee Directly
The usual process of outsourcing usually doesn't allow you to personally guide the appointed agents through the norms and workings of your business.
This mindless restriction prevents you from fully utilizing the capabilities of your investment.
Hence, you should always seek out an option where this restriction is not present. Then, you can directly give feedback to the agents and guide them on the tone they should be using with your customers. This will also allow you to walk the specified agents through any alteration that might occur in your company's policy from time to time.
In the popular outsourcing culture, a well-coordinated support system that directly communicates minute-to-minute updates to your in-house team but cannot be communicated to an outsourced agent will create a more uniform and personalized experience for your customers without altering your brand's tone in the long run.
Also read: Why outsource customer support?
I Need Domain Experts, Not 'Outsourced Agents'!
Any business should never settle for agents who have no prior experience or knowledge within their domain.
If you're a furniture business, an agent who has sold furniture before will do a far superior job establishing a rapport with the callers than an inexperienced agent who doesn't clearly understand the likes and dislikes of people in the furniture trade.
As a first preference, you should always be demanding agents (or as they are better known as the domain experts) who are experienced and hold expertise in your domain of business. This will enable you to better cater to your customers, owing to their understanding of your market.
In order to judge the level of expertise of the agents, you should always demand a mock support session before an agent gets to deal with live customers.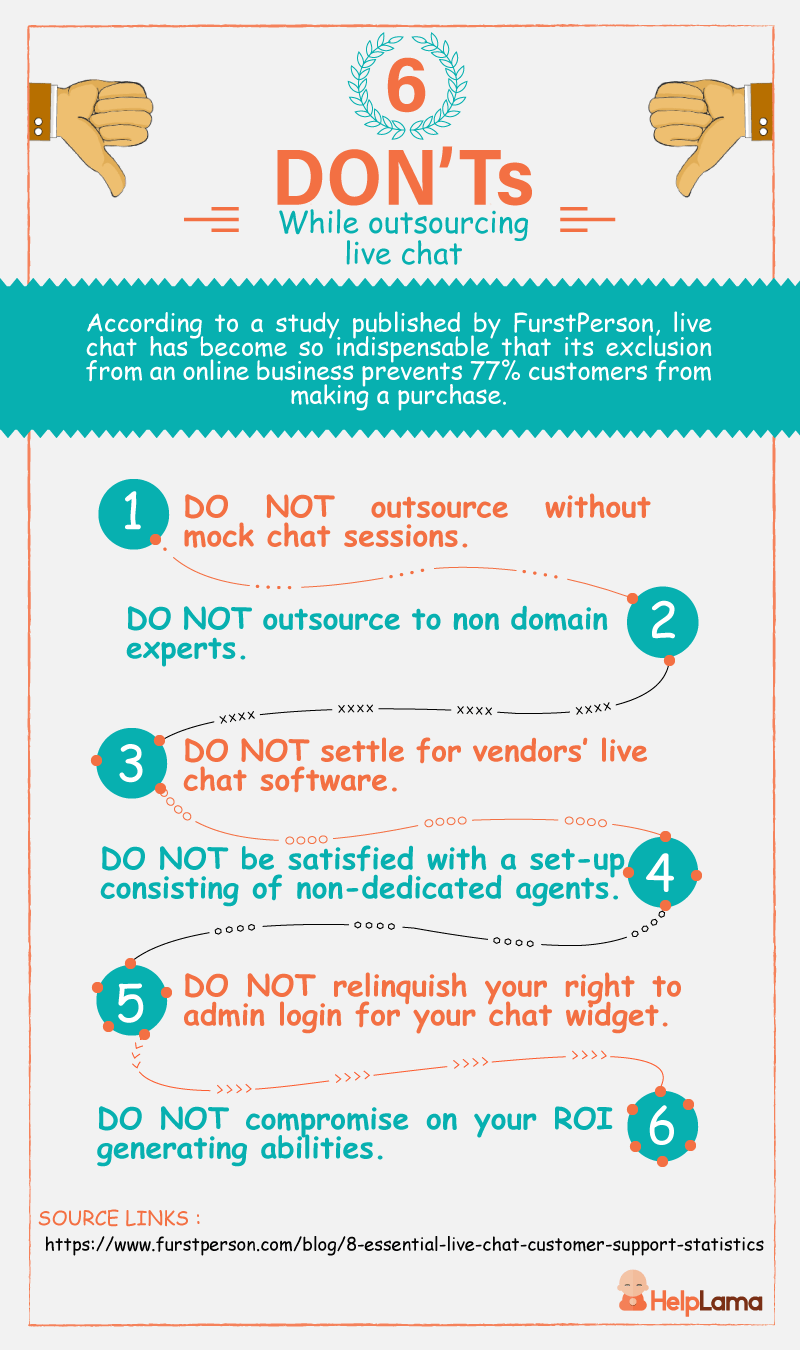 Only The Best Weapons Shall Be chosen!
Sometimes, the outsourcing partner might try to push their preferred or rather, their own live chat software upon you before deploying agents. A lot of them will tell you that they cannot provide live chat agents outside of their preferred live chat software. Bowing down to this demand is always a bad business decision!
Imagine this,
Hundreds, if not thousands of people, might visit your website in a month. Is it really wise to put your vendor's unimpressive live chat widget out for them?
Advanced live chat software nowadays offers various features like automatically triggered messages, sales intelligence tools, AI bots, ROI tracking, etc. You should use software that best suits you rather than one that suits your vendor.
There are actually two reasons why most vendors try to deploy their own software on your website or within your own workflow:
First, they don't want you to have the admin rights for viewing all the chat transcripts.
Let's face it, chats can become disorganized, some may be missed, and others might unintentionally irritate your customers. This happens all the time with everyone without any exception. Now, in their own interest, the vendors would always want to hide all the disastrous chats from you. But you, in your best interest, should get to see what's actually going on. So, you must always insist that your vendor provides you with nothing short of an admin login for the software used on your website.
The second reason is because it makes it easier for them to route a barrage of chats from dozens of different companies onto an army of untrained agents.
Suppose, an agent who is serving 20 different stores at the same time would find it really onerous to be logged into 20 separate live chat softwares for 20 diverse companies. This would drive them crazy! So, these vendors create a single login for the agents and force the 20 companies to use the same live chat widget associated with this single login. The login is set to receive chats from all 20 of these companies and while the customer experience on your website is unoptimized, the agent has an easy time handling all these stores from a single portal.
That is why you should always choose the right live chat software that is perfectly optimized for your customers from the dozens of them available in the market and not give in to your vendor's pressure tactics. The easiest way is to politely say no to whatever they want to force on you.
It's All About The ROI
Finally, return on investment (ROI) is the most crucial criterion of justifying your investment. Whether it comes in the form of sheer number in sales or as raw data on your investment, it allows you to keep track of the service or, in a more idealistic setting, both.
Hence,
Demanding ROI out of the vendor of your choice is as justifiable as it is important.
So, after you've taken your pick for the preferred company to outsource live chat for your business, the next step should inevitably be keeping a keen eye on how it all proceeds. And to accomplish that, you should demand for the extensive data of each agent out of the vendor.
The data must comprise of all the details regarding every attribute of the chats these agents have handled including the duration, the recorded transcript and the purpose behind the chat so that you can better ascertain how your investment is benefitting you.

Although live chat has come to become a feature that is absolutely essential for an online business to deploy, it is also one that is just as difficult for them to master. And pairing the right live chat software with the ideal outsourcing partner is not something that should be taken lightly.