Being able to communicate your message clearly and grab consumers' attention is important, no matter how big or small your company is. But it can be difficult to do so.
According to research, an average person is exposed to between 6,000 and 10,000 promotional messages or branded items per day. Combined with the fact that the average human being now has an attention span of 8 seconds, it can be quite a challenge to engage with your audience. 
So how to grab consumers' attention and keep them engaged? Visual communication can help- a powerful practice that should be in every marketer's arsenal.
In this guide we'll walk you through:
What is Visual Communication?
Visual communication, in its most basic form, is the use of visual elements to convey information. Visual communication strategically aligns images, designs, graphics, and other forms of visual content to build connections and communicate clearly with consumers.
With so many businesses striving to grab consumers' attention, it's vital to incorporate visual content into your brand marketing strategy.
Have a look at some key reasons why visual communication is and will continue to be effective:
Why is Visual Communication Important?
The human brain is devoted to vision
Humans are visual creatures, and studies have shown that no other medium or channel of communication comes close to visual communication. 
Boring, text-only content simply does not work anymore. In fact, consumers spend just 4.4 seconds on every 100 words of text. 
Why? The human brain is primarily wired to process visual information rather than text. In fact, 90% of information transmitted to the brain is visual: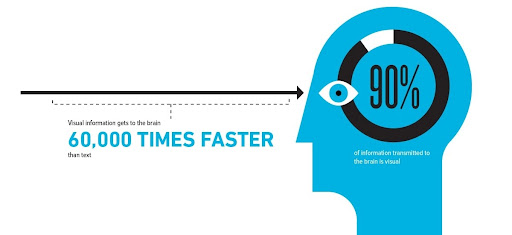 So visual communication can help your audience to remember and understand your brand messaging easier and faster. 
Creates a bigger impact
Visuals have the power to influence how we think and act. They have far more impact on people's moods and leave much more lasting impressions than long text-based content.
When you convey a message or information using visuals, you can have a greater impact on your audience and their purchase decisions and well. 
Take a look at these stats:
Consumers are 85% more likely to buy a product after viewing a product video.
87% of marketers say video has increased traffic to their website.
Can reach a wider audience
With so much information available online, it can be difficult to stand out. However, visual communication allows you to reach a large number of people who are not part of your original audience. How?
Because visuals cross language barriers. This allows you to reach a diverse audience without having to customize the message in different ways. 
In fact, Visual content generates 94% more views and is 40 times more likely to be shared on social networks.
With more people sharing your content on different channels, you're likely to capture a larger audience.
Engages your audience
Engaging your audience can be tough if you are using just text-based content. 
On the other hand, visuals are scientifically proven for increasing engagement. Visuals allow you to easily share content on almost any social media account and receive a high level of engagement from your audience.
In fact, studies show that with visual content you can improve your engagement by more than 650%.
Stays in memory for a longer period
Visuals can help people remember the information. 
As per Huffpost, after 3 days, people remember 65% of content if it contains text + picture, while they remember only 10% of content if they see text or audio-only content.
This is called the Pictorial Superiority Effect. Brands and marketers use this concept when developing branded content or marketing material. 
We not only remember things visually, but we remember them much better than words. This is why 87% of online marketers use video content. 
Eye-catching & appealing to the viewers
With 684,478 pieces of content shared on Facebook every minute of every day and over 500 million tweets sent out every day, capturing and maintaining your audience's attention can be a huge challenge without using eye-catching visuals. 
From logo design to the strategic use of color psychology, you also need a visual brand identity that your audience can easily recognize. 
Time saver and effective
Visual communication saves a lot of time, for both marketers and consumers.
How?
Visual content can communicate a great deal of information in a short amount of time.
Also let's face it, writing a marketing copy takes a lot more time and effort than taking engaging photos or infographics and sharing them with your audience.
Visuals are not just a time saver but by using visual content, you can also improve the efficiency of your message by 13.7 percent.
Better than Verbal Communication
Words alone clearly aren't the best way to communicate. But visual communication can be an excellent way to replace textual content without losing an informative aspect.
Take a look at these stats:
This explains why your audience would rather watch a video than read 1000 words of text.

Want to Automate UGC? Top-rated UGC Tool
Claim Your 6 months of
FREE

Credits Now!
Get the code. Use anytime in the next 6 months.
How to Use Visual Communication in Business?
Now that we've established the benefits of visual communication, let's turn our attention to how to incorporate visual content into your marketing strategy, whether it's through social media, your website, or email marketing.
Create interactive and engaging content
The more engaging and interactive your content, the more likely you are to attract new customers.
81% of marketers agree that interactive content is much more effective at grabbing people's attention than static content. 
However, you need more than just visually appealing content; you also need it to be relevant.
It's important to determine whether the content type you've chosen reveals the true essence of your brand and adds value to your target audience. 
Here are some examples of leading brands using interactive visual content: 
Netflix took the concept of interactive content a step further by creating an interactive video to promote their show Black Mirror: 
Takeaway: You can use interactive videos on your website to include multiple calls to action that will direct your audience to different web pages.
Ruggable, renowned rugs and doormats maker, created a fun challenge to collect user-generated content from their audience, which they then compiled into a video for their Facebook page: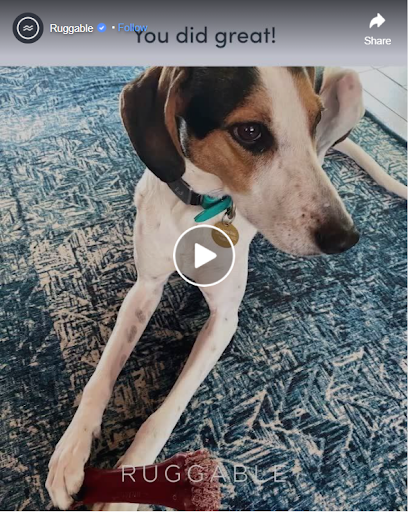 The result:  The video received over 45k views, while also providing social proof for their products.
Simplify complex information
When it comes to communicating complex topics or even discussing dull subject matters, words on the page aren't always enough. 
The goal here is easy: explain things in the simplest terms possible without boring your audience. 
There are several approaches you can take to help viewers understand complex information; one of the most effective is to use infographics. 
An infographic helps you to present complex information to an audience that is mostly interested in the highlights. Simplify the data to highlight key points that will be of interest to your audience.
Here's how the Helplama team created this infographic to communicate information clearly and concisely. They turned boring statistics that people would have skipped over into an interesting infographic that people can visualize as well.
Be consistent and timely
Ask yourself this: Am I consistently producing high-quality visual content?
If you want your brand to stand out from the competition, you must create high-quality content regularly. Consistent valuable content ensures that you cut through the noise and establish a connection with your audience.
Furthermore, gaining a general understanding of the best times to post can also be important, as determined by credible studies. For example, Sprout Social discovered that Wednesday is the best day to post across all social media platforms:
Another point to keep in mind is to have a consistent visual brand identity. This helps ensure that when users interact with your brand and its content across multiple channels, they intuitively recognize and understand that it represents you.
Here's an example:
Headspace, a well-known meditation app, has solidified its visual identity with a simple logo and a soothing color scheme that runs throughout its content. Combined with inspirational quotes and quirky illustrations, they ensure a consistent experience, making the brand recognizable.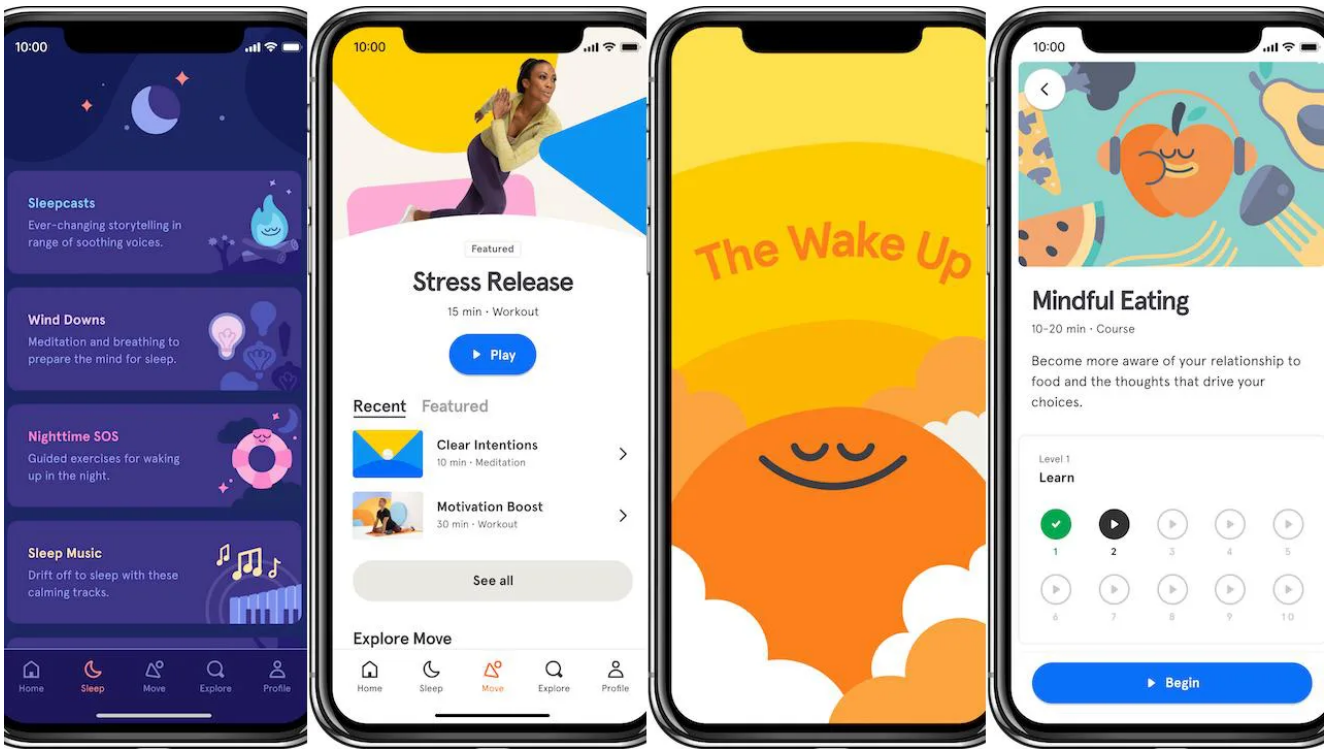 Use data visualization techniques
Data visualization is the process of presenting statistics or other complex data in a more interesting and understandable format.
When it comes to capturing your audience's attention, whether it's on your website or your social media feed, the right visuals can captivate them and entice them to explore and engage with the information you're visualizing.
Data visualization techniques allow you to present important information to your audience using charts, drawings, graphs, and other visualization tools.
Here's how Coca-cola presents important company information through data visualization techniques on their website: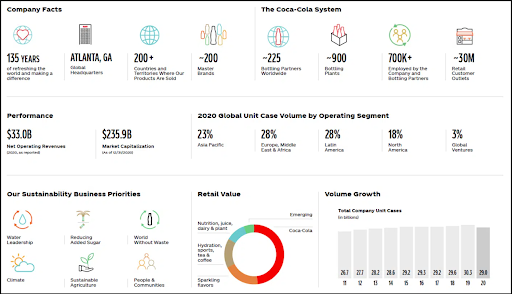 The next time you're working on a business report or presentation, skip the writing and start visualizing. 
Best Visual Communication Tools
Whether you're a small business or a large corporation, a well-equipped design tool can help you create content that stands out. 
You've most likely come across numerous graphic design tools available on the internet. We've compiled a list to help you choose the best one:
– Edraw Max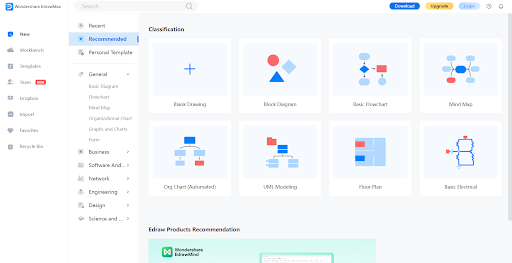 Edraw Max is a diagram software that allows you to easily create professional-looking flowcharts, organizational charts, network diagrams, business presentations, and more. 
It is available as both a web application and desktop software.
One of Edraw Max's best features is its ease of use. You can quickly create custom designs by modifying existing templates. With EdrawMax, you can also create interactive illustrations to better communicate with your audience.
Check EdrawMax out: https://www.edrawmax.com/
– Adobe Spark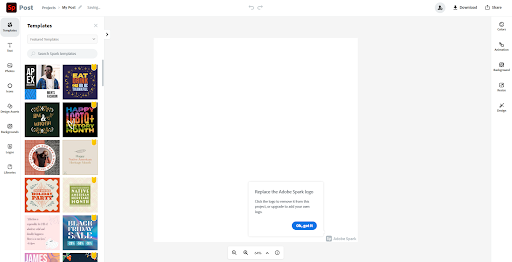 Adobe Spark is a one-stop-shop for all of your brand's marketing and advertising design needs. We discovered that the app does the majority of the work for you and then lets you tweak it as needed. Working with Spark gives you access to Adobe fonts as well as thousands of templates and assets.
Spark essentially simplifies many of the tools available in their platform so that even someone with only a basic understanding of design software platforms can use it to produce stunning results.
Link to the tool: https://spark.adobe.com/sp/
– Canva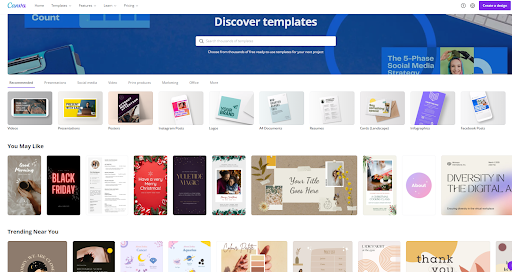 Canva is a free graphic design program that lets you create various types of graphics including motion graphics as well. It's a joy to work on Canva because it has a simple drag-and-drop user interface and a never-ending library of templates and elements, including stock photography, video, fonts, illustrations, and audio content.
You also get to add in custom elements, so the design possibilities are endless. Also, the fact that you can collaborate and work with others makes it stand out from other design tools.
Link to the tool: https://www.canva.com/
– Prezi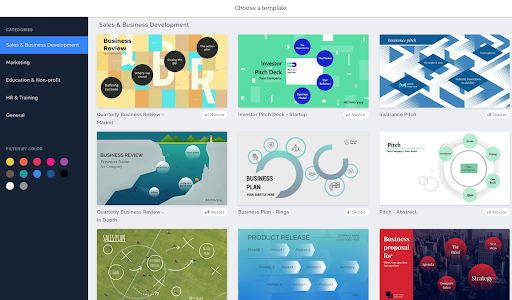 Prezi is a completely optimized tool for creating and managing different types of visuals including slides, presentations, and videos. We discovered that the presentations appear to be more fluid when compared to other applications. 
Their product offerings include:
Prezi Video: a video creation/ graphics tool 
Prezi Present: an effective presentation platform
Prezi Design: a visual editor to create interactive charts, reports, etc
Prezi AutoSave is an extremely advanced feature, capable of storing all data and preventing future information loss every 5 minutes.
Check out Prezi: https://prezi.com/
– Visme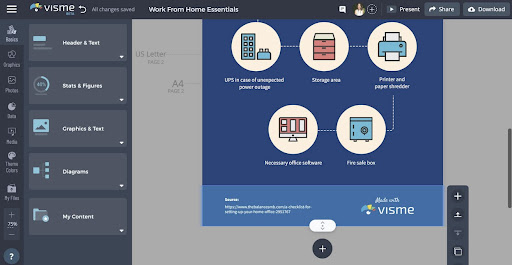 Visme is the ideal combination of marketing software and design. Visme allows users to create infographics, social media posts, presentations, graphs, and other graphics quickly and easily. 
New ideas for your brand posts are just a click away thanks to the extensive template library available, making it a cost-effective and simple-to-use tool.
Visme's support team is also very helpful, with prompt responses.
Link to the tool: https://www.visme.co/
– Venngage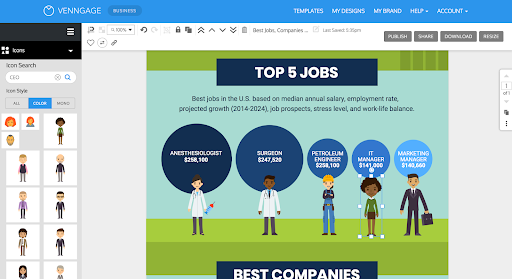 Venngage is a solution for non-designers looking for simple design solutions.
The platform offers users well-crafted templates to help you in creating a variety of layouts for whatever you need. 
For example: If you're in the B2B space, Venngage can help you create engaging and powerful visual content/research documents
They're also constantly working to improve their user interface, usability, and live chat support. Venngage is the tool for you if you need quick, high-quality communication with your target market.
Check out Venngage: https://venngage.com/
– Behance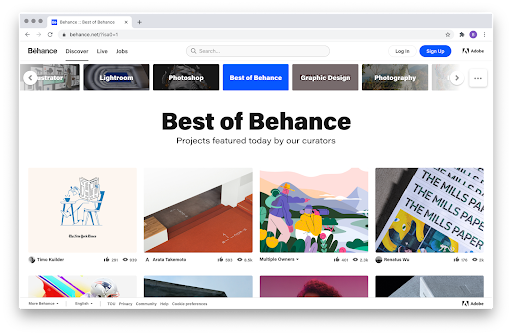 Behance has such a diverse collection of artwork and designs that you'll never run out of new content ideas. The best part is – They provide a free-tier product with all of the benefits and tools right away for new users. 
Additionally, you can also start looking for a freelancer to help you with all of your design needs on Behance. It is an all-in-one solution for a creative company to be discovered by the right audience.
Try out Behance: https://www.behance.net/
Challenges of Visual Communication
Now that we've discussed visual communication and its numerous benefits, we also need to address challenges that come along with it.
– Costlier than other methods
Visual communication is often more expensive than other modes of communication. High-quality graphs, infographics, charts, illustrations, presentations, etc, are not cheap to create. All of this requires the use of either expensive tools and techniques or hiring freelance designers.
– Time-consuming process
There's no denying that creating visual communication content takes time and effort. Creating visual aids such as graphs, infographics, etc, especially for a small company without a dedicated team, can be a huge challenge.
– Might be difficult to understand
Sometimes the visual presentation of information can also be too complex.
If the content isn't properly designed, the information presented in the form of graphs, charts, or infographics can be difficult to understand.
– Incomplete method
Visual communication is frequently referred to as an incomplete mode of communication. This is largely due to the fact that effective communication requires more than just visual content. It requires the use of alternative modes of communication in order to communicate the overall message.
Conclusion
To remain relevant in today's competitive business landscape, you should definitely start incorporating visual communication into your business's marketing strategy.
A strong visual strategy ensures that every piece of information you put out effectively communicates your message, represents your brand, and connects with your target audience.
Last but not least, a good visual strategy will ensure that you never create visual content that misrepresents your brand or message. Rather, each campaign you launch can be strategically positioned to accomplish your business goals.

Want to Automate UGC? Top-rated UGC Tool
Claim Your 6 months of
FREE

Credits Now!
Get the code. Use anytime in the next 6 months.