Referral marketing is one of the most natural forms of marketing that has survived- and thrived- through the ages. In the digital age, referral marketing ranks among the most effective ways for brands to engage customers. No wonder, it is favored by Fortune 500 brands like Amazon, Tesla Motors, and PayPal.
Referral marketing helps marketers shorten the sale cycle by leveraging a trusted friend or family members to sell on their behalf. This works beautifully, in most cases, as a customer is least likely to question or resist a suggestion from someone they know and trust. In effect, referral marketing recruits customers to bring in more customers. The result: better market penetration and lower customer acquisition cost.
However, it is critical that you fully understand why referral marketing works and come up with a relevant strategy to derive the best possible returns.
A good way to do this is by studying the competition. This can reveal vital insights into the thinking behind the strategies used by some of the most successful brands of the world. Thankfully, a lot of the information you need to carry out your research is freely available on the web.
What makes referral marketing so effective?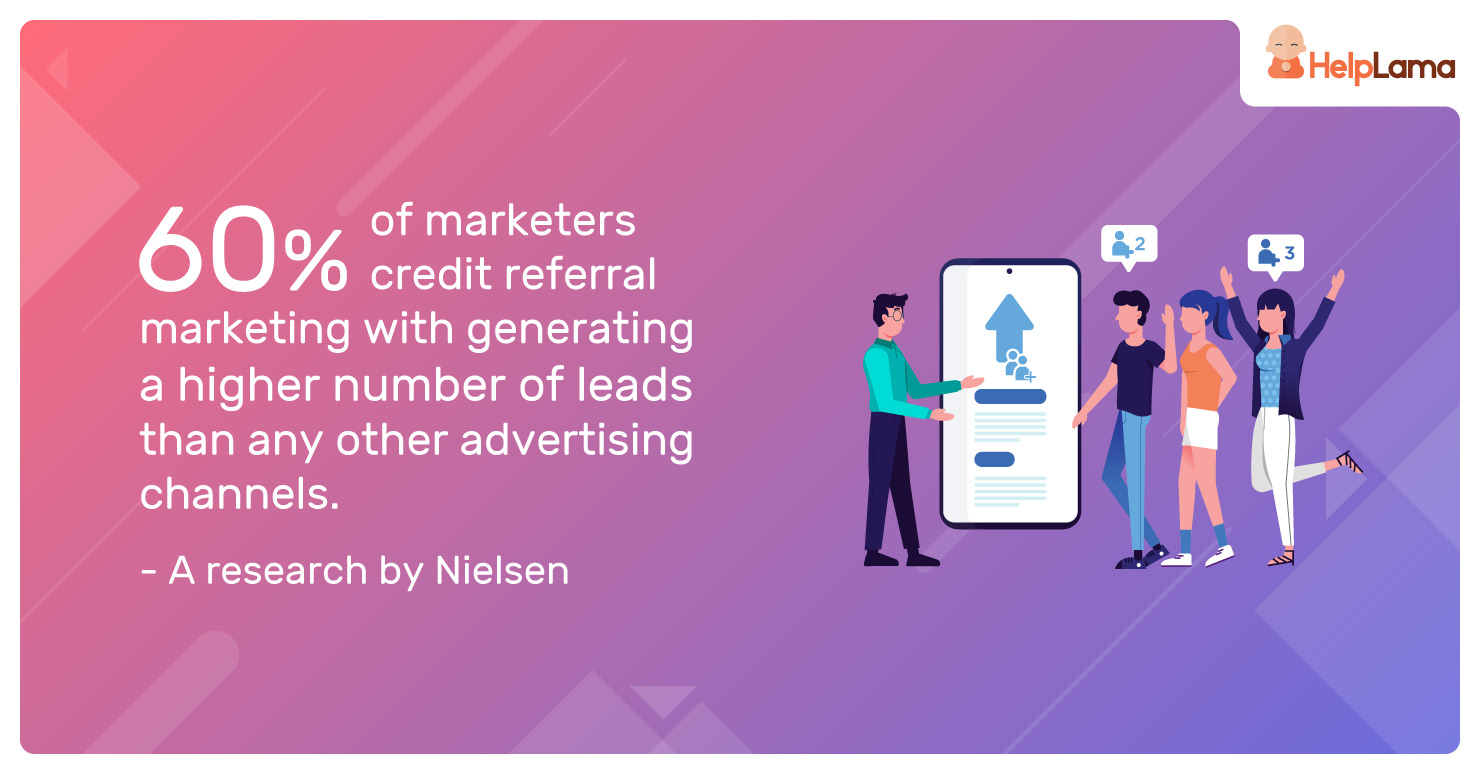 For one, referral marketing helps brands get a high volume of leads. According to research conducted by Nielsen, 60% of marketers credit referral marketing with generating a higher number of leads than other advertising channels. Secondly, the cost per lead is lower. This makes referral marketing one of the preferred options for e-commerce brands that want to lower their customer acquisition cost. Referral marketing is also credited with higher profit margins for merchants.
What's more, as an e-commerce store owner, you can also expect a wider reach with referral marketing. Since your current customers act as your brand advocates, you are likely to see good results in terms of conversion rate. Besides, your customers are likely to suggest your product to someone they know will be a good fit in order to qualify for the referral incentive. The customer being referred also stands to gain by way of a discount on their first purchase.
Lastly, referral programs allow you to capture large amounts of customer data which can be used across other marketing channels such as email newsletters. You can leverage this data to create personalized discounts and promotions, bringing more traffic to your store.
3 best e-commerce referral marketing strategies
Here are some of the best performing referral programs that can serve as the template for your own. You will notice that these are not strictly from the e-commerce industry, however, they contain elements that can be easily adapted for e-commerce.
Tesla Referral Program
This referral program has been shut down and restarted several times by Tesla. To outsiders, it might seem that the company is probably looking at other alternatives. However, this may be Tesla's way to test how much traction its referral program has gained with customers. There is no denying that the company has been generous with the rewards on offer to customers that help bring their friends and family over.
Benefits: If you have been referred by an existing Tesla owner, you can get 1000 miles worth of free supercharging when you buy a car of your own from the company. Referees also get 1000 miles free as an incentive for facilitating the deal. In addition, customers with the highest number of referrals qualify for a monthly draw where the winner gets to drive home a free car from the Tesla range.
Key takeaway: There is no doubt that the benefits on offer are very attractive for a premium brand like Tesla. Granted, there are few competitors to Tesla- at least in the US market- however, the company has set the bar so high that other brands will find it impossible to match.
The key lesson for e-commerce businesses is that providing an irresistible offer for qualified customers – based on user data, surveys, and purchase history – can increase brand loyalty and boost repeat sales. As e-commerce stores use promo codes that can be applied to future purchases, there is little to lose in terms of revenue.
Airbnb's Refer a Friend Program
For Airbnb, creating customer awareness is a top priority. The company believes that conversion will automatically take care of itself if it can make more people aware of the services it has to offer. This referral program is one of the first to use Whatsapp rather than email to send referral codes to customers!
Benefits: By signing up to Airbnb with a referral link, you get $40 off your first stay and $15 per experience, subject to terms and conditions. Referees can get a $30 credit for inviting friends and $300 for referring a new host.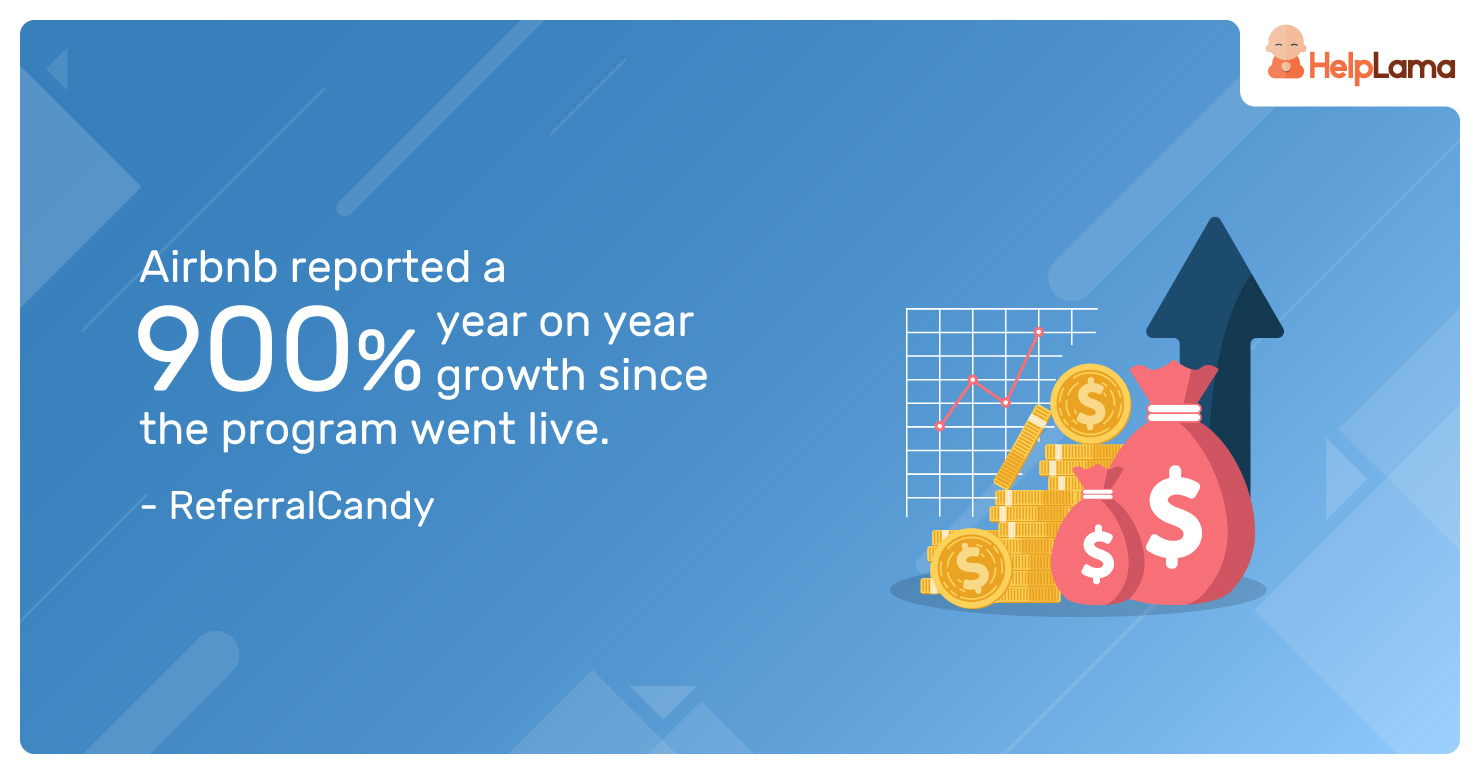 Key Takeaway: The program has had a dramatic effect on Airbnb's 1st time booking rate. The company reported a 900% year on year growth since the program went live, according to ReferralCandy. A key reason for this was customers referring more people. For e-commerce companies, the lesson is clear: referral programs need time to show results, analyze customer data, and improvise until you find something that works. Secondly, get the messaging clear.
Harry's Referral Program
Personal grooming brand, Harry's owes a large portion of its growth to its highly popular referral program. The company used pre-launch email marketing to spread the word about it. The results were better than they could have hoped for: in a span of just 7 days, they generated over 1000 leads.
Benefits: Free shaving cream for every 5 referrals, a razor for every 10 friends referred, and free shaving supplies for an entire year on referring 50 people. On the other hand, the referee gets a 10% discount on their first purchase.
Key Takeaway: Attractive benefits can boost product adoption rates for e-commerce businesses and create brand recognition in a short period of time.
Last words:
Referrals programs need to be backed by high-quality customer support for businesses to achieve their objectives. Helplama is a leading customer support provider that can help you build and scale a fully-functional customer support team on demand while avoiding the costs of hiring and training. We have solutions for every need and budget, covered by a comprehensive Zero Risk guarantee. Contact us today for more information.