After spending thousands of dollars driving traffic to their site, there are few things that frustrate store owners more than never hearing from those customers again. If you are looking for answers to this problem, a good place to start would be how you treat customers, immediately after they buy from you.
A sale is not an end in itself, it is the beginning of a long term relationship. The real work begins after a customer has clicked on the Buy Now button and completed check-out.
A simple "thanks for shopping with us" is a good start. However, it is now time to ask, "What else can I help you with?"
CRM specialist Narvar carried out a State of Post-Purchase Experience survey of 1000 US e-commerce shoppers and found that most customers valued a seamless experience centered around easy returns, proactive troubleshooting and timely delivery.
Here are 10 Pro Tips – based on the Insights from Narvar's Survey – Worth Sharing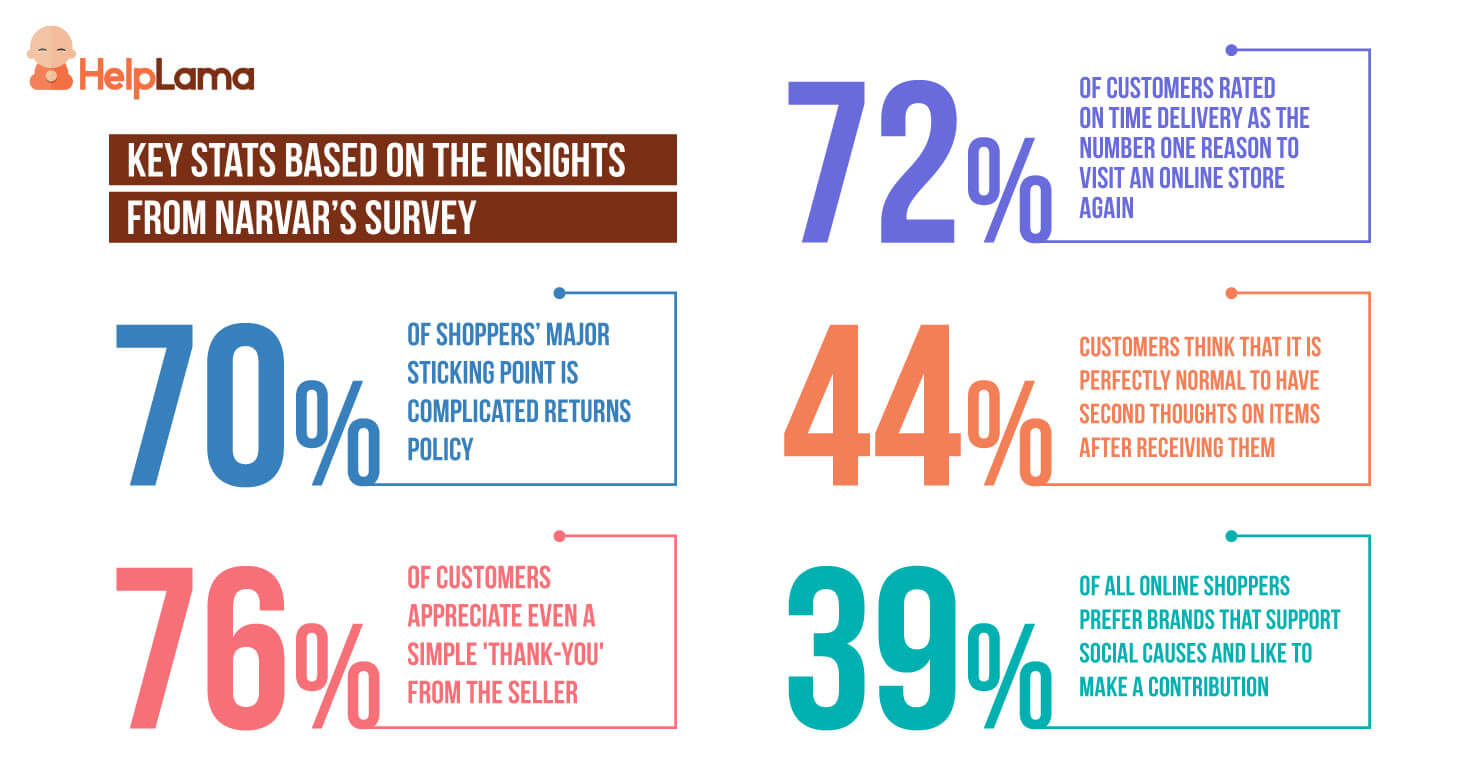 1.  On-time delivery:
72% of customers rated on-time delivery as the number one reason to visit an online store again. Providing an accurate ETA and notifying them proactively in case of delay can have customers rooting for your store. Include delivery information on a pop-out box as soon as the customer has checked out.
Sometimes, they face significant post-purchase issues with the order delivery or using your software, so it is very important to: 
a). have a smart knowledge base which is full of articles and information that they can search
b). offer assistance to them and access to this knowledge base in the  marketing/transactional emails that are sent out to them
2. Automate order tracking
Enable on-page order tracking widgets for on-demand information from any time zone or continent. Customers appreciate it if you can tell them exactly when their order would arrive. Generate automated email confirmations on check-out. If there's going to be a delay, let them know right away.
3. Simplified returns policy
A major sticking point for up to 70% of shoppers is a complicated return policy. Companies that are most successful are the ones that focus on building a brand rather than counting pennies. So, any goodwill that you offer to your customers is going to be paid back to your brand in reputation, word of mouth and repeat purchases. A single purchase is a chance for you to prove to your customers why they should do business with you again. Don't focus on the money.
Pro tip: Offer guaranteed refunds on returned items with no shipping fees. Customers will love you for it.
4. Take ownership if something goes wrong
Offer to replace an item a customer did not like. Narvar's survey found that 44% of customers think that it is perfectly normal to have second thoughts on items after receiving them. Also, if a package is damaged in transit, arrange for an expedited replacement to win extra brownie points with customers. It builds trust and makes the customer's experience memorable.
5. Thanking the customer is not merely being polite
A thank you may seem like an automatic thing to say after a customer has purchased something from you. Narvar's research suggests that 76% of customers appreciate the gesture. Offer personalized recommendations on related products to buy on the check out page like the big e-commerce giants do.
6. Offer free support to build an emotional connection
Make sure you create a setup to repair, fix or replace an item that a customer has received even if they face an issue past the warranty period. Again, the target is not to make a sale, the target is to turn a mere customer into a lifelong fan! Offer very quick response times and specialized help whenever the customer needs assistance.
7. Be a consultant, not a salesperson
Overt sales tactics do not work, customers have been conditioned to tune out hard-sell. Instead, try to build long term customer relationships based on value and position yourself as the obvious choice. Here's how: Run surveys to understand what shoppers really want. Customers like learning about how others are using the same products they bought. Create helpful content around tips and best practices. This is a proven way to increase customer satisfaction with their purchase.
8. Give to a worthy cause
Generosity does not go unnoticed. When you promote worthy causes and ask your customers to pitch in, you engage their desire to contribute to the community. It is a great way to start a conversation and influence opinion. 39% of all online shoppers prefer brands that support social causes and like to make a contribution, according to the survey.
9. Loyalty points
There is another dimension to generosity that customers deeply care about- loyalty points. Getting rewarded for buying from your store and redeeming points for getting complimentary deals gives customers added incentive to buy from you again. To maximize returns, tailor your loyalty program, according to specific age groups.
10. Track, track and track
Analysis is very important! You need to be able to set up systems and processes to be able to track the most important source of issues for your customers and then see if your strategies to resolve them improve the CSAT and NPS. Use Google Analytics to get to know your customers' psyche: track on-site search queries, map buyer behavior with conversions achieved and track how long it takes customers to buy from the time they land on your site.
Study heat maps of the most popular pages on your store and look for clues that might help you drive customer engagement and understand your customers' needs.
Customers prefer to shop online because of the convenience it offers them. If you can amp up their shopping experience by visualizing how they'd want to be treated, you can turn them into loyal customers for life. You can deal with a specialized provider if you're facing issues setting these up on your own.
To keep your customers engaged and give them a seamless experience, choose an on-demand 24X7 customer support outsourcing agency like Helplama. Our team comprises of native English speaking representatives skilled in providing world class live chat, email and phone-based support to customers around the world.
We help you avoid the costs of maintaining large in-house customer service teams and benefit from high-quality customer interactions. We deliver the goods when it comes to enhancing your average order value consistently.