Research shows 92% of marketers believe the content they create – landing pages, ads, and emailers – really resonates with their target audience. However, only 51% of customers think that brands are authentic in their advertising. 
Even though most e-commerce brands use a combination of marketing strategies, the trust element is often missing. This is where referral marketing can drive better outcomes by leveraging the power of customer relationships and increasing probability.
The cost-effectiveness of referral programs is another factor that makes them a clear winner. This is because it harnesses your existing customers to do your marketing for you. Thus, referral marketing is perhaps the only marketing strategy that can claim to provide 100% ROI!
8 Reasons Why Referral Programs Generate Better Results Than Other Marketing Strategies
Need more reasons to justify investing in a referral program for your e-commerce store? Here are some of the top reasons why referral programs are becoming a go-to marketing strategy for e-commerce businesses around the world:
1. Overcomes trust barriers: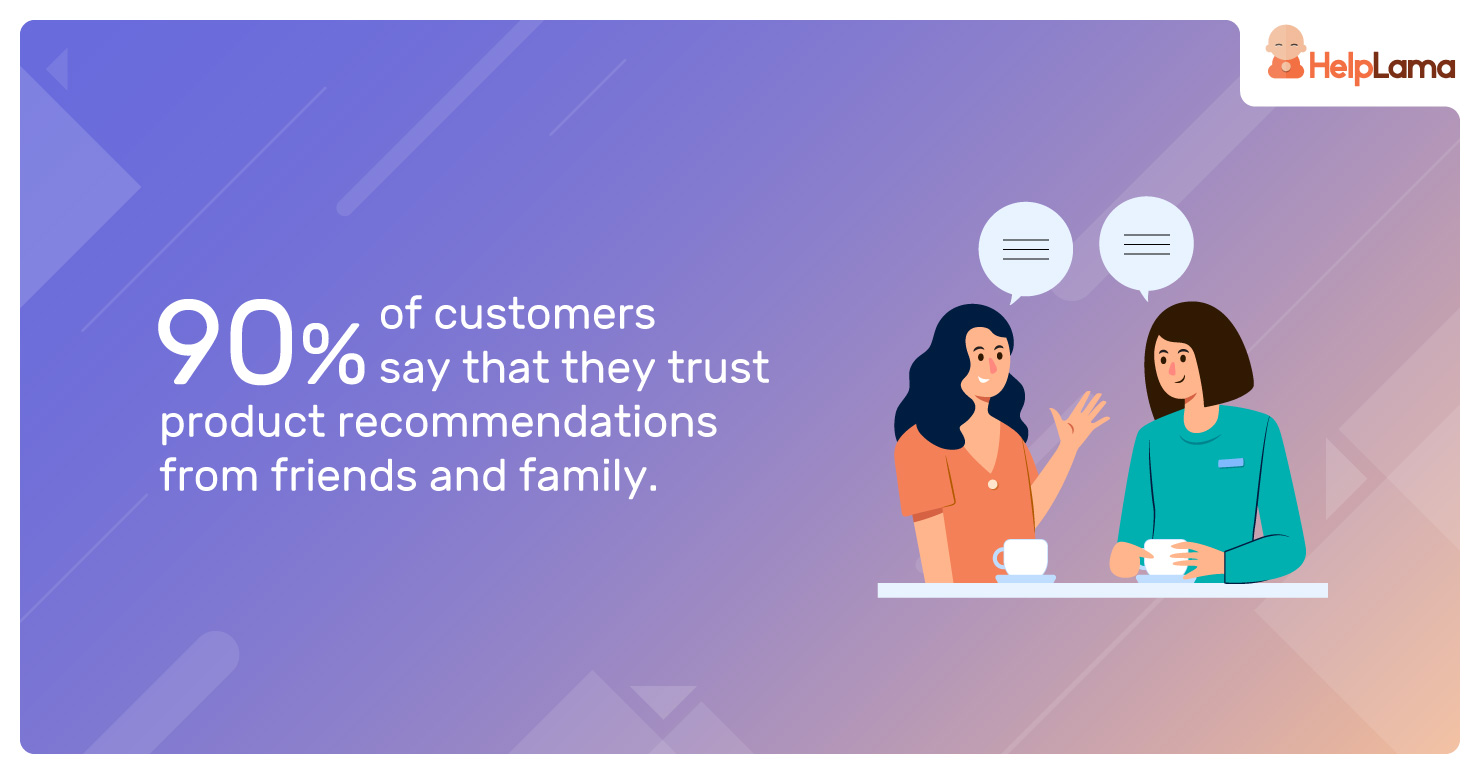 Creating an authentic marketing campaign that will appeal to your target audience is a tough task. Even after you have segmented the market, you may need to test many different campaigns before finding one that works. Your existing customers are likely to know other people that share the same likes and dislikes as them. Thus, they can be the ideal advocates for your brand. 90% of customers say that they trust product recommendations from friends and family. Thus referrals can help you attract the ideal customers for your brand and ignore the rest.
2. Improves conversion rate:
Brands must qualify leads quickly to know their revenue potential. For this, building trust is critical. A first-time customer is likely to rely on external sources of information such as online reviews before deciding to buy from your store. 
Just like negative reviews can influence customer opinions about your brand, a referral from someone they know can accelerate a sale. This means high customer lifetime value and potential for more referrals in the future. According to some studies, the difference in ROI between referrals and other forms of advertising is as much as 60%
3. Lowers customer acquisition costs:
The average cost per lead is one of the top metrics e-commerce marketers use to judge their campaigns' effectiveness. It is a clear indicator of whether or not a campaign strategy is generating worthwhile returns.
Email marketing, PPC, and social media have a cost associated with clicks that do not automatically mean conversion. For example, the average cost per lead for Facebook marketing across all industries is $1.72. 
Referral marketing reduces the overall cost of customer acquisition as it leverages existing customers to bring in new ones.
4. Increases average order size:
Referral programs have the potential to increase the potential for repeat sales. For example, when a customer earns points on every purchase, their reward balance will only increase. 
At a later stage, if a customer notices that he is falling short of qualifying for a special discount by a few points, he is much more likely to buy from you proactively. Over a period of time, this translates into a higher average order size.
5. Boosts customer loyalty:
Customers like to be rewarded with discounts and gifts. They also like to share information about exclusive offers with their friends and co-workers.
Referral marketing harnesses this human instinct to create a strong commitment towards your brand in existing customers' minds.
At the same time, referred customers are also 82% more likely to continue buying from the same brand. The same level of loyalty can otherwise take months or even years to develop.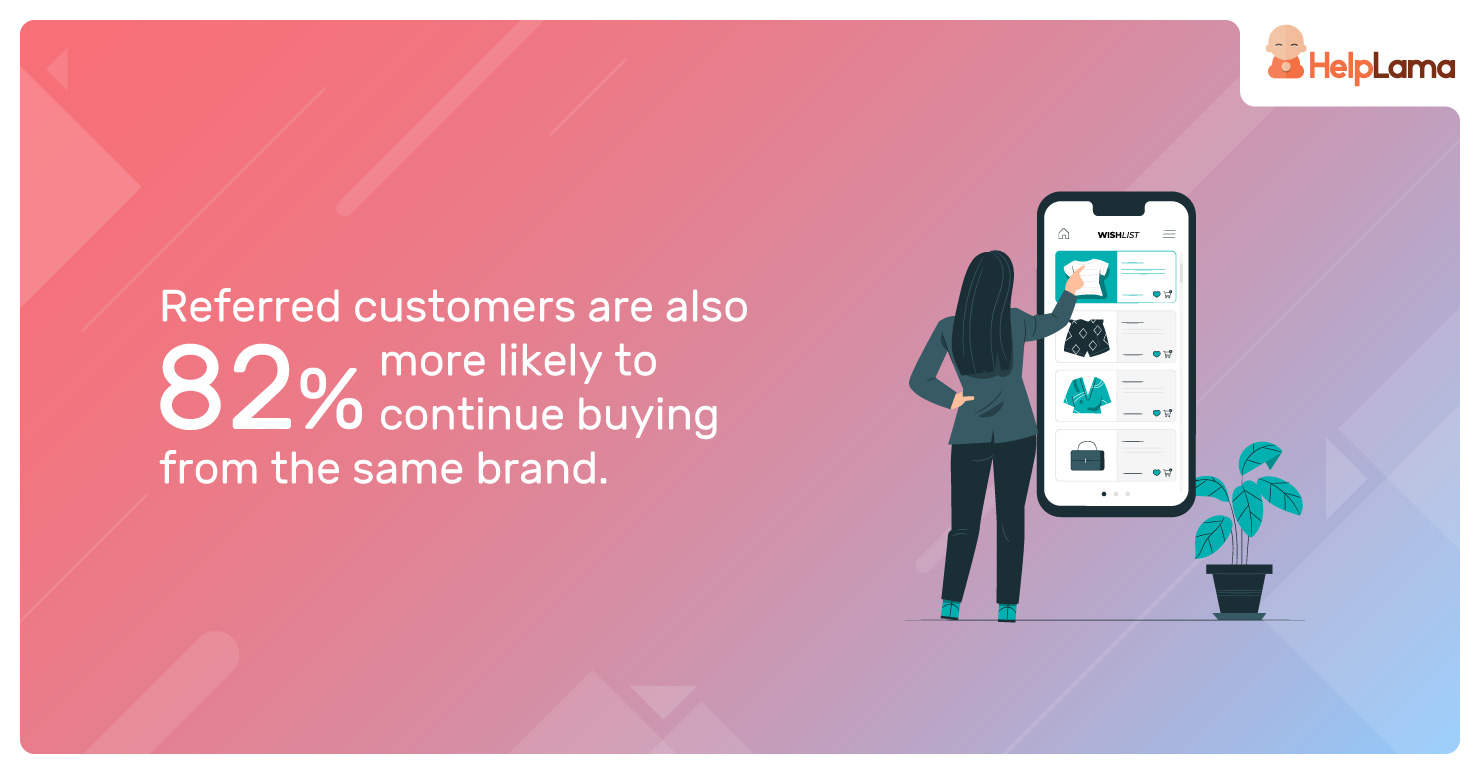 Higher customer loyalty directly translates into greater revenue potential over a period of time. This is one of the biggest reasons why e-commerce brands must invest in referral marketing.
6. Less scope for error in identifying target customers:
Marketing strategies must be targeted at the right audience in order to be effective. If you use the trial and error approach, the chances of success are 50:50, at best. The latest market segmentation does improve the odds significantly, but there is always some scope for error. This means that you may possibly never see any returns at all on your marketing spend.
Referral marketing is a much safer option in terms of reaching the right audience. Your existing customers are likely to recommend you only to people they know would be interested in what you have to offer.
Thus, referral marketing greatly reduces the odds of failure for your marketing team. It can also take pressure from your sales team to a certain extent.
Net result: Better business performance and reduced employee workload.
7. Better reach:
If you need to reach new customers, the only way is to tap every possible marketing channel. While the vast majority uses social media, a sizeable number of less tech-savvy people still prefer to get recommendations from friends about which products to buy. Most e-commerce companies do not use direct mail for marketing on cost grounds. In this situation, referrals are the best chance you have of reaching new groups of potential customers.
In fact, a referral program can greatly increase the number of marketing channels for your online store, creating a steady pipeline of new customers.
8. Creates higher brand awareness:
A person is much more likely to remember a product a friend told him or her about than one they saw an online ad for. This can drive long-term brand recall and can influence sales weeks or even months later. Experts say that a recommendation from a friend acts as a subconscious trigger when a person hears about the same brand again.
So, even if a person declines to sign-up, you would have succeeded in creating awareness about your online brand at the very least.
Last Words:
Asking for referrals is one of the simplest ways to find new leads for your online store, and customer service agents are perfect for the job. However, agents need proper training in order to pitch at the right moment. Helplama's team of customer support agents is extensively trained on your product and brand voice to drive engagement and revenue. 
We can help you drive referrals without being pushy. Our flexible plans are designed to suit every need and budget and come with a one-of-a-kind Zero-Risk Guarantee. Contact us today for more information.