Live chat works!
According to PalDesk, it has a 73% customer satisfaction rate. The reason is customers can easily get on with other tasks while chatting with an agent. Besides, chats are usually much more to the point than a phone call.
For an e-commerce business, live chat is a great way to provide instant answers to customer questions, especially when they are on the check-out page. 
The result: higher conversions and average order size.
However, the cost factor can be a deterrent for many start-ups. Buying a one-time live chat software license can easily cost several hundred dollars, while with the pay-per-user option, you can never be sure about the volumes.
Luckily, many software providers are now providing live chat tools for free. Just click download, and you're ready to go in a few minutes.
Free live chat software is perfect for brands that want to lower their customer support costs while providing more support channels. Just in case you are wondering, these are not free trial versions with limited functionality. In fact, they offer a comprehensive range of features that, until recently, were only available in paid software.
For example, some tools let you capture lead details and send them directly to your CRM tool. You usually also get access to a handy dashboard with chat history, a number of in-progress chats, chat queue length, etc. In other words, you can analyze customer activity and agent performance in real-time.
If you ever need help, most tools do not leave you to fend for yourself. The best tools provide knowledge base content, webinars, and free consultations with an in-house specialist. For support queries, you also have access to dedicated email, chat, and phone teams.
However, there are some limitations as you might expect. Access to certain features may be limited to 2 or 3 users and data storage may be limited to a few days or weeks.
5 Best Free Live Chat Software for Your E-commerce Business in 2021
So much being said, let's take a look at some of the best free live chat software out there.
1. Hubspot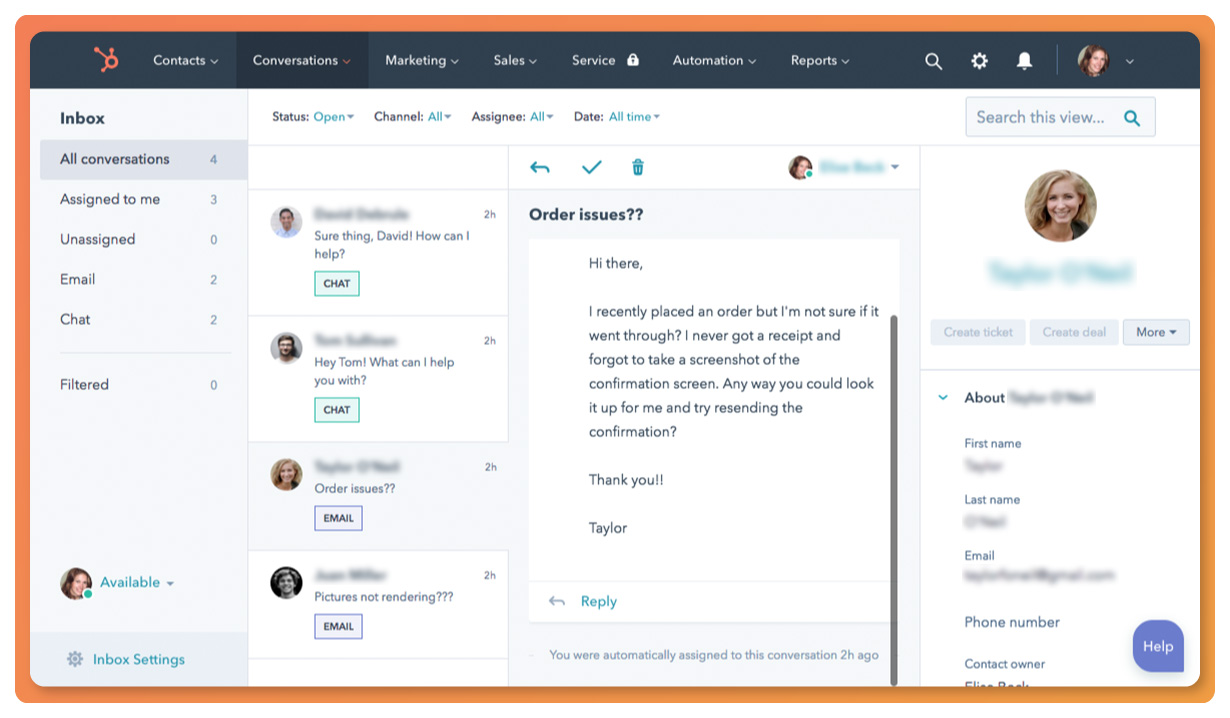 If you are a Hubspot user, look no further! Hubspot has a full suite of free tools included in its CRM- one of which is free live chat. This means data can be automatically synced across both, helping you link chats to customer profiles with ease. Your agents will certainly appreciate the ability to view previous interactions, escalations, and refunds that a customer may have had with your store. It also displays information about queued chats, pre-chat surveys, and chat history.
In addition, you also get access to the email marketing and analytics suite that comes with Hubspot CRM!
Hubspot Live Chat thus packs a lot of punch making it number one on our list.
2. Respond.io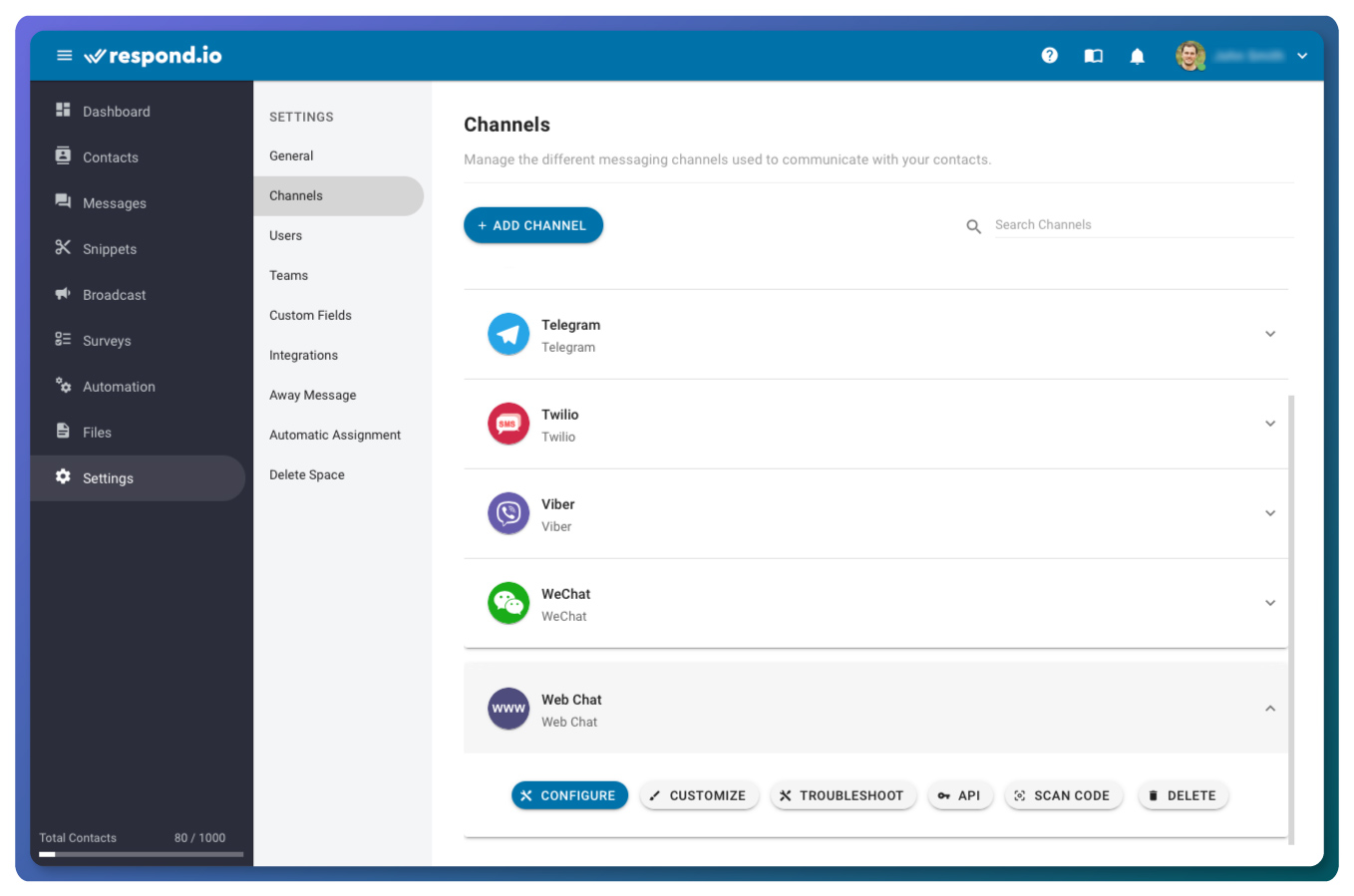 Formerly known as Rocketbots, Respond.io features AI-based 'smart replies' to enable your team to resolve customer queries faster. It works across web and social channels including FB Messenger, Slack, and WeChat, allowing you to provide a seamless omnichannel experience.
For instance, you can broadcast messages across a number of social media platforms to select customers as part of a targeted marketing campaign. You can even create and send surveys at the click of a button, multiplying reach and engagement.
Respond.io offers unlimited free messages and stores up to 100 contacts – ideal for a small customer support team.
3. Clickdesk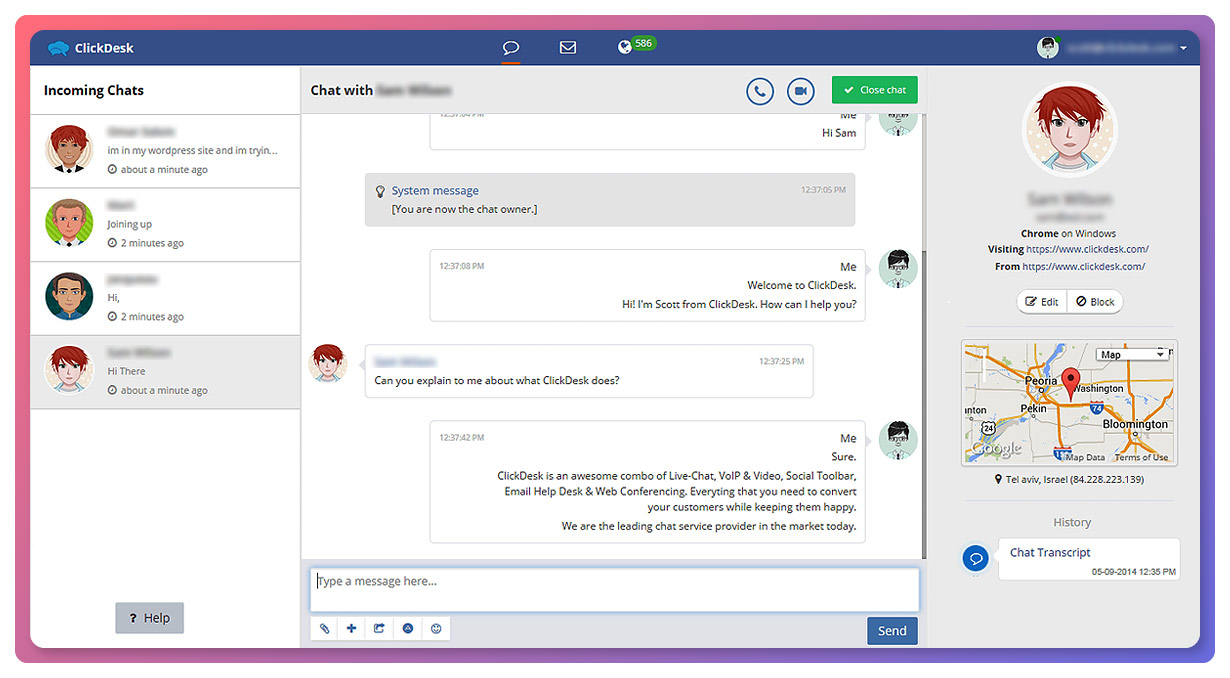 First things first, Clickdesk is free for only 10 users and 30 chats. Beyond that, you need to upgrade to the paid version starting from $12.99 a month. Clickdesk's claim to fame is that it takes omnichannel support a step further with video chat functionality. If you have been wanting to experiment with video chat, Clickdesk is for you. It is also a full-fledged helpdesk platform that can be easily integrated with a number of third-party apps.
Other features include built-in social media integration like Facebook and Twitter, pre-chat surveys and web analytics.
However, here's something you should know before starting to use it: the video feature is only available in the paid version.
4. ZenDesk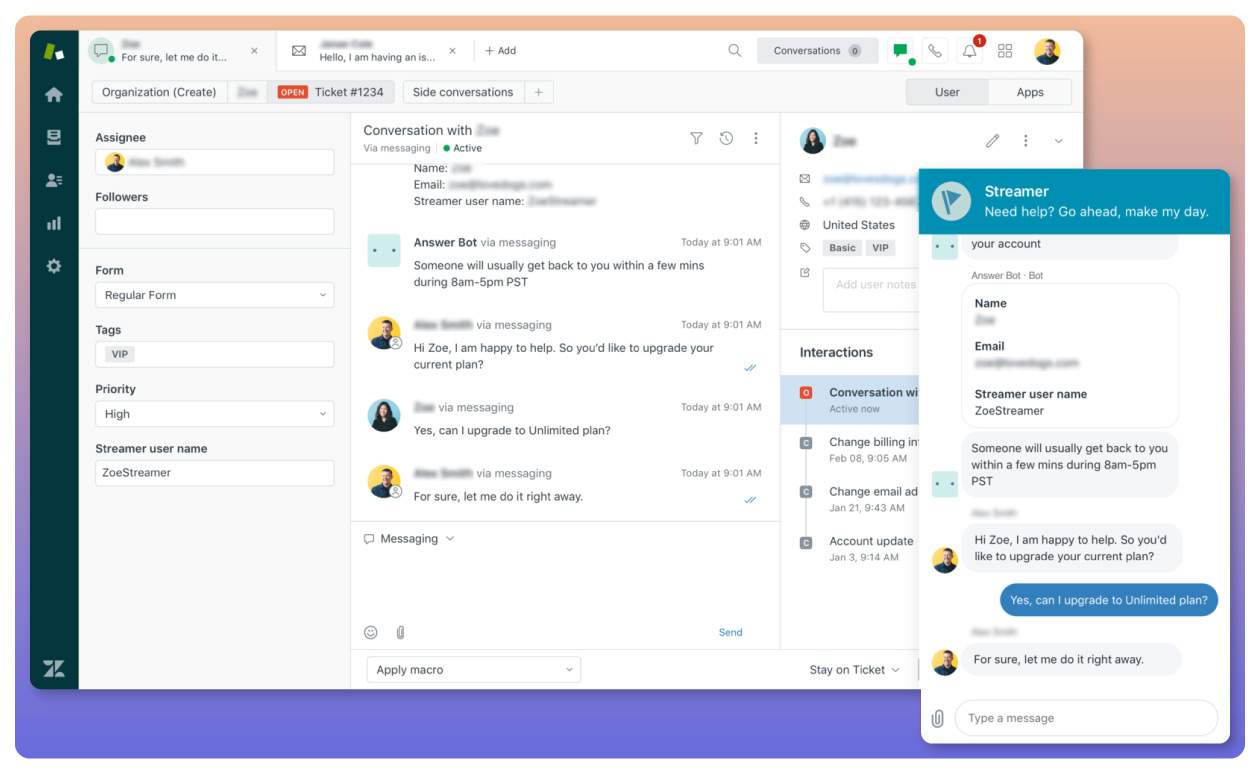 ZenDesk needs no introduction. As a popular CRM provider, it enjoys instant brand recognition across the world. Its live chat app lives up to user expectations, thanks to a number of value-added features. For example, you can assign chats to specific agents or teams, create schedules, and pre-chat surveys with a few clicks. What's more, it also offers built-in analytics for real-time insights into team performance and customer experience. It is designed to be scalable making it ideal for fast-growing teams.
5. Zoho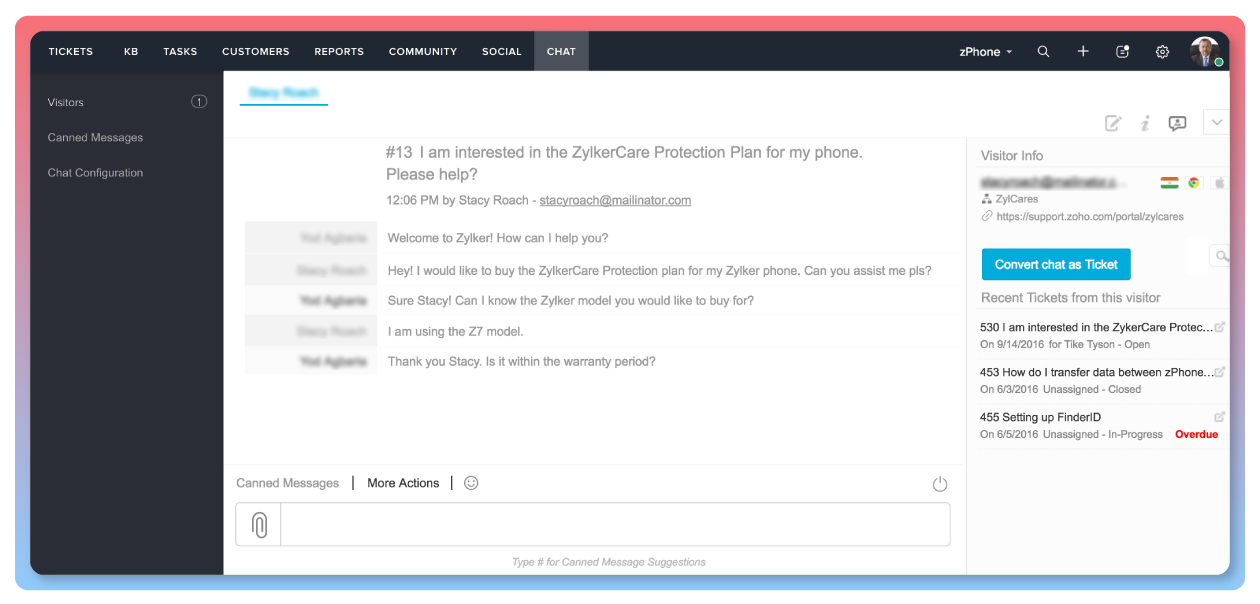 Zoho is another familiar name in the world of business CRM. Zoho Live Chat is packed with several features that ensure it lives up to the task of customer engagement.
For example, it can be customized to suit the design of your website. In addition, you can also leverage it for monitoring traffic in real-time. The onboard analytics equip you with the ability to monitor traffic in real-time. The chatbox can also be used to display help articles and FAQs.
Needless to say, it plugs seamlessly into other Zoho apps, in case you happen to be an existing user.
Last Words
The best customer service tools are of little use without a committed team of customer service agents to engage customers. The cost of customer service is rising steadily due to attrition and the need for hiring new agents on a recurring basis. Low margins make it unaffordable for businesses to scale customer support. However, outsourcing can be the ideal solution for businesses keen on finding a sustainable alternative. It is the need of the hour given the large-scale disruptions caused by the pandemic.
Helplama has been a trusted partner of choice for small and large businesses in delivering world-class customer service. Our price plans are affordable and can be customized to meet the needs of any business. What's more, there are no legal agreements to worry about with Helplama. 
Ask about our Zero-Risk Guarantee to know how we protect you from unexpected surprises!